Noodle kugel recipes are staples in most Ashkenazi Jewish households around the holidays. Kugels are served sweet or savory and to this day most Jews still aren't sure if noodle kugel is an entree or dessert. Needless to say, they are always delicious whether it's on Rosh Hashanah or Shavuot. This is why we're excited to feature Birthright Israel alumna, Morgan Spindler's Healthy Noodle Kugel recipe. Scroll down to get cooking!
The History of Noodle Kugel
Kugel dates back to the 1500s to Jews living in Eastern Europe. It was first made as a thick and creamy bread-like pudding, but the bread was eventually replaced with farfel and noodles. As sugar became more accessible throughout Europe the noodle kugels took on a sweeter flavor. As Poland discovered sugar beet refining during this time many kugels started to include raisins, cinnamon, and nutmeg to complement the sweetness.
Endless Varieties of Noodle Kugel
Most likely any Jewish person you speak to will say their mom or grandmother makes the best noodle kugel. The varieties of this classic Jewish dish are endless. For as long as Jews have been making kugel they've made sure to make a version for each and every Jewish holiday. On Shavuot, when it's common to eat dairy, a cheesy kugel is best. During Passover, you can replace the noodles with matzah or egg noodles or opt for a potato kugel too. However, it is also a tradition to eat kugel on Shabbat and we suggest trying this Yerushalmi Kugel (Jerusalemite Kugel).
How to Make Morgan Spindler's Healthy Noodle Kugel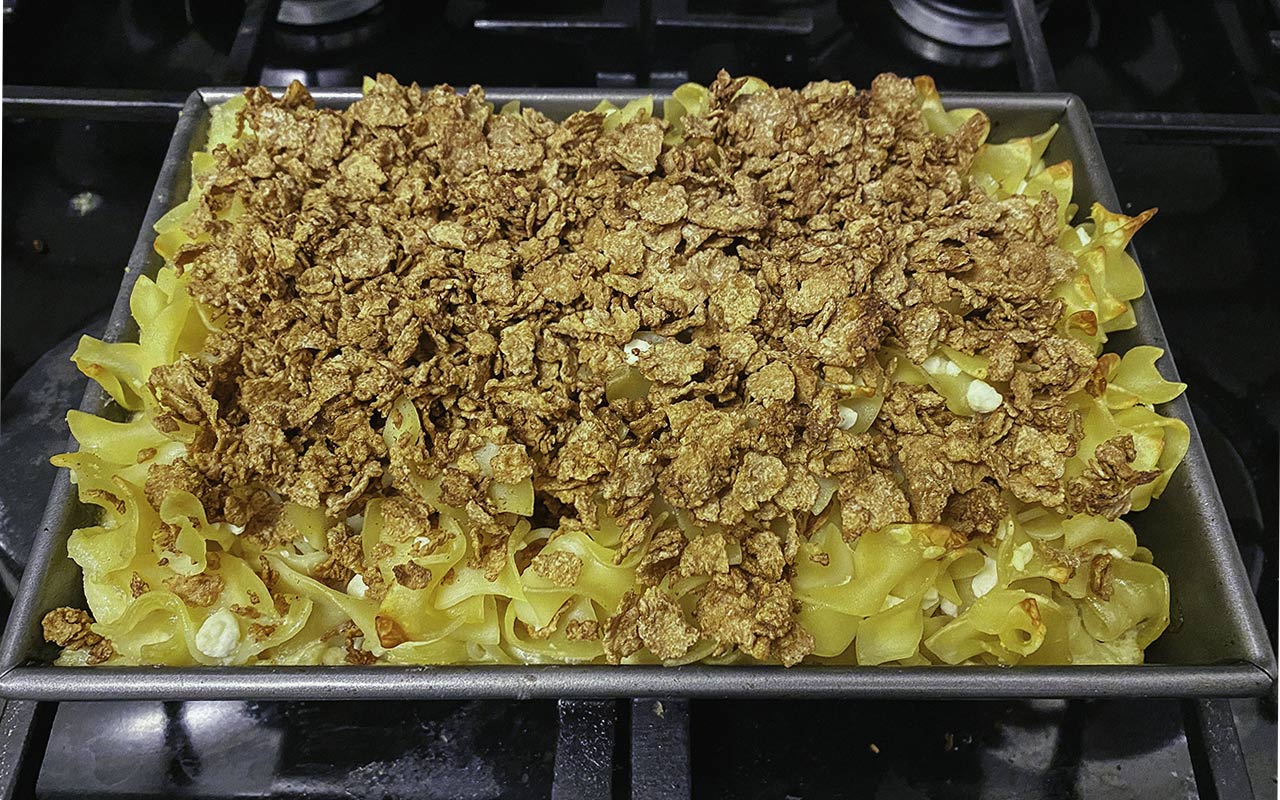 One of Morgan's fondest memories growing up was baking noodle kugel for the holidays with family. In her recipe below you'll get a taste of her passion for healthy cooking on her late Nana's recipe.
Prep Time: 30 minutes Serves 6-8
Ingredients
10 ounces wide egg noodles
2 tablespoons of butter (Can use olive or coconut oil as an alternative)
2 large eggs
2 large egg whites
1 cup of low-fat cottage cheese
1 cup nondairy yogurt (I used coconut yogurt, Greek yogurt also works here)
1/2 cup of coconut or nut milk (If not dairy-free can use skim milk)
1/2 cup of orange juice
2/3 cup of light brown sugar
1 tablespoon vanilla extract
1 1/2 cup of crushed cornflakes
1 tablespoon of cinnamon
A pinch of salt
How to Prepare
Preheat the oven to 350 degrees
Coat a 9×13 inch baking dish with cooking spray
Cook the noodles as you would regular pasta in boiling water until al dente
In a large mixing bowl whisk together eggs, egg whites, cottage cheese, yogurt, milk, orange juice, sugar, vanilla, butter, and a pinch of salt.
Stir in the cooked noodles
In a small bowl, crush the cornflakes and mix in the cinnamon
Pour noodle mixture into the baking pan and top with the cornflake mixture
Bake until brown and set for about 30 minutes
Cut into squares and serve warm
More About Birthright Israel Alumna Morgan Spindler
Morgan Spindler is a 2015 Birthright Israel alumna from New York. She is the founder of Morganic Bakeshop a healthy bakery. From the age of three, Morgan had a passion for baking with her Grandma. She cherished her time spent in the kitchen watching her grandma whip up scrumptious meals. As the oldest child, Morgan spent time baking sweets for her and her brother to satisfy their love of healthy desserts. As she got older, she began to pay very close attention to the ingredients, seasonality, and taste of her food. She had a difficult time finding tasty options that were unprocessed and ultimately nutritious. Most of all, she wished it was easier to have access to sweet healthy snacks.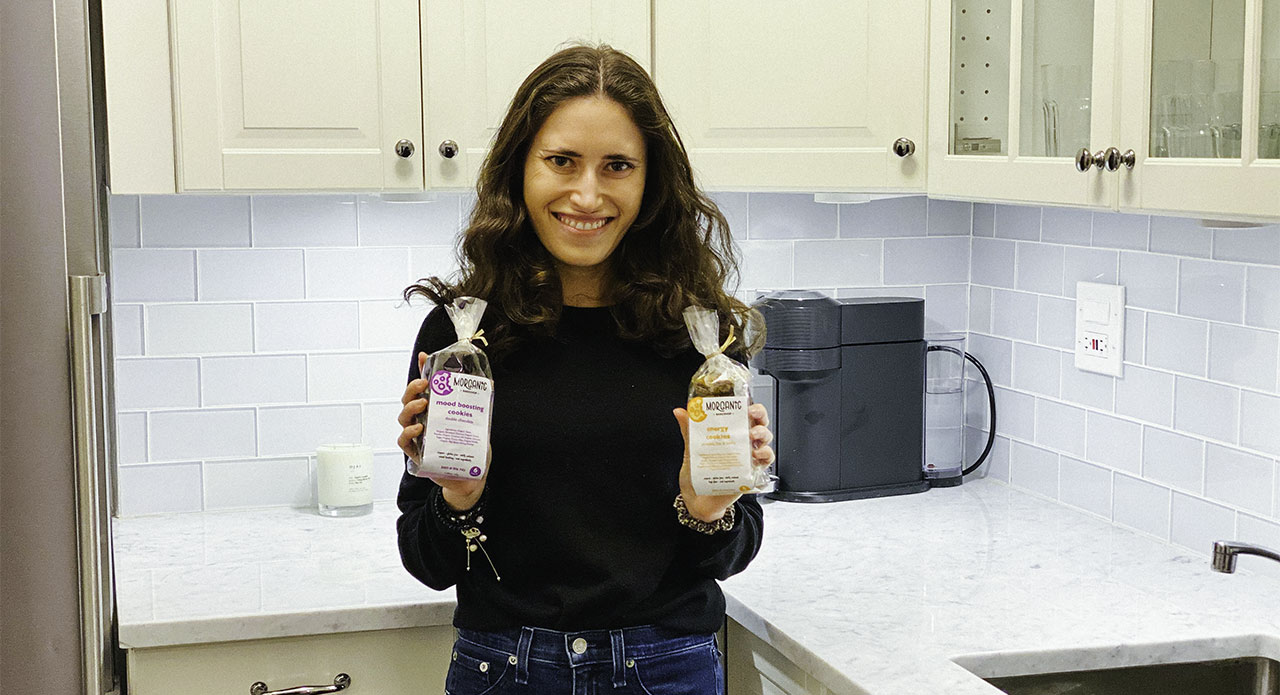 Therefore, during the pandemic, she thought what better way to bring people joy than through healthy baked goods. This led to the creation of Morganic Bakeshop! Morganic Bakeshop is an organic, gluten-free brand serving up cookies you can eat for breakfast, as a snack, or dessert. If you're into cookies that are okay to eat any time of day, use discount code BIRTHRIGHT at checkout.
Get More Goodies and Recipes in Your Inbox!
Are you a fan of delicious cuisine? Then we've got you covered. From Israeli BBQ recipes perfect for summer to everything you need to make for Passover. All you need to do is subscribe to Birthright Israel Foundation's updates to get great content delivered to your inbox.