Are you ready for Passover? The Jewish festival begins at sundown on Wednesday, April 5, and ends at sundown on Thursday, April 13. This year, to help make your seder special, Birthright Israel Foundation produced a short and sweet Passover Haggadah. Our Haggadah is complete with the story of Passover, blessings, and a guide to the seder plate. Plus, there is a delicious kosher for Passover brownie recipe you must try. Check out the Haggadah below, and download and print it for your seder.
What is a Haggadah?
In English, Haggadah translates to "telling" — it helps the Jewish people tell the story of the Israelites' Exodus from Eygpt. A Haggadah helps us tell the story of Passover and is filled with blessings, rituals, and songs. Various versions and lengths of Haggadot exist throughout Jewish communities worldwide. In today's world, there are endless resources to help families create their own.
Passover Coloring Pages
Get your kids excited for Passover with Birthright Israel Foundation's Passover coloring pages. When coloring these pages, the Passover story will come alive for your little ones.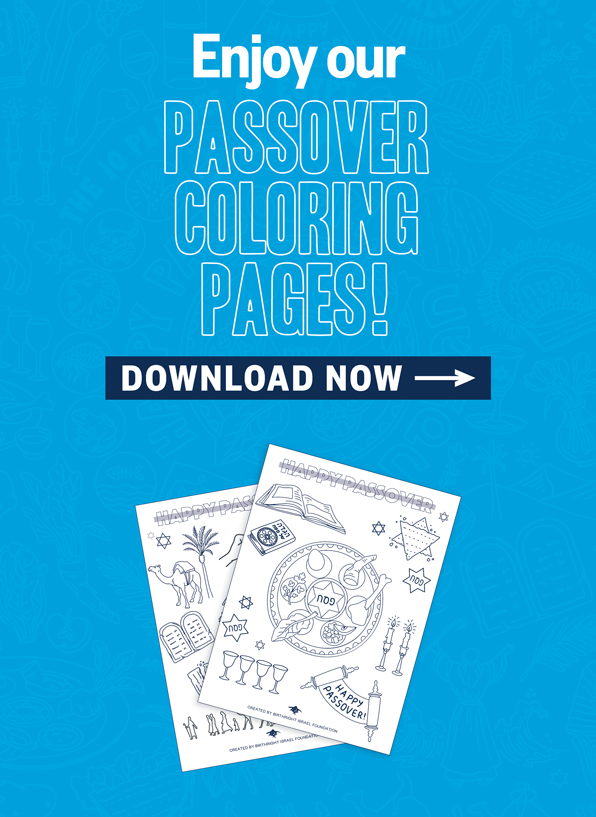 Passover Recipes
Looking for delicious additions to your Seder meal? Check out Birthright Israel alum and famous chef Jake Cohen's coconut halva macaroons. You can also warm up with matzah ball soup or try something a little bit more out-of-the-box with matzah lasagna.