Birthright Israel Foundation is proud to have given the gift of Birthright Israel to 750,000-plus young Jews. More so, each year we work with nearly 40,000 donors to ensure more young Jews can visit Israel. We understand the importance of this life-changing educational experience and so do our alumni. This is why we can't wait to share with you advice, inspiring words, and uplifting thoughts from Birthright Israel alumni to future participants. Check out just how incredible their trips were and why 10 days can change someone's life forever.
What Birthright Israel Alumni Say About Their Trip to Israel
Josh Kohn, 2015 Alumnus
I promise you this will be one of the best experiences of your life. I'm 30, I went when I was 25, and I still think and talk about this trip all the time. In fact, my best friend is getting married next year to a girl he met on the trip! Say yes to everything, and really soak it in. Some of it might seem weird, forced, or just not really your thing, but take it from me, go all in and take the time to appreciate where you are and what you are doing. I am much closer to my heritage and fellow Jews after this trip, not necessarily more religious, but more connected to my people's history.
Tiffany Sameyah Sankari, 2006 Alumna & Birthright Israel Madricha (Trip Staffer)
This is the most amazing trip ever — take advantage of every second. Then do it again as a staff member and watch others fall in love with Israel as well!
Felix Yukilevich, 2008 Alumnus
Take pride in what you're about to see when you're first on the bus and looking out that window. Yes, YOU WILL REMEMBER that bus number for the rest of your life. After 16 years this summer, I still remember that number. That trip in 2005 changed my life. Take advice from someone who's been there: There will be nights when you'll think, "ah, it's ok, I won't sleep tonight." Don't do it! Get as much sleep at night as you can, even if it's for a couple of hours. Your body will thank you! Your mind will function better. Take lots of good pictures, and maybe even jot down your thoughts. Lastly, just enjoy! It's your trip, think the way you want, be the person you are.
Hannah Last, 2018 Alumna
Find a piece of yourself you did not know was missing and the strength of your Jewish identity and connection with Israel.
Meetal Needleman, 2019 Alumnus
You are so lucky to be able to grab this one-in-a-lifetime opportunity! Also, it's free! This LIFE-CHANGING experience gave me a newfound appreciation for the holy land, lifelong friends, and a home away from home. Three years later, and I'm still raving about the spectacular time that I had.
Danielle (Last Name Not Provided), Alumna
Before going on Birthright Israel you may be nervous and hesitant, I was before my trip and almost didn't go. I PROMISE you it is worth it to put all your fears aside and be ready to have an amazing life-changing experience. Going on Birthright changed my life, and I am forever grateful for it. You will be too!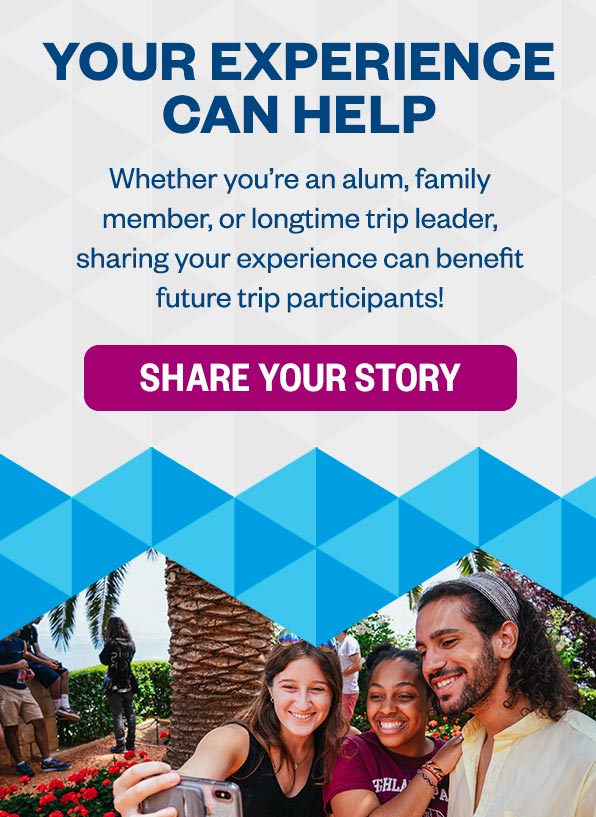 Lindsay Hittner, 2004 Alumna
Have a wonderful trip to Israel! The people, the history, the food, the connections — it will be a trip you will never forget. My husband and I met on our Birthright Israel trip 17 years ago this summer.
Jessica Hoffman, 2014 Alumna
I was SO nervous about leaving the country for the first time and with a group of strangers!! It wasn't pretty. However, Israel truly felt like a home away from home, and my group became my family. The experience was so impactful to me in so many ways, and I am so excited for you to experience it as well!!!
Did you go on Birthright Israel? Did your experience impact your life?
By sharing your Birthright Israel experience you can help secure the future of trips for generations to come. We are always looking for alumni to tell us more about their trip and show gratitude to Birthright Israel Foundation's 40,000 donors. Learn more about sharing your Birthright Israel experience today.
Want to sign up for a trip?
If you're ready to see Israel for yourself and get immersed in all the country has to offer start your application today.