The Birthright Israel love story of Melissa and Alex Block was beshert from the beginning. Their story unknowingly began when Melissa volunteered to lead an LA-based trip in 2008, and Alex's plans of going on Birthright Israel with his cousin fell through.
For Melissa, she was not initially leading the trip Alex was on. At the time, only a limited number of Birthright Israel trips were able to run due to an ever-growing waitlist. Melissa was asked to staff a different group and leave two days earlier for logistical reasons. She, of course, said yes.
Alex was also supposed to be on a different trip as well, one with students from the East and West Coast so he and his cousin could go together. He shared that his cousin on the East Coast was pushing him to sign up. Alex recalls waking up exceptionally early since the application opened in East Coast time. "It was the crack of dawn, and I knew I had to get this application done so my cousin and I could go together. It turns out my cousin overslept, never applied, and to this day, she hasn't gone on Birthright." This is what led Alex to go on the LA trip Melissa was leading.
So, as Melissa was standing in the LAX airport greeting participants, she and Alex met for the first time. As the trip leader, she collected petty cash from the young adults and exchanged it for shekels (Israeli currency). Apple Pay didn't exist, and international credit cards were not common in 2008. Here, Alex witnessed Melissa in a flustered state, trying to remember the amount each participant was giving her, and began to attempt to make her laugh.
"I poked fun at her that she could not break a 100-dollar bill. I began teasing her from our very first conversation, and to this day, I haven't stopped," said Alex. Melissa told us she did not think his jokes at the time were funny.
Finally, the group landed in Israel, and their journey began. And of course, Alex's humor and sarcasm grew on Melissa, and she was smitten. Not only did they fall in love, but they found more than just their soulmates as a result of their Birthright Israel experiences. Both of them learned to value their Jewish identities and Israel.
Alex & Melissa's Most Significant Takeaways from Birthright Israel
In our interview, Melissa shared that she would have never imagined she'd be staffing a Birthright Israel trip if her experience as a participant had not been so impactful. She shared that before going to Israel the first time, she didn't have a Jewish identity, a care or want to raise a Jewish family, or even marry Jewish. "My first Birthright trip made me want to change my life and the culture I wanted to build for myself and my future family. Going back as staff and meeting Alex only made me want these things even more," shared Melissa.
For Alex, spending time with the Israeli soldiers and feeling that Israel was home left an everlasting mark on him. Even today, he can remember a conversation he had with one of the soldiers about the rocket attacks and their impact on daily life. He was stunned to know that daycare centers and preschools were built underground to make it easier to keep children safe during air raids.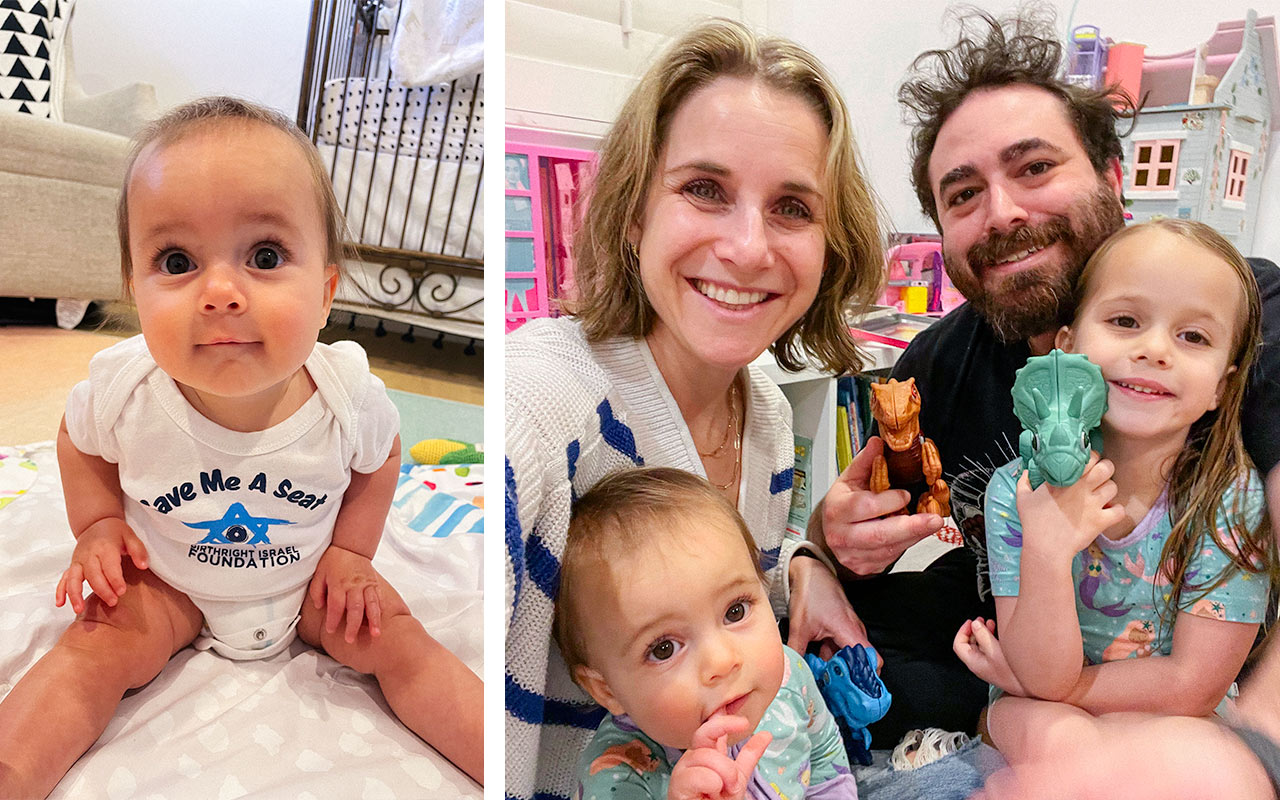 Combatting Antisemitism
In regards to feeling a sense of home, Alex felt an acceptance amongst himself and the Israelis — something that was a stark contrast to what he felt between himself and his classmates at UC Santa Barbara. As an International Relations major, Alex shared that he witnessed a lot of anti-Israel sentiment in his classes and, as a Jew who had never been to Israel, felt like he didn't have his own identity. "I was getting these ideas in my head about what life was like there based on what I heard in class and talking about it academically. Then, I actually went there on Birthright and saw it for myself; I felt more comfortable as a Jew and talking about Israel."
At the Los Angeles annual event in 2020, Alex and Melissa heard from recent alumna Isabel Allard who shared how her experience gave her the courage to stand up for Israel on campus. Her experience resonated with the couple, and it hit close to home for Alex, who had similar experiences. In our interview, he shared that Isabel's story reiterated the importance of fighting bad ideas with good ones. "The younger generations are not equipped with good ideas about Judaism when they get to college, Isabel's the exception, not the rule, and this is due in large part to her Birthright Israel trip. Most people would accept the hate and antisemitism that they hear, but she had huge balls, and she took a stand," said Alex.
Paying it Forward — Ensuring Their Experience Lives On
Here at Birthright Israel Foundation, we always say the trip is much more than ten days, it is ten days that last a lifetime, and Alex and Melissa feel the same. As their lives went on from marriage to raising their two beautiful daughters, Ruthie and Gabby, they stayed connected to Birthright Israel and Birthright Israel Foundation. Today, they're devoted members of the Los Angeles Leadership Cabinet and are generous supporters of the program. They hope that through focusing their philanthropy on Birthright Israel, they can make the world a better place for their daughters.
"The way Birthright Israel changed me still amazes me to this day, and through our giving, I only hope that I can change other people who, like me, had minimal Jewish upbringings…By going on this trip, you never know what you'll learn or what it will inspire you to do," said Melissa.