I was given the foundation of a strong Jewish identity in my small but tight-knit Jewish community in San Antonio, Texas. Wherever I go, I am proud to wear my Magen David because I am grounded in my beliefs.
I knew I wanted to make my connection to Israel my own, though, and that is why I embarked on my Birthright Israel journey. I had celebrated Shabbat many times over the course of my life, but my first Birthright Israel Shabbat in Jerusalem is a memory that will stay with me forever.
Our group lit Shabbat candles, enjoyed dinner together, and then set out for the Old City. It was dusk on a hot and steamy August evening, the kind of night I'm used to coming from Texas. As we walked as a pack along the yellow-gold cobblestones, people from all faiths crossed each other's paths. Muslim women in hijabs were heading to the Mosque to pray, we were going to the Kotel and Christians were working in their shops. People of all faiths were passing one another and sending blessings. I saw peace all around me, a place I never knew could truly exist. At this moment, I felt safe in the own practice of my religion and not judged.
Entering the Kotel space, we were surrounded by Shabbat services and joyous dancing. People I had never met before were welcoming us into their circles. We sang Am Yisrael Chai at the top of our lungs as we felt happiness and peacefulness. That night I felt everything that was taught in the Torah come together.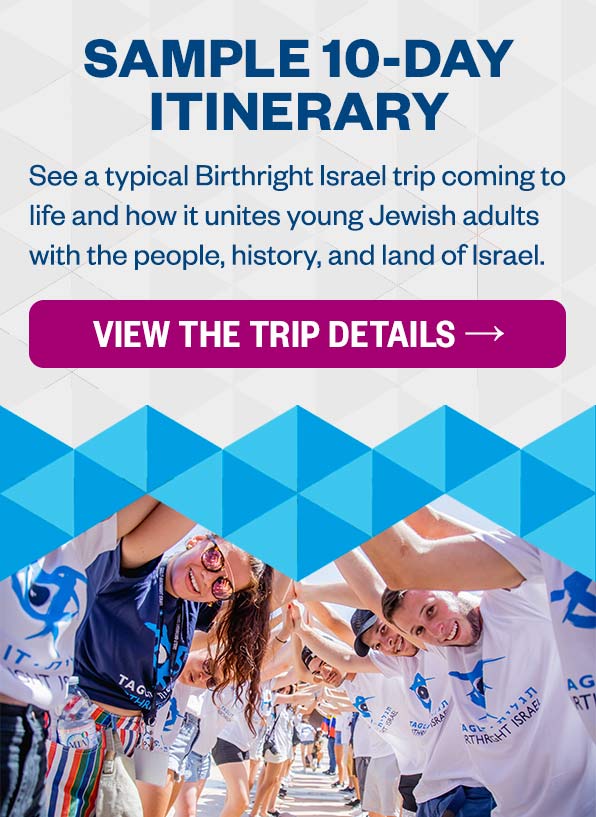 I returned home to college in East Texas, where I was frequently the first Jew someone met. You might think it would be uncomfortable to be in that situation, but I loved it! I liked to be able to explain information about keeping kosher and for them to be a friend and authentically teach them about my own experiences. A classmate once asked me to move my hair back because she wanted to see my horns. With my strong foundation, I was empowered to teach others about Judaism and what I saw for myself in Israel. From what they see on social media, many people do not know what a peaceful religion Judaism is. I used my own authentic stories to showcase the real Israel.
I chose to go on Onward Israel because the idea of spending a summer in Israel was appealing before I applied to pharmacy school, and I knew I would need pharmacy internships once I began these studies. Being able to spend time in Israel while exploring my career interests was incredible.
I worked with May Meltzer in my internship, who was pursuing her doctorate in pharmaceutical studies at Ben-Gurion University in Be'er Sheva. I spent the bulk of my days in her lab working on GCPRs – G Couple Protein Receptors – a new approach in targeted medicine. The internship allowed me hands-on experience in the future of medicine as I worked in the lab, broke down cells, washed them, and was able to try new things. Other researchers in the lab invited me to review their research, and we were able to grab coffee informally as well.
May invited me into her home to meet her family. This allowed me to experience aspects of regular Israeli life with a family and community. I loved experiencing all aspects of Israeli culture. Today I am in pharmacy school and set to graduate in a few years with a doctorate in pharmacy. I want to focus my career on community pharmacy but also research because I enjoyed what I learned in my time in Israel.
The opportunity to travel on Birthright Israel and spend the summer on Onward Israel strengthened my Jewish beliefs more than my time in Jewish day school. Being in Israel and seeing everything that Israelis do on a daily basis to defend our home is a lasting impression that I will always carry with me. These experiences strengthen my ability to talk about Israel and teach people about the real Israel based on my personal experiences. Thank you for giving me these incredible opportunities!