Birthright Israel Foundation is proud to count Donald M. Ephraim among its most generous donors in Palm Beach. His name for many in Palm Beach and the Chicago area will be familiar – Donald has been and is a very generous, active leader in both Jewish communities.
For decades he has philanthropically supported numerous Jewish and secular causes, from the Annual Donald M. Ephraim Palm Beach Jewish Film Festival at the Mandel JCC of the Palm Beaches, to various students' scholarships in the Chicago area. Donald, pictured here with his son David (right) and his daughter-in-law Francine (left), came from humble roots in Chicago and has grown his career and philanthropy. He was one of the youngest certified public accountants in the country as well as a respected attorney who represented broadcasting, arts, and culture personalities, inclusive of such clients as Gene Siskel and Roger Ebert. Donald is also a proud grandfather of six and is very glad several of them have taken advantage of the gift of Birthright Israel.
For a leader whose generosity spans various industries and multiple states, we took the opportunity to speak to him about his involvement with Birthright Israel Foundation. Here is what he had to say!
Why have you made Birthright Israel Foundation a top priority?
What I like about Birthright Israel is that it fills a critical gap in the Jewish journey of a young adult. I am referring to the gap between the time a child has his or her B'nai Mitzvah to early adulthood. What substantial connection to Israel and Jewish life is there during these years? This gap is one of the things that has always concerned me and impelled me to support the causes that fill it. Birthright Israel fills this gap and reintroduces a young person to what being Jewish is, through an experience in Israel, the only Jewish state.
I think this is very important; and even more so today, in light of the extent that Israel is being maligned and misrepresented on college campuses.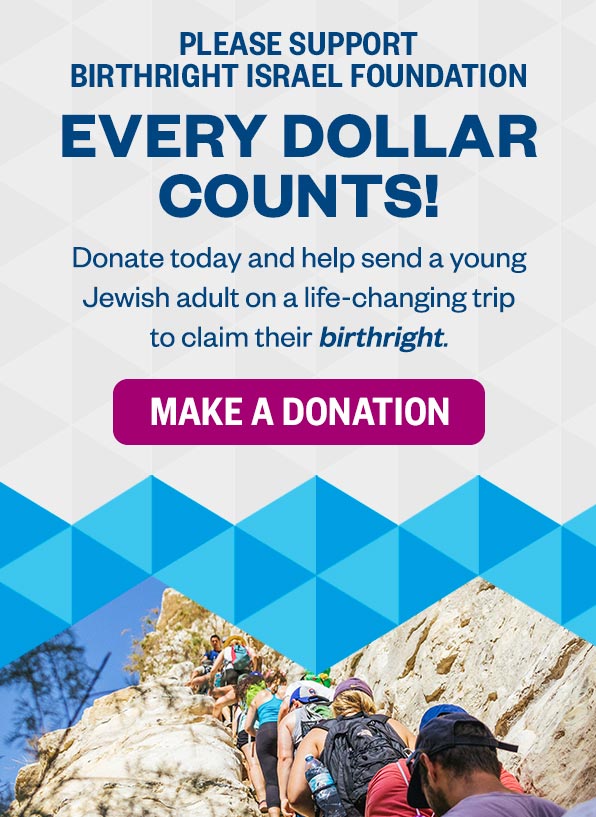 Have you traveled to Israel? If so, what do you enjoy most about the Jewish homeland?
I have traveled to Israel four times, and I love it. The first time I landed in Israel, I kissed the ground. In terms of my favorite part of the country, it's hard not to love Jerusalem and all of its attributes. It's marvelous to be in a country that's predominantly Jewish. I grew up in a non-Jewish neighborhood in Chicago. I was the only Jewish kid in school and suffered a lot of antisemitism. My experiences make me really treasure a Jewish atmosphere. I wish I had the experience of Birthright Israel in my day. It's marvelous that the Birthright Israel participants get so inspired and attached to Israel.
Why do you think it's important for today's college students to have a firsthand experience in Israel?
I think it's an opportunity for them to gain familiarity with, and inspiration from, the country. They'll see it's not South African apartheid and that the news stories containing overwhelming amounts of negativity about Israel that are published in the newspapers and broadcast on-air are untrue and defamatory. I heard people say that if a Martian landed on earth and followed the happenings in the media, they'd think Israel was the largest and most evil country in the world because of the huge and disproportionate volume of reporting and the over-emphasis of criticism of it and the many erroneous articles that state untruths about it.
Filling this need for knowledge about Israel is critically important to our young people. They will be the ones who determine the future of Israel, and if they don't know the truth about it, Israel will have a sad destiny.
What are your hopes and dreams for the Jewish people?
I would have a hope for a world free of antisemitism but I am skeptical about its elimination. I hope I am wrong but to think that antisemitism can flourish after the Shoah is unimaginable. If that did not teach the world about the evils of antisemitism, what would? I certainly hope there will be enlightenment at colleges and universities, and consequently, on the people who govern us, and that this will have an effect and stop the hate. It's a terrible outlook to have, but unfortunately, it's how I feel at the moment.
What do you believe is the most important thing a young Jew gains from their Birthright Israel trip?
In my judgement Israel is the survival of the Jewish people. When you look at what happened with Nazism and the fact that Hitler could exterminate Jews because no country in the world would accept us, including the United States – when you look at that, it's unthinkable that Israel would not exist. I feel Birthright Israel promotes intimacy with Israel and knowledge of the country that is hard to replicate by other endeavors.
Why do you, and why do you think others should philanthropically support Birthright Israel Foundation?
I think that Jews should support Jewish organizations and that those who are able to, should spread their charitable contributions among a variety of beneficiaries. And, I think Birthright Israel should be one of those — it's unique. I think that the mission of Birthright Israel is critically important.
---
More About Donald M. Ephraim
Donald M. Ephraim is a very generous supporter of Birthright Israel Foundation and currently resides in North Palm Beach, FL. He grew up in Chicago and after graduating from the University of Chicago Law School, he started his own law practice where his firm represented a significant number of news and entertainment celebrities.
Being the first person in his family to having completed college, and having paid his own tuition together with some scholarship aid, Don also cares very much about affordable education. He has funded scholarships at DePaul University, the National Academy of Television Arts and Sciences and at the University of Chicago, he established a Professorship Chair and a nationwide competitive award, The Donald M. Ephraim Prize in Law and Economics.
In addition to Birthright Israel Foundation, he is active in other organizations in Palm Beach such as the Cultural Council of Palm Beach County, the Mandel JCC, the Jewish Federation of Palm Beach, AJC, CAMERA, the Kravis Center, and the Maltz Jupiter Theater.