#GivingTuesday is a global day of giving that helps people and organizations transform their communities and worlds. That is why I'm partnering with Birthright Israel Foundation to help transform our Jewish world and the future of our people this Giving Tuesday. As many of you know, eight years ago, when I volunteered to lead a Birthright Israel trip, I met Alex, and from there, my life forever changed. Following our trip, our love story appeared on TLC's 90 Day Fiancé, where we showed our Jewish pride and our love for Israel. Then we got married, and today we're the proud parents to two boys — all thanks to Birthright Israel.
So, to say the least, the trip impacted my life in ways I didn't even think possible, and I hope that we can change more lives with your support. To celebrate Giving Tuesday and the miracle of Hanukkah, I encourage you to do a mitzvah on behalf of the Jewish people and give your gelt to Birthright Israel Foundation!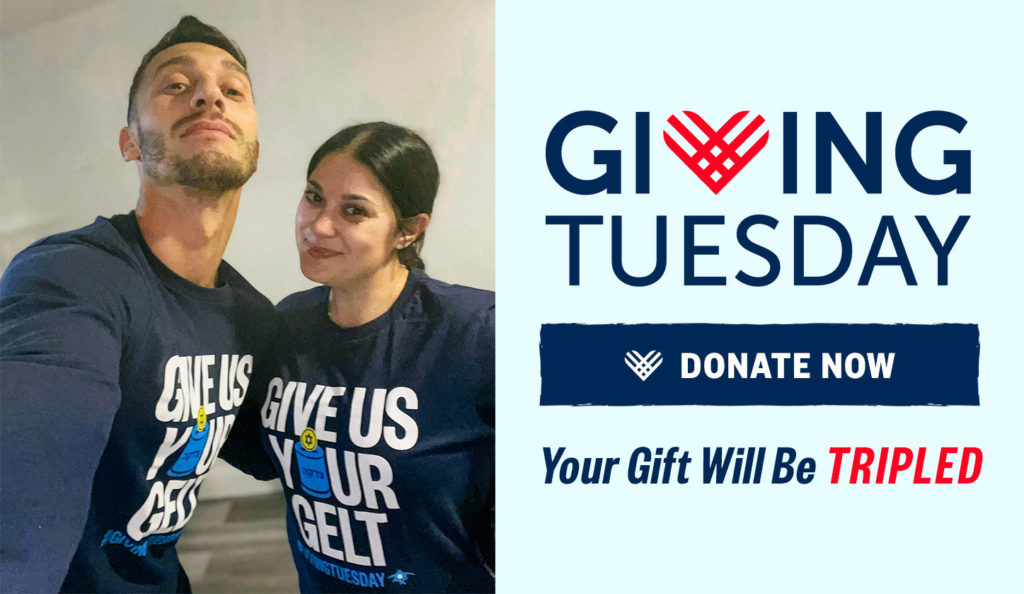 8 Ways to Support Birthright Israel on Giving Tuesday
Donate Today: Every Dollar Makes an Impact
From bubbe's to parents to alumni, everyone pitches in to help make trips a reality. Whether you can give $18 or $18 million, each dollar donated to Birthright Israel Foundation can help young Jews like me build strong connections to Israel and our Jewish heritage. Give today for a strong Jewish future!
Tell Us More About Your Birthright Israel Trip
When you tell us what you learned and experienced on your trip it helps communicate the impact of the program to the donors. You can write a short testimonial, write a blog post or share your photos! Every word or picture you can share will make Birthright Israel Foundation's donors proud of their investment in you. Tell us about your trip!
Haven't Gone on Birthright Israel Yet? Sign Up Now!
Be part of a global movement of young Jews who experience Israel firsthand through a Birthright Israel trip. You'll see a new country, experience the land of our people and form a deeper connection to your Jewish identity. And, who knows, it might just change your life like it did mine! Get started on your application now.
Post, Like, Share, Repeat. Spread the Word on Social Media
Get others involved and help spread the word about Birthright Israel Foundation's mission on social media. It's simple: post a photo from your trip and share what this experience meant to you then tag @BirthrightIsrael_Foundation on Instagram. Be sure to also like their Facebook page too!
Never Miss a Beat: Subscribe to Birthright Israel Foundation's Newsletter
Whether you're looking to get involved, recipes, or want to stay up-to-date you'll never miss a beat with their newsletters. Subscribe to Birthright Israel Foundation's newsletters.
Visit Israel Again and Again on YouTube
Do you miss the Western Wall? How about the beaches of Tel Aviv? Or, are you looking to see what others say about their trip? If yes, then you'll want to check out Birthright Israel Foundation on YouTube. Here you can find alumni testimonials and meet the people who make trips happen!
Continue Your Investment: Setup a Monthly Gift
By giving up an iced coffee here and there you can make a monthly donation. Consider giving $10 a month for 10 magical days in Israel or give $18 as a l'chaim to our Jewish future! Setup your monthly gift of $10 or your monthly gift of $18 and join their family of 40,000 donors.
Learn About Planned Giving & Create a Jewish Legacy
My experience is only one of the hundreds of thousands of young Jews who had their lives forever changed. Imagine what our Jewish future can look like if every young Jew participates on Birthright Israel! You can contribute to the continuity of program when you create a legacy gift.