Sarah Ackerman is the granddaughter of a Holocaust survivor and a proud Jewish American. She grew up in Palm Beach Gardens, FL, and currently resides in Orlando, where she is attending the University of Central Florida. Sara is studying clinical psychology with the hopes of graduating in spring 2023, where she will then get a master's in clinical mental health counseling or a doctor of psychology degree (Psy.D). When she is not studying, Sarah works as a crisis counselor for Crisis Text Line and as a grief counselor for children and adolescents in Orlando. Her passions include working with mental health organizations to spread awareness about the importance of mental health and contributing what she can to help others cope and live with mental illnesses.
Q&A with Sarah Ackerman
What inspired you to sign up for a Birthright Israel trip?
Sarah Ackerman: "What inspired me to sign up for a Birthright Israel trip was all of my friends and family members who had previously gone on the trip and had nothing but amazing things to share about their experience. They explained to me how life-changing the trip was, and I knew I had to sign up."
Did you have any preconceived notions prior to going to Israel?
Sarah Ackerman: "I didn't have many preconceived notions prior to going to Israel because I had been once before as a child. I would say that the previous trip I had been on was many years prior, and so my experience was very different from the trip I had gone on years before."
Did you grow up with a connection to your Jewish identity?
Sarah Ackerman: "I did grow up with a connection to my Jewish identity. My grandmother was a Holocaust survivor, and she always stressed the importance of being Jewish and remembering where you came from. Without her survival, twelve members of my family, including myself, wouldn't be here today. I went to a Jewish day school for seven years and also attended a Jewish summer camp for seven years. I would say being raised Jewish and being able to attend a Jewish day school and summer camp made me the Jewish woman I am today."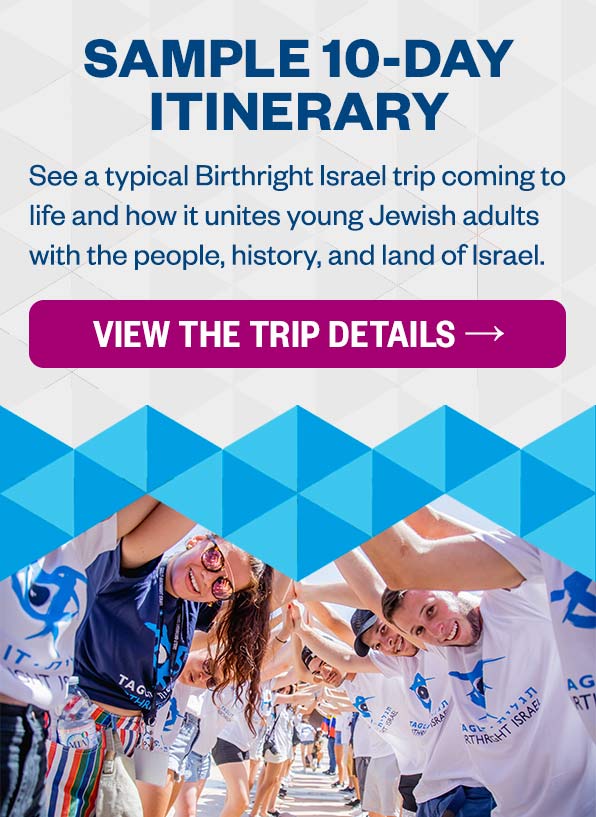 What was your biggest takeaway from the trip?
Sarah Ackerman: "My biggest takeaway from the trip was never to forget where you come from and always to be grateful that we have a Jewish state that we can call home. In addition to being thankful that the state is being watched over and protected by some of the kindest and most selfless human beings, the IDF soldiers. I wasn't entirely surprised about the way that the Israelis behaved and lived because I have been friends with many Israelis before, but what always comes as a shock to me is how relaxed and adventurous they are, even with all of the troubles and difficulties they are facing daily. Being able to spend a week with them added so much to my experience, and I am forever grateful that I was able to experience Israel with them. Shoutout to Noa, Ori, Chanan, and Avri!"
How has Birthright Israel played a role in your life since coming home from the trip?
Sarah Ackerman: "I think that the Birthright Israel trip has made me further realize how much I love the country and want always to be supportive of Israel. I think that going to Israel as an adult has also given me a different perspective than when I went as a child. I was able to experience so much more as an adult and was able to appreciate everything I experienced a lot more."
Are you involved more in your Jewish community because of your Birthright Israel trip?
Sarah Ackerman: "I attended Birthright Israel with UCF Hillel, and although I am a member of Hillel, I didn't know many of the other students on my trip. I would say I met a lot of new people from my school through the trip and am hoping to attend more Hillel events and further those connections I made on the trip."
It takes nearly 40,000 donors each year to provide the gift of Birthright Israel to young Jews everywhere. If you could meet the person who made your trip possible, what would you say to them?
Sarah Ackerman: "I would say thank you for giving me the trip of a lifetime. I will forever be grateful for the experiences and people that I met on this trip. I can't wait to go back to Israel and experience even more of the country. This is one of the best experiences I have been a part of as a young adult, and without your generosity, none of it would be possible, so from the bottom of my heart, thank you."