When you grow up in an observant family or community, Birthright Israel is something that's on everyone's radar. So naturally, when I was an undergrad at the University of Michigan, I signed up for a Birthright Israel trip with the campus Hillel. The trip was really my first touchpoint to Israel and engagement in Jewish life as an adult.
When I first arrived in Israel with my Birthright Israel group, I knew there was more I wanted to take in and I instantly knew I needed to come back. But, like many people when they return from their trips, I went back to reality; I finished school, moved to D.C. for work, and my life moved forward.
After a couple of years living in D.C., I remember sitting in my office and feeling like something was missing. After some thought, I realized my life was missing a connection beyond my 9-5. I started reconnecting to my Jewish community and looking for new ways to get involved. I even had a friend who was involved with The Jewish Federation of Greater Washington and encouraged me to attend a volunteer event.
Connecting with Federation
Shortly after, I received an email from their young professional group about a leadership mission to Israel and I realized this was my opportunity to find a community locally and head back to Israel. I applied, was accepted, and it was a fantastic experience. We spent our time learning about how the Jewish Federation of Greater Washington works to sustain the Jewish communities in the DMV as well learn how our community impact makes a difference abroad in Israel.
Becoming Birthright Israel trip staff
From this experience, my involvement snowballed. I continued to build my Jewish network, including serving on the Young Leadership (YL) board. At one of our board meetings, we were discussing the upcoming D.C. area Birthright Israel trips. Here, I raised my hand if there was an opportunity to lead a trip. Luckily, the Federation reached out and said they had an open spot to staff a 27 to 32-year-old DC community trip. This was one of the best experiences of my life.
Personally, after having experienced the program during college, this age group felt more special to me. As Birthright Israel had recently expanded the age requirements to 27-32, there were many people on our bus who were discovering their Jewish heritage later in life that it really made the conversations much more thought-provoking. With this expanded age range, those on the trip made an active decision to take their vacation time to learn more about their culture, family history, and of course Israel. They truly wanted to be there and were grateful for the opportunity.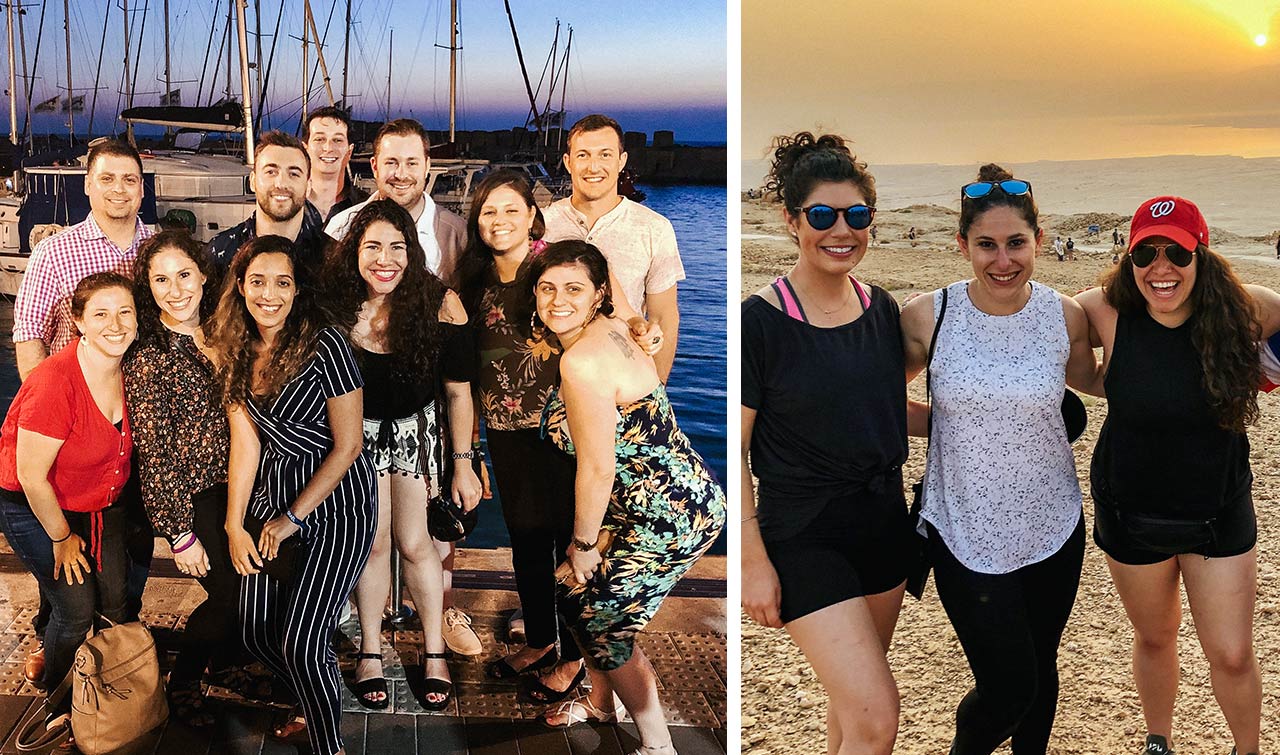 Experiencing Jewish life cycles
We had couples (including those whose partners converted), parents, singles, and everything in between. Some participants experienced great loss and were using this time to reconnect with their Jewish roots. Through our conversations about marriage, families, kids, and death, everyone refamiliarized themselves with Jewish lifecycles, which only get more prominent as you get older.
I think the trip really helped us see those in a personal context, especially being in Israel and learning how we can fit them into our daily lives as young Jewish adults.
Engaging with the Israeli participants
One of the most meaningful aspects of this trip was visiting Har Herzl which is always emotional but had a deeper impact this time around. We not only had active IDF soldiers, but we had U.S. veterans with us too. Beyond people sharing their experience in the IDF, the Americans had an opportunity to share what being a service member in the U.S. It was a touching experience for everyone on the bus, both American and Israeli, to come together and understand the ideals and differences of patriotism from our different cultures.
The Lasting Impact of Birthright Israel
Having the chance to travel to Israel, especially participating in Birthright Israel trips in different stages of my life, has created memories I will cherish forever. Recently, at another board meeting for the Jewish Federation of Greater Washington's YL board, we were talking about why these trips are so impactful. Everyone in the room knew someone whose life had changed because of Birthright Israel.
In today's American society there are certain perceptions about Israel that may be seen in a negative light, particularly from the media. A common misconception about Birthright Israel is that the trips are censored, but I promise you they're not. The program allows platforms for young Jewish adults to be on the ground and to see Israel for the blossoming society it is.
Through my experiences, I've been able to see many different landscapes of Israel, connect with dozens of Israelis, and have candid conversations about the political, societal, and cultural aspects of the country. It's allowed me to form my own opinions about Israel and how I shape my Jewish identity, and I know that everyone I've shared these experiences with have felt similarly. I'm grateful to have had these opportunities with Birthright Israel and the Federation. Most of all, I can't wait for others to participate so they can build their own connections in the future.