Hailey Desser is a 2015 Birthright Israel alumna originally from Baltimore, MD who now resides in Boca Raton, FL. She's a full-time real estate agent who is passionate about pickleball, real estate, and fitness. Upon moving to Boca Raton, Hailey founded a Jewish Social Networking group on Facebook to help connect Jews of all ages to each other. In our interview below you can read how Hailey's Birthright Israel trip played a role in her life.
Q&A with Hailey Desser
What inspired you to sign up for a Birthright Israel trip? 
Hailey Desser: "As a teen, I was part of a volunteer group in Baltimore that had a partnership with Israel. Our group traveled to Israel to volunteer. However when we were there the war with Hamas escalated. My trip was cut short and I didn't have the opportunity to do a lot of the volunteering and touring we had planned because of the conflict. I decided to on Birthright Israel because I wanted to go back to experience Israel with a new group of people at a more mature age and have the opportunity to experience the culture and sites I didn't get to on the original trip."
Did you have any preconceived notions prior to going to Israel? 
Hailey Desser: "I thought Israel was very unsafe since that is what was commonly broadcast on the news and I had been there during the war with Hamas."
Did you grow up with a connection to your Jewish identity?  
Hailey Desser: "I grew up conservative and went to Hebrew school but I didn't feel a strong connection to my Jewish identity. As a child, I felt like it wasn't my choice to be Jewish and I didn't understand why it was so important that I was Jewish."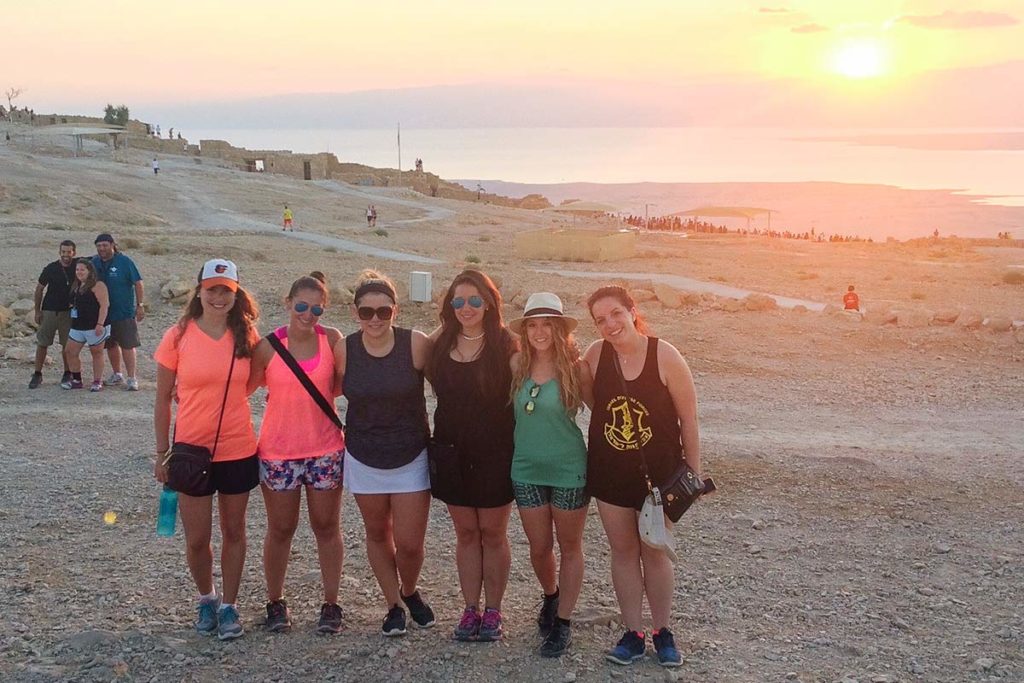 What was your biggest takeaway from the trip?
Hailey Desser: "The most profound moment on my Birthright Israel trip was when I went to the Western Wall. I followed the tradition of writing a note to put in the Wall. However, I didn't expect the effect it would have on me as I physically put the note in. When I placed my hand on the wall, everything went silent and a warmth met my hand. It was at that moment I felt I was touching G-d's hand. I have never experienced such a strong feeling in my entire life and it was an out-of-body experience I will always remember. I started crying because for the first time it clicked with me why I was Jewish. That connection was solidified and has stuck with me until this day."
How has Birthright Israel played a role in your life since coming home from the trip? 
Hailey Desser: "Birthright has had a tremendous impact on my life. I feel much closer to my Jewish identity and have an appreciation of how important it is to be Jewish. Most of my friends today are Jewish. Additionally, I feel a strong connection to Israel that will last with me forever."
Are you involved more in your Jewish community because of your Birthright Israel trip?
Hailey Desser: "Yes. In fact, I moved here permanently a few months ago and the first thing I did was start a Jewish Social Networking group on Facebook to meet other Jewish people in the area. Each month I plan events at local Jewish businesses. The purpose of the group is to help bring our Jewish community together and connect people. The group has over 200 people in the group ranging from ages 21-77 that live from West Palm to Miami."
If you could meet the person who made your trip possible, what would you say to them? 
Hailey Desser: "Thank you for changing the course of my life and giving me the opportunity to have a close connection with my Jewish identity. It was an incredible experience that I will cherish forever."