Allegra Horstmann is a 25-year-old professional living in Marion, Massachusetts, whose Birthright Israel trip ignited a career in the Jewish nonprofit world. After her Birthright Israel trip, she desired to pursue her passions and move to Israel, where she volunteered with at-risk youth. Shortly after her volunteer program was finished she decided to become an Israeli citizen. Today, Allegra Horstmann lives in Boston with friends with hopes to continue traveling and helping youth.
Get to know how her Birthright Israel trip impacted her life in our short interview below.
What made you want to sign up for Birthright Israel?
I grew up in a small town near The Cape that didn't have a strong Jewish community. I then went to Gettysburg College, which had a small Jewish community where I briefly heard about Birthright Israel. It was really my mom who encouraged me to go and built up my curiosity for the program. I'm glad Birthright Israel ended up on my radar and allowed me to connect with Israel! It's a free trip that sparked my whole life.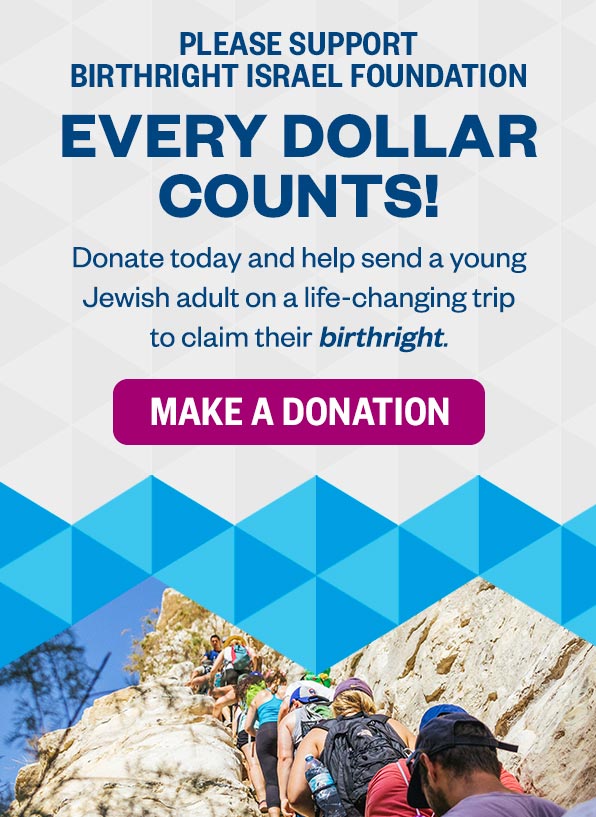 What is your biggest takeaway from the trip?
Being an American Jew is a very different identity than that of an Israeli Jew. Seeing a country where everyone is Jewish, and it's the norm, is fascinating. Being Jewish as an Israeli is your entire identity whereas as an American Jew it's only a small part. In Israel, you can just feel the Judaism like on Shabbat; it's very cool.
Had you met Israelis before going on Birthright Israel?
Yes, Birthright Israel was my first time meeting an Israeli. One of them even became my best friend! I think it was a great opportunity to learn about each other's cultures. We got to understand how we celebrated the holidays and integrated Judaism into our daily lives. Our tour guide made a real effort to show us the real Israel and how people lived their daily lives.
You participated in a Masa Israel program and made Aliyah after Birthright Israel. Did the trip prepare you for any of this?
Birthright Israel gave me a network, and it introduced me to lots of people. When I went back with Masa Israel, I already had one of the Israeli soldiers from my trip as a friend and a familiarity with the country. Birthright Israel provided me a snapshot of Israel and gave me a good sense of what I was getting myself into. Going on the trip for 10 days was a perfect amount of time to understand different aspects of the country and culture.
Tell us a little bit more about life after your Birthright Israel trip!
After Birthright Israel, I went back to college and had an urge to keep traveling. So, I decided to study abroad in Athens, Greece, spur of the moment! In Athens, I volunteered at the Jewish Museum of Greece. Here I spent my time working on archiving. Then, I went home for my senior year of college where I graduated with a religious studies degree and applied to a Masa Israel program instead of jumping into corporate America. I participated in a Tikkun Olam 10-month volunteer program. I got to work with at-risk youth and live in Jaffa. When my program ended I moved to Tel Aviv's Florentin neighborhood and worked in development for The Jaffa Institute.
Why should people continue to give to Birthright Israel Foundation?
If you want to see Judaism continue and a young generation who is passionate about Israel then you should donate. We should continue to bring young people to Israel and help them explore their Jewish identity.