2017 Birthright Israel alumnus Aaron from Massachusetts, always knew he wanted to serve in the Israel Defense Forces (IDF) and took advantage of the trip to further his desire to defend Israel and the Jewish people. Aaron returned home after Birthright Israel to finish his degree in mechanical and aerospace engineering before returning to Israel. In Israel, he became a lone soldier in the IDF and served as a combat soldier in the Tzanchanim (paratroopers). During his time in the military, Aaron made Aliyah and has been an Israeli citizen for a little over two and half years. Since his release from the IDF, he works full time in Israel and enjoys everything the country offers.
We are grateful to Aaron for sharing more about how his trip played a role in his life. Please get to know why he values his Birthright Israel trip in our interview below.
An Interview with Aaron, Former IDF Paratrooper and Birthright Israel Alumnus
What inspired you to sign up for a Birthright Israel trip?
Aaron: "Israel was always the one place in the world that I wanted to visit, but it seemed so far away. I wasn't raised in a religious household, but I did learn about Judaism and its connections to Israel. I learned about Birthright Israel when I was younger but never had an opportunity to sign up until college. The first chance I had, I signed up the second I saw registration was open."
Did you grow up with a connection to your Jewish identity?
Aaron: "While I did not grow up in a religious household, I did go to my synagogue once a week to learn about Judaism and Israel as well as how to read and write in Hebrew (not conversational, for the purpose of my Bar Mitzvah). Apart from my brother and I and one other person, there were no other Jewish kids in my school growing up, and it gave me a sort of pride to be different — to be Jewish."
Did you have any preconceived notions prior to going to Israel?
Aaron: "I did not have any preconceived notions before my Birthright Israel trip. I have always tried to have an open mind and take things as they come. This really helped me on the trip because it allowed me to get close to my group, where we are all strangers. More so, it allowed me to really enjoy all of the different places and activities along the way."
What was your biggest takeaway from the trip? What surprised you the most about Israel/Israelis?
Aaron: "I think my biggest takeaway from the trip was the difference in cultures. There was definitely a sort of culture shock throughout the Birthright Israel experience. I took away a great appreciation for the differences in our cultures, and most importantly, I came away with a whole new group of friends. When I moved back to Israel, two of the Israelis on my trip, who are still close friends of mine, were waiting for me at the airport."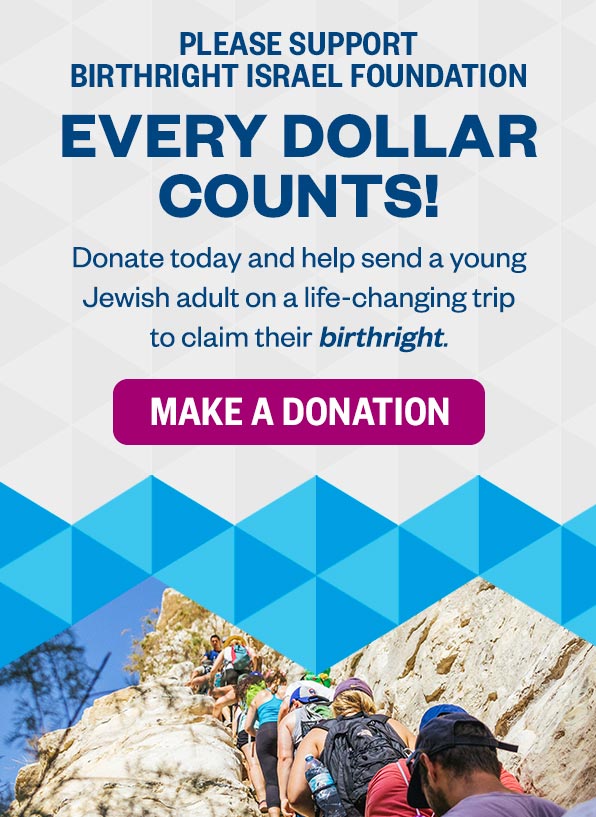 How has Birthright Israel played a role in your life since coming home?
Aaron: "In the years since I took part in Birthright Israel, I finished my college degree and immediately moved to Israel and volunteered in the IDF, where I served in Tzanchanim (the paratroopers). I have since been released from the army, and I live and work as an Israeli citizen. While I decided to volunteer for the IDF well before I took part in Birthright Israel, the program helped make my decision more real and achievable."
Are you involved more in your Jewish community because of Birthright Israel?
Aaron: "While I do not feel like I have been more involved in the Jewish community since my trip, I watched other members of my trip discover their previously unknown Jewish identity. We had one member of our group who was unaware that he was Jewish until a few months before Birthright Israel. When he found out that he is Jewish, he immediately signed up. As he told us, he signed up because who wouldn't want a free trip around the world. By the end, his point of view was completely changed, and he found a real connection to his Jewish identity, and we all got to be a part of his Bar Mitzvah in Jerusalem."
It takes nearly 40,000 donors each year to provide the gift of Birthright Israel. If you could meet the person who made your trip possible, what would you say to them?
Aaron: "If I could meet some of the donors, I would thank them for the priceless gift they have given to countless Jewish young adults who can take part in this unforgettable experience. I have been living in Israel and experiencing the culture every single day for over three years now. However, my experiences from Birthright Israel still stand out as some of my fondest memories."
---
Did your Birthright Israel trip play a significant role in your life?
How did your 10-days in Israel impact your life or career? If you had an unforgettable experience, then we want to know! Alumni testimonials ensure the future of Birthright Israel trips by allowing our donors to understand the impact of their investment. Learn how you can "Say It Forward" by sharing more about your trip with us.