Birthright Israel alumnus Jake Niefeld is currently a student at the University Kansas studying Spanish Education. He's originally from Minneapolis, MN, and absolutely loves to be outdoors. Jake also enjoys playing his guitar and any kind of sport, most specifically, Ultimate Frisbee. In our interview below, we caught up with Jake and wanted to know why he thought Birthright Israel was so life-changing.
Q&A with Jake Niefeld
What inspired you to sign up for a Birthright Israel trip?
Jake Niefeld: "I was inspired to go on Birthright Israel because of my university Hillel staff. I was quite nervous at first and didn't know what to expect, they were integral in getting me on this trip of a lifetime. The amount of gratitude that I have for them is unparalleled."
Did you have any preconceived notions prior to going to Israel?
Jake Niefeld: "Absolutely, hearing everything that you hear on the news creates worry about visiting that country. However, I never felt for a moment that I was unsafe at any point. It was quite a surreal feeling."
Did you grow up with a connection to your Jewish identity?
Jake Niefeld: "My parents left it up to me regarding my level of involvement in Judaism. Summer camp really helped solidify my love for Judaism. My connection has definitely been a growing love and is now one of the proudest connections in my life."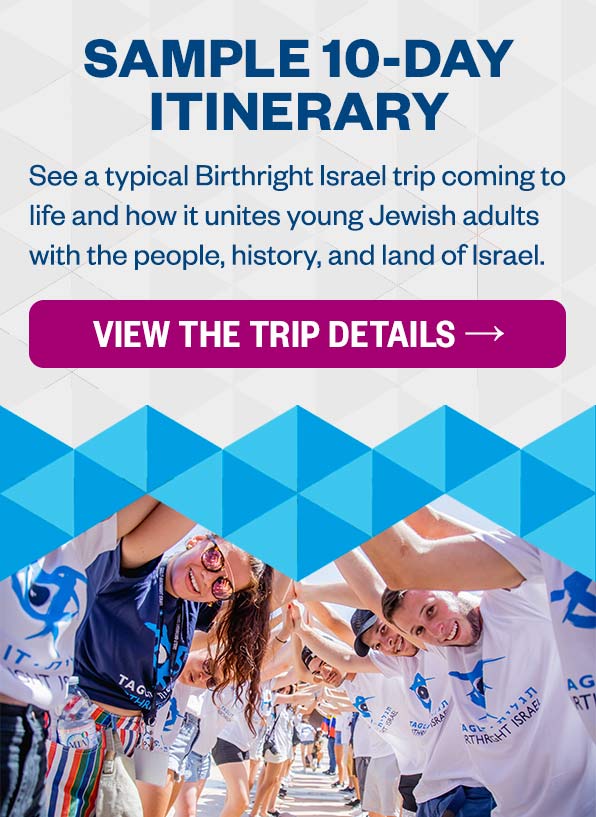 What was your biggest takeaway from the trip?
Jake Niefeld: "My biggest takeaway from the trip is the relationship that I have with those in my group, including our Israelis. My group was fantastic, and I never thought it was possible to get so close with so many people in 10 days."
How has Birthright Israel played a role in your life since coming home from the trip?
Jake Niefeld: "It's made it more difficult but in a good way! I keep comparing my life at home to what it was in Israel (not a fair comparison in the slightest). I continue to stay in contact with my group and stay up to date with their lives."
Are you involved more in your Jewish community because of your Birthright Israel trip?
Jake Niefeld: "I wouldn't say I'm more involved in my community because I was already heavily involved in my community. I would say I'm more solidified in my involvement and why I'm involved."
If you could meet the person who made your trip possible, what would you say to them?
Jake Niefeld: "THANK YOU!!! I will never be able to say it enough, and that's because this truly was a life-changing experience. I have created so many new connections and a newfound connection with my second home. THANK YOU, THANK YOU, THANK YOU!!!!!"