San Diego resident Kira Finkenberg understands the value of Jewish continuity and has dedicated most of her adult life to serving the NexGen community, holding board positions for five major Jewish organizations. Therefore, when she received a call asking if she'd be interested in staffing a Birthright Israel trip, it was only natural for Kira to say, "How soon do I need to be at the airport?"
Birthright Israel successfully relaunched its trips in May 2021 after nearly a year and a half. Throughout the summer nearly 4,000 participants filled the streets of Jerusalem and Tel Aviv. The return of trips comes at a critical time for San Diego and all Jewish communities, providing our young adults with an opportunity to experience Israel first-hand in a safe and inclusive space.
Birthright Israel had the opportunity to speak with Kira, who was so impacted by her trip in June that she decided to staff a second group leaving days after our conversation.
Kira cares deeply that future generations are connected to their Jewish identity and understand the role and impact Birthright Israel plays in that outcome. Kira shared her thoughts on how this gift is transforming our young adults and how you can help to ensure it continues.
Q&A with Kira Finkenberg
BRIF: Do you think that living through a pandemic impacted the participants' desire and willingness to create a community on their Birthright Israel experience?
Kira: Absolutely! I think that it was such a unique way to find community. For many of them especially those that just graduated high school, the willingness to get on a plane, to somewhere you've never gone, with people you might not know, says something about the need to come out of isolation and have a shared experience. What I witnessed, and what I now understand as the "power" of a Birthright Israel trip, is how naturally they came together to create this new community. Our group started to bond from the time we met in person at the airport.
As the trip progressed, it was amazing to hear the participants' exchanges with each other. The impact on each participant was unique, and they were having such intelligent conversations with one another. They truly meshed together through the ten days and their sense of community was much stronger coming out of this experience than going in.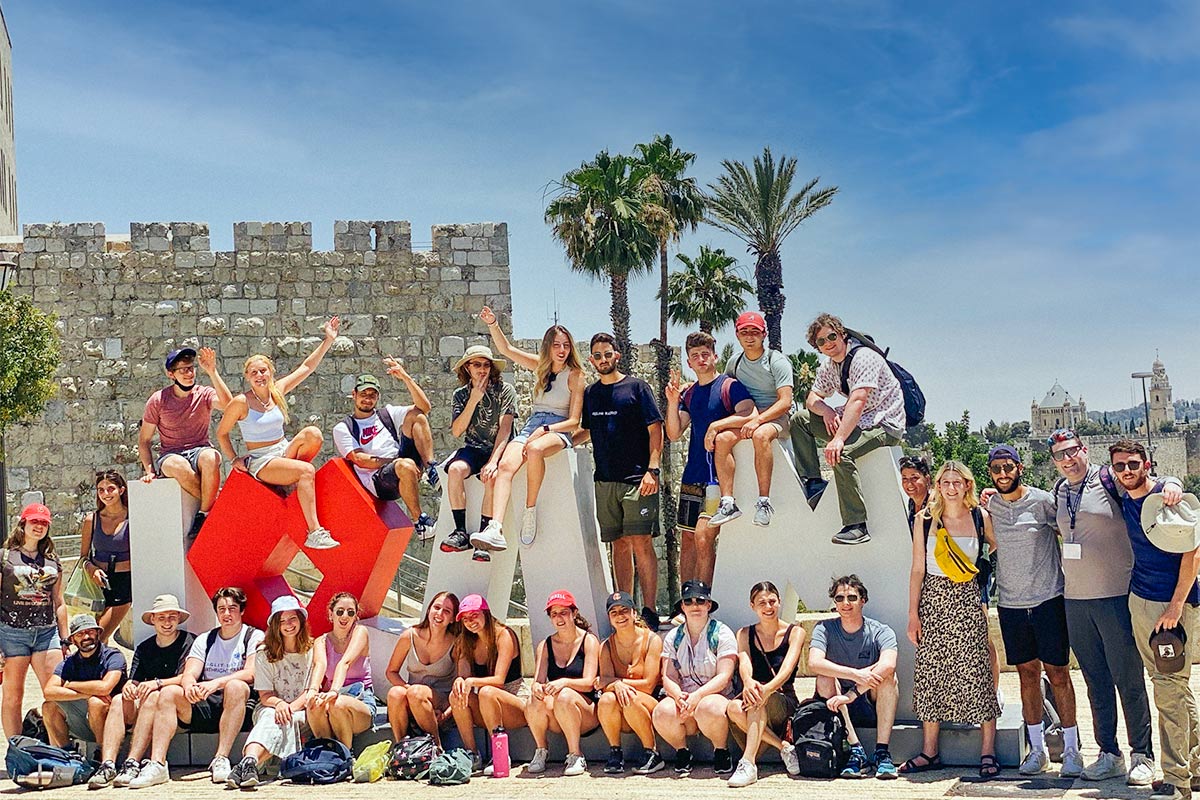 BRIF: The participants, who are coming from Jewish communities both large or small, are bombarded with messages on social media from celebrities or influencers, claiming to be experts on Israel and the Palestinian conflict. They're coming to Birthright Israel with heightened emotions and unique pressures. Why do you think Birthright Israel is so important, and do you believe it has special significance today?
Kira: For these young people, Birthright Israel plays a critical role in providing the next generation with the opportunity to see it (Israel) for themselves. What it is, what it does for the Jewish people and how it's a safe place for them. You can hear about a place, but it's never the same until you see it and you witness it and experience it yourself. For participants to be able to say, "I went to Israel and I saw this. This is what's happening," is powerful and impactful. It gives the next generation their own Israel experience, which translates into a stronger perspective and voice.
BRIF: Can you share with us what impacted you the most — as we say in Birthright Israel language, what was your "ah-ha" moment?
Kira: I had been to Israel once before, and I know there's only one chance to make a good first impression. I had already had that powerful moment for myself, but what most meaningful for me was to see it through the eyes of our participants. Each one had their own "ah-ha" moment — whether it was being at the Western Wall, or sitting in a group surrounded by other Jews, or meeting an active Israeli soldier and seeing and understanding that they are just like them. I also was impressed overall by the group's bravery — especially now — you talked earlier about social media bombardment — several people in the group felt empowered and started blogging about their experience on social media. It was also an "ah-ha" moment for me to see the depth and evolution of discovering the Jewish part of themselves.
BRIF: Why should the Jewish community support Birthright Israel and why should young adults participate?
Kira: Let me first address why every young adult should go. I grew up in a place with a small relatively non-existent Jewish community. There was always something missing and it took me years to figure out I was looking for my Jewish identity and community. When Birthright Israel began, I had already aged out. I missed out. Now having staffed a trip, it's so obvious that Birthright Israel paves the way for our young people to truly understand what matters and the role they play in strengthening our Jewish community. There are so few experiences like this in life, where you can meet new people and bond in such a short amount of time — finding your people and being welcomed home, feeling a sense of pride in your history, and being present in that moment. It's not the same as traveling anywhere else. It was powerful and magical for our participants and me.
The Jewish community should know the philanthropic investment spent today is providing a life-changing experience for Jewish young adults that will truly alter their lives forever.
If your child or grandchild hasn't gone yet, they should! It is an experience of a lifetime and the opportunity to impact the next generation is crucial. I am thankful I had the opportunity to staff the trip, to finally get my own Birthright Israel experience, and to see how impactful it was and what it meant to the participants. As an advocate for the next generation, I'm committed to teaching our Jewish young adults the importance of giving back and focused on getting them more involved in their Judaism, and to leave the world a better place than they found it.
Thank you, Birthright Israel Foundation. I'm really excited to meet my next group.
Questions, Comments or Looking to Get Involved?
Deborah Dolgin
VP, Western Region
deborah.dolgin@birthrightisrael.org
(323) 384‑3931