It's the cookie any American Jew knows and absolutely loves – the Kiddush cookie. Sometimes known as a sprinkle or confetti cookie too. This light-colored mound of goodness is complete with colorful sprinkles. You may even find them dipped in chocolate and then covered in sprinkles! They are showcased in synagogues around America on Saturday mornings post-Shabbat services. You'll find them next to the marble cake, rugelach and of course the rainbow cookies.
Sure, you've seen the Sprinkle Cookie become all the rage on Instagram, but American Jews have been eating it for nearly half a century. This sprinkle cookie is such a staple in American Jewish culture that it made it on Tablet Magazine's list of the 100 most Jewish foods.
So, if everyone is feasting on this sweet delight, why not try to make it? This where Birthright Israel Fellow, David Ratz, comes in. If your taste buds are watering for the sprinkle cookie, scroll down to get baking!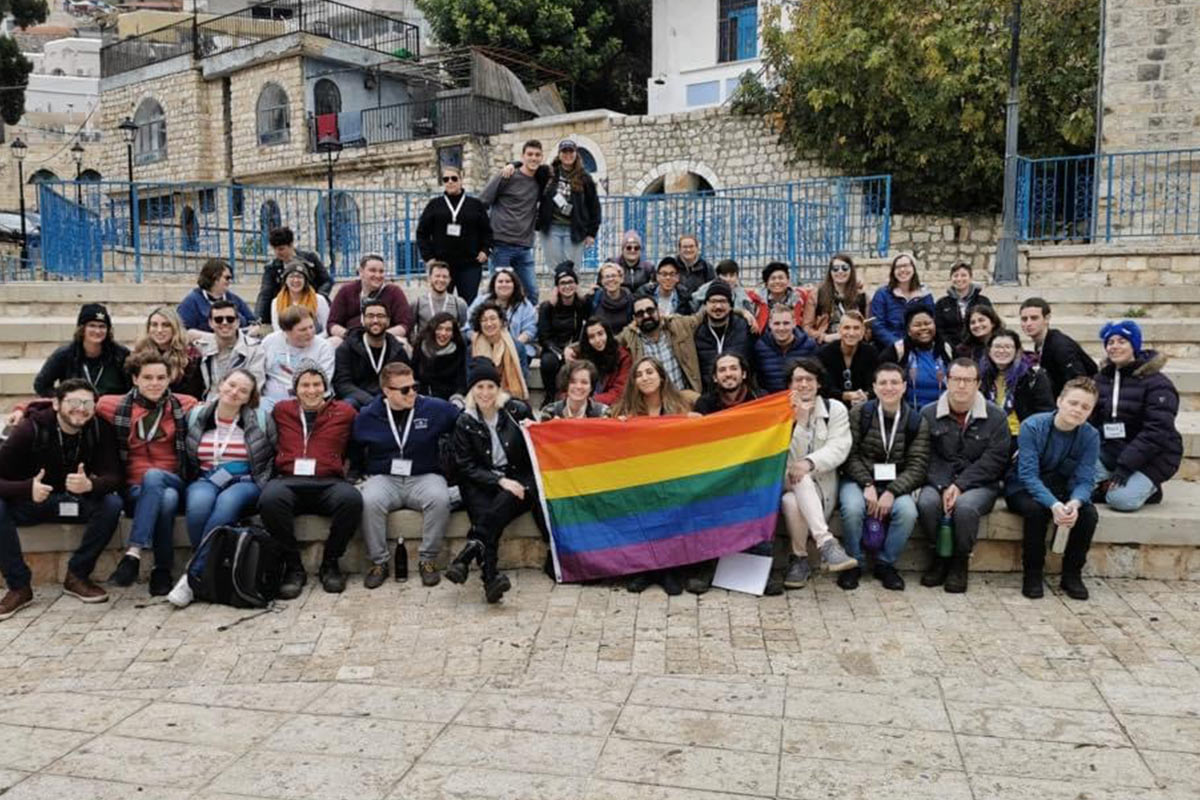 Meet David Ratz
As an Orthodox Jew, member of the LGBTQ+ community, and grandson of Holocaust survivors, Birthright Israel holds a special place in his heart. His journey began in 2017 as a North American madrich and went on to become a Birthright Israel Fellow in 2018. As a Fellow, he participated in a three-and-a-half-day seminar that delves into Birthright Israel's educational approach. The seminar also provides Fellows the necessary toolkit to become both Jewish role models and effective group leaders. 
Through the trip, David was able to visit Israel for the first time and see that the Jewish people and his homeland have a place for everyone – no matter their background. David has since staffed four other trips, including a Food and Film themed Birthright Israel experience.
"I've grown as a Jewish educator because of Birthright Israel. Each time I staff a trip, I grow more. What drives me to keep staffing is Tikkun Olam. I enjoy helping people discover themselves in Israel and reconnect with their Jewish identity. As a chef, I also really appreciate how the trip helps young people learn about their heritage and culture through food," says David.
Kiddush Sprinkle Cookie Recipe
What You Need
2 cups of flour
1/2 teaspoon of baking soda
1/2 teaspoon of salt
1 1/2 sticks of butter or margarine (room temperature)
1/2 cup of sugar
1/2 cup of powdered sugar
1/4 cup of oil
1 egg
2 teaspoons of vanilla
2 cups of sprinkles
Directions
Preheat oven to 350
Cream butter, sugar, and powdered sugar.
Add the egg and then the oil.
Mix the baking soda, salt, and vanilla together until incorporated into the egg and oil.
Add flour and chill in the fridge for 1 hour.
Roll into tablespoon-sized balls roughly 40 grams and then roll in the sprinkles
Bake for 20 minutes and then cool on a wired rack.
To find more delicious Kiddush cookie recipes follow David on Instagram @dratz95.