Have you ever performed a mitzvah and told the recipient to "pay it forward"? A common saying in popular culture, the term was likely coined during the early 20th century, though the concept dates back to ancient literature. The idea is simple: Rather than repaying an act of kindness, do something kind for someone else.
Birthright Israel Foundation is rooted in the concept of paying it forward. Our founders are philanthropists who, nearly two decades ago, gifted 9,000 Jewish young adults with a priceless trip to Israel. Since then, Jewish community donors around the world have contributed to the life-changing experience of Birthright Israel for more than 750,000 participants.
While we couldn't exist without those who pay it forward by gifting so many with their birthright, we also understand that not everyone in the Jewish community has the resources to donate. That's why we're equally as thankful when you "say it forward."
Who Told You About Birthright Israel?
As long as she could remember, alumna Olivia Lavidor had heard her grandma's voice urging her to go on Birthright Israel. For alumnus Riley Pope, it was a memory of a conversation overheard during summer camp at age 15. "Experiencing Israel awakened something within me," said Pope one year after his Birthright Israel trip. "My children, my children's children, and so on, will know what it means to be Jewish."
When you spread the word about your own Birthright Israel experience, or say it forward, you are planting a seed that will blossom into a vibrant Jewish future for generations to come.
Ask any alumni and you'll most likely hear that the trip transformed their life. A study by Brandeis University shows that 85 percent of participants call it a life-changing experience, which sparks an increased level of commitment to:
Marrying a Jewish partner
Raising a family in the Jewish tradition
Celebrating Jewish holidays
Joining synagogues and Jewish organizations
Returning to Israel
Participants gain an intimate understanding of the Jewish people, history, and culture, as well as the need to protect it. They celebrate Shabbat with Israeli families, meet lifelong friends, and visit sites like the Western Wall in Jerusalem, Yad Vashem Holocaust Remembrance Center, and the Dead Sea.
Lavidor eventually heeded her grandma's advice to rediscover her Jewish heritage on Birthright Israel. Now the alumna said she thinks she will "never be able to thank her enough for nagging me." And Pope doesn't know why that random summer camp memory came rushing back to the surface, but he's truly thankful it did. "Whatever made this thing called 'Birthright' [Israel] pop back into my head was bashert," he said.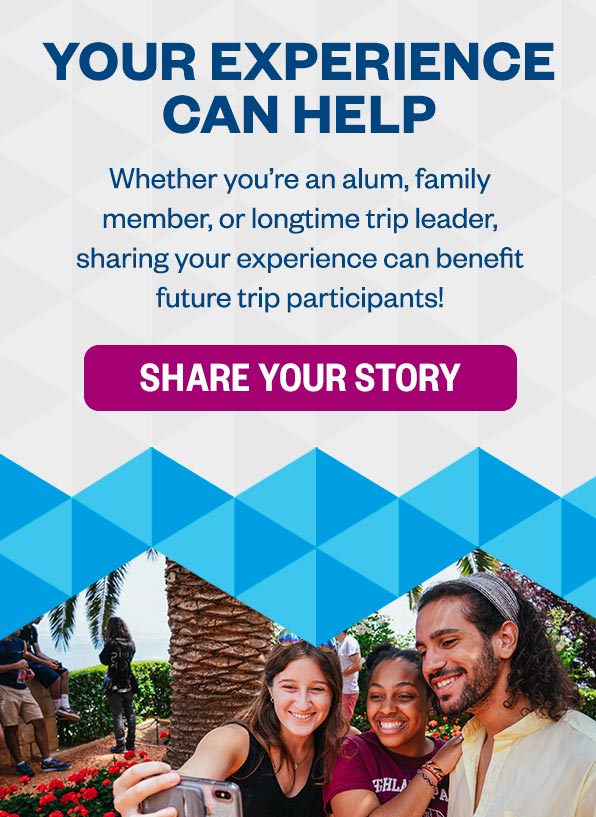 What Have You Heard?
Let us guess: The first thing you ever heard about Birthright Israel was, "It's free!"
Yes, it's technically free to its participants, but it's more accurate to refer to it as a gift. Someone has to cover the cost, and that's where Birthright Israel Foundation comes in. 
As the fundraising arm for Birthright Israel, we aim to raise $57 million every year. The majority of funding comes from worldwide donors, but a small percentage comes from the Jewish Federations of North America, the Jewish Agency for Israel and the Government of Israel.
Why work to provide this gift for so many? Because we believe it's the collective responsibility of the Jewish community to carry on the legacy of our founders: To ensure that every eligible young Jewish adult around the world, especially the less connected, is given the opportunity to visit Israel on this educational journey.
Maybe Israel isn't their first-choice destination, but the funds we raise help eliminate the financial burden of travel, making it easy for participants from all backgrounds to participate.
Alumnus Connor Jacobson puts it best when he described how Birthright Israel helped him cope with mental illness. "Everyone's journey is different, and my story may very well be unique, but I've seen the possibility of what Birthright Israel can do for a person," he said. "This is a free trip to Israel that could change your life. If that isn't a good enough sales pitch for Birthright Israel, I don't know what is."
Why Does It Matter?
The strength of our community and our future depend on Birthright Israel Foundation, now more than ever. According to those surveyed in AJC's 2019 Survey of American Jewish Opinion, 65 percent of Jewish respondents believe the status of Jews in the United States is less secure than one year earlier. The survey also found that respondents viewed the climate on college campuses in the US as 57 percent more hostile than a year earlier.
Hostility and anti-Semitic activities on college campuses in the US are likely connected to the growing Boycott, Divestment, and Sanctions (BDS) movement. The movement, according to the Anti-Defamation League (ADL), often advocates "anti-Semitic rhetoric and narratives to isolate and demonize Israel."
BDS has garnered support far beyond college campuses. On its blog, the ADL calls out rock music icon Roger Waters, who is an outspoken supporter of BDS. "He has refused to perform in Israel and urged fellow artists to follow suit, and has often used inflammatory rhetoric against the country," they write.
Fortunately, one way to help counter BDS campaigns is by knowing the facts about Israel. On Birthright Israel trips, participants learn to separate fact from fiction and speak truthfully of Israel to others. They then carry those lessons with them once they return home.
Will You Help Tell Our Story?
Whether it's sharing (and resharing) your Birthright Israel experience with your kids or telling your friends the facts about Birthright Israel at a Shabbat dinner, there are many ways you can utilize your voice, talents, and influence to say it forward for Birthright Israel. 
How to say it forward:
Share inspiring photography like these 35mm photos of Israel taken by alumnus Luis Burgos.
Blog about the experience like alumnus Jordan Daniels.
Vlog, like alumnus Ben Boxer.
Share Birthright Israel Foundation social media posts.
Create letters to the editor of a Jewish or non-Jewish publication.
Take action like alumna Casey Dresbach, who became the first female president of her campus Hillel at the University of Miami.
Still not sure what to say? See how other alumni are telling their stories. 
What's Your Story?
At the end of the day, generous donations from the Jewish community help fund the life-changing experience of Birthright Israel, and Birthright Israel Foundation works tirelessly to continue giving that gift.
Still, we need your help to say it forward so eligible Jewish young adults all over the US continue to claim their birthright. Hopefully, when they return from their homeland, they too will tell their grandchildren, friends, and everyone else in the Jewish community all about their Birthright Israel story. Will you say it forward and share yours?