Did you recently learn that your child or grandchild is interested in a group trip to Israel? You're likely thrilled that someone you love is eager to embrace their heritage, but you may also wonder if they're in safe and suitable hands.
When the trip is organized through Birthright Israel, there's no need to worry. You may not know much about this life-changing trip for Jewish young adults and the foundation that keeps the trips going, but there's a strong, 20-plus year history of success stories to back it up.
Birthright Israel is not only safe, it provides numerous benefits to the Jewish Diaspora and the future of the Jewish people. But that's just the tip of the iceberg. Here are seven things you will be pleased to learn about your loved one's upcoming Israel journey.
Birthright Israel Connects Jews with Israel
The past few generations of Jews are oblivious to a world without Israel and may have little knowledge of the struggles we faced when establishing our beloved homeland.
Despite this lack of awareness, most Jewish young adults who participate in a Birthright Israel trip return with a strengthened bond to the Promised Land. In fact, 93 percent are more likely to be "very much" connected to Israel, according to a study by Brandeis University.
The educational trip provides participants with an intimate understanding of the Jewish people, history, and culture, as well as the need to protect it. They celebrate Shabbat with Israeli families, meet new friends with similar values, and visit Jewish, Zionist, contemporary, and Shoah heritage sites as well as organizations, institutions, and businesses. The action-packed itineraries often include visits to the following:
Western Wall in Old City Jerusalem
The city of Tzfat
Yad Vashem Holocaust Remembrance Center
"The Shuk" marketplace
The Center for Israeli Innovation in Tel Aviv
Dead Sea
Alumna Kyla Gladstone was not raised Jewish, but she felt her experience in Israel was "nothing short of transformative," turning her into a fierce protector of the homeland.
"I no longer feel separated from my heritage," Gladstone said. "It isn't a distant line of relatives stretching decades and centuries into the past. It was right there. Alive and well in the land of Israel." Birthright Israel's model has been so successful that it has had an impact beyond the Jewish community, acting as a template to connect various diaspora communities to their cultural homelands, including Armenia, Greece, Hungary and Cuba.
Birthright Israel Sparks Interest in Being Jewish
Not only does Birthright Israel spark an interest in Israel, it also sparks an interest in Judaism and Jewish participation, whether that be attending synagogue more often, marrying Jewish, or working for a Jewish organization. For instance, a large percentage of alumni (roughly 35 percent) go on to work for Birthright Israel Foundation in the US.
Before her Birthright Israel experience, alumna Nicole Livadas was confused by her relationship to Judaism and felt like she was a bad Jew. All that changed in Israel. When she returned from her trip, she called her mother and told her: "My Judaism, marrying a Jewish man, and raising a Jewish family will now be the most important things in my life."
While many participants report feeling more Jewish after the trip, they also learn that there is no one right way to be a Jew. The trip is completely pluralistic, inclusive, and apolitical, providing all its participants with an equal opportunity to share their voice about Judaism, Israel, and identity.
"Since returning home from my Birthright Israel trip, I wake up every day knowing how blessed I am to be Jewish," said alumna Ashley Horine. Her trip not only inspired her personally but also motivated the rest of her family to become more Jewish.
Birthright Israel Creates Lifelong Relationships
Alumna Alix Roberts explained the power of Birthright Israel to create relationships best when she proclaimed: "In just 10 days, you form lifelong bonds and friendships that span entire countries and decades of time apart."
When Roberts returned to Israel 10 years after her first trip, she randomly bumped into a familiar face on the streets of Tel Aviv. It turned out to be the Mifgash (Israeli peer) who accompanied her Birthright Israel group a decade earlier.
"Within minutes, we'd picked up where we left off as if no time had passed," she said.
Their reunion was unplanned, but alumni often convene for organized reunions outside of Israel, such as the Ukraine mega-event in Odessa where 2,500 alumni and friends attended. Alumni are also likely to reconnect through local organizations such as Jewish Federations, Hillel, Moishe House, OneTable.
In addition to lifelong friendships, trips can lead to a love connection. Take Carly Rapaport and Alex Vargas, for instance. They both lived in Boston but met on a Birthright Israel trip and married four years later. Brayden and Jenna Kay List, who met on the flight to Israel, "knew the love we had experienced over those 10 days was more than some have in a lifetime." The bashert married three years later.
As alumna Mona Lisker explained in her personal vlog, "You'll come in as one and you'll leave with an entire family … You're going to have a physical, mental and emotional connection with Israel when you leave … it is one of the greatest things that has happened so far in my life."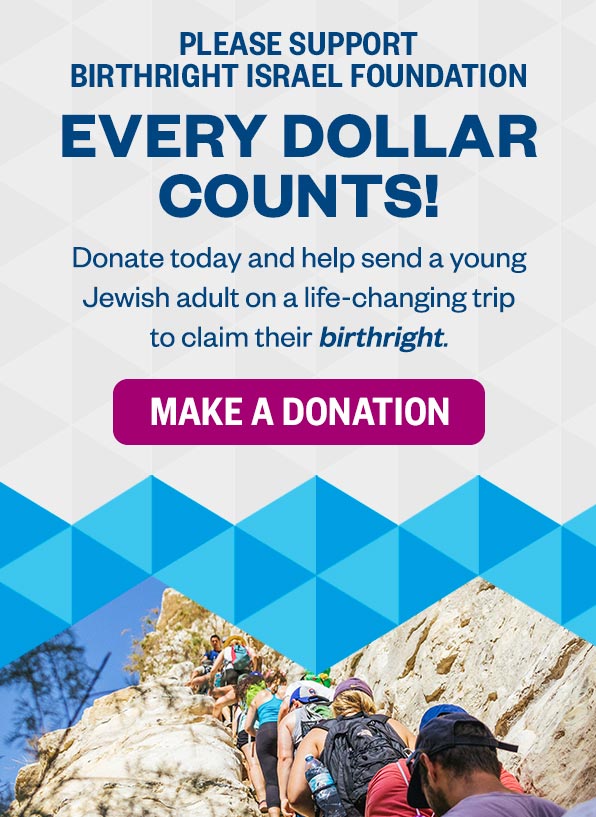 Birthright Israel Changes Lives
Along with friendships, marriages, and a lifelong connection to preserving the vibrancy of the Jewish people, Birthright Israel trips also transform Jewish young adults' lives in other ways.
Alumna Casey Dresbach, for instance, went on to become the first female president of Hillel at the University of Miami. Rabbi David Levy, meanwhile, credits the trip for inspiring him to become a rabbi.
Some of the changes for participants are a bit more subtle and personal. Alumna Rachel Kessler said that Birthright Israel helped guide her in the right direction on her sobriety journey, while it helped alumnus Jordan Daniels accept his identities as black, Jewish, and LGBTQ+.
"I believe that Birthright Israel plays a major part in the lives of young Jews because it provides an accessible method of getting to Israel while also enabling participants to explore the parts of the country that truly interest them," said Daniels. "It also connects us to a whole part of ourselves that we may never get to experience otherwise."
Birthright Israel Is Completely Safe
The State of Israel is both beautiful and safe. When it comes to the safety of its participants, however, Birthright Israel doesn't mess around. Safety precautions include:
Heeding all travel warnings, whether they're related to terrorism or a global pandemic
Staffing all trips with two North American staff and one trained security guard, at least
Avoiding use of public transportation
Working only with accredited members of the International Air Transport Association (IATA) for flights to and from Israel
Using stringently approved trip operators in Israel
Operating an information line for parents while trips are running
Still have some concerns? Birthright Israel's security record over the past two decades speaks for itself. Participants: over 750,000. Security issues: zero.
Birthright Israel Is a Gift
Birthright Israel is a gift with no strings attached. That means there is no out-of-pocket cost to participants and their families.
How is this possible? Well, it's Birthright Israel Foundation's sole mission to send every eligible Jewish young adult in the world, especially the less connected, to Israel. We work year-round to raise funds in the US to make this trip a gift. We do this to ensure the vibrancy of the Jewish people worldwide.
Our dedicated fundraising staff looks to sources such as the State of Israel and worldwide Jewish organizations, including the Jewish Federations of North America. Donations also come from over 40,000 individual donors and philanthropists—a fundraising effort that occurs every year, year after year.
Birthright Israel Is an Investment in the Future
Since 1999, more than 750,000 Jewish young adults from 68 countries have transformed their lives through the gift of Birthright Israel. We won't rest until every eligible Jewish young adult in the world claims their birthright.
We cannot do it alone.
To continue to create success stories like those above, we need your support today. As Birthright Israel Foundation CEO Israel "Izzy" Tapoohi explained: "There is no greater return on investment than Birthright Israel."
In other words, your donation—big or small—is vital to the Jewish community. It is a direct investment in the future of the Jewish people, now and for generations to come.