It began over 20 years ago with a bold idea from Jewish philanthropists: A trip to the Holy Land will enhance and strengthen the Jewish Diaspora for generations to come. 
Thus, Birthright Israel was born, and Birthright Israel Foundation came soon after.
You may have heard about Birthright Israel from friends, family, or media, but you're likely less familiar with the foundation that supports it. From our charitable partnerships with Jewish organizations to our trend-setting ways, here are 10 things you probably didn't know about Birthright Israel Foundation.
1. We Live to Give.
Birthright Israel Foundation exists in order to help support Birthright Israel. While the trip itself is a gift to Jewish young adults around the world, someone has to foot the bill. 
As Birthright Israel's fundraising arm, we have helped give this gift to more than 750,000 eligible Jewish young adults over the past two decades. As for our participants, we don't discriminate based on economic status, upbringing, or level of Jewish involvement. In fact, we are constantly searching for the less connected. We won't rest until every eligible Jewish young adult in the world claims their birthright.
2. We Don't Do It Alone.
Raising funds in the U.S. is a year-round job for Birthright Israel Foundation. Some of our sources include the State of Israel and Jewish organizations like the Jewish Federations of North America (JFNA) and Jewish Agency for Israel. 
Nearly 70 percent of our donations come from individual donors and philanthropists around the world. These generous donors are lighting the way for the next generation of Jews.
Donor Barbara Silverman of Chicago, IL, describes her decision to support Birthright Israel as an effort to keep the Jewish community alive and vibrant. "The gift of Birthright Israel provides our younger generations the tools to build a body of knowledge about Israel, Judaism, and our collective heritage," she said.
It's crucial for others to get financially involved in Birthright Israel Foundation, added donor Robert Schuckit of Carmel, IN. "It's our biggest asset to combat the negativity surrounding Israel," he said. "We need young Jewish adults to experience the land firsthand and feel connected to Judaism—this trip does just that."
3. Our Work Never Stops.
It costs $3,500 to send one person to Israel. We aim to send 50,000 Jewish young adults to Israel every year. So we continue to raise funds nonstop, year after year, every year. 
But our job doesn't stop with fundraising or end once our participants get home. We also partner with several Jewish organizations, such as Hillel International and the Jewish Federations, to help our alumni continue their Jewish journey. We offer fellowships and business internship programs as well as many other resources.
4. Our Mission Changes Lives.
Thanks to the educational framework and values of Birthright Israel, the trip is a transformational experience for its participants. In fact, 85 percent of Birthright Israel alumni consider it a life-changing experience.
At the ages when young adults are eligible for Birthright Israel, 18-26, they are often full of questions about life. Birthright Israel helps them find answers and purpose by encouraging their Jewishness and creating a bond with the Jewish State.
"The 10 days I spent on the trip showed me there is another home for me and that I can be accepted," said alumnus Corey Black, adding that Birthright Israel changed his life culturally. "Each day of the trip reinforced Israel as my second home and that no matter how a person defines Judaism, they are accepted here."
Alumna Nicole Livadas was confused by her relationship to Judaism prior to Birthright Israel. When she returned from her trip, she called her mother and told her: "My Judaism, marrying a Jewish man, and raising a Jewish family will now be the most important things in my life."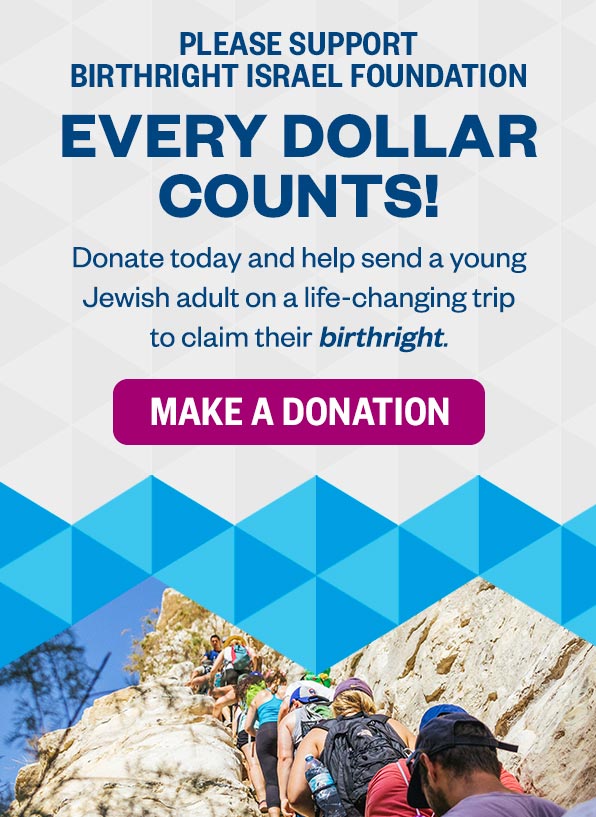 5. We Offer Something for Everyone.
While we aim to send tens of thousands of participants to Israel every year, it's just a tiny fraction of the Jewish population as a whole. There are 1.4 million US Jews age 18-34, and another estimated 1.6 million who are children under the age of 18.
Israel isn't necessarily the most desirable destination for Jewish young adults, but their interest is often piqued by the chance to go there for free. Eliminating the financial burden makes it easy for them to embrace their roots.
Our participants have a diverse array of political and religious beliefs, and are welcomed in Israel no matter their personal background, sexual orientation, and gender identity. What's more, we help fund both classic and themed trips that cater to participants' interests, including:
Active
Accessibility
Professional
Culinary
Spiritual
Arts and Culture
LGBTQ+
Alumna Mallory Hope Schwartz, who leads hikes up Masada for niche trips, looks forward to inspiring and cheering participants on future Birthright Israel trips.
"My full-time career is in health and wellness, so I use my passion to inspire others by staying towards the back and being the support system for those who might move slower or need help physically," she said. "I lovingly embrace this role. I want to show them they can share this experience at their own pace."
6. We're the Ultimate Matchmakers.
The statistics surrounding Birthright Israel and matrimony make Jewish bubbies everywhere jump for joy. Not only are our participants 41 percent more likely to marry someone Jewish, but of those who become parents, 84 percent are raising their kids Jewish.
It's not a stretch to say that many of our participants are drawn to their bashert (soul mate) on a Birthright Israel trip. Boston residents Carly Rapaport and Alex Vargas met for the first time in Israel, even though they lived only six miles apart back home. They were married a few years later by their friend Sarah, whom they also met on Birthright Israel.
Jenna McCoppin and Shelby Klein never expected to meet their future spouse on a Birthright Israel trip. Jenna said her grandma even had "the audacity to tell me, 'maybe you'll meet someone on your trip.'" Turns out Jenna's grandmother got her wish. During their Birthright Israel trip, Jenna and Shelby grabbed a bite to eat together, and the rest is history.
7. We're Also Kinda Famous.
Birthright Israel often intersects with popular culture and has even been parodied in US television comedies like Broad City and the Israeli equivalent to Saturday Night Live,  Eretz Nehederet. Married couple Loren Goldstone and Alexei Brovarnik, who recently appeared on Season 3 of the Reality TV show 90 Day Fiance, met during the former's Birthright Israel trip. 
Additionally, among the more than 750,000 Jewish young adults we've sent to Israel over the years, we've hosted a slew of celebrities including NFL football player Ali Marpet, actor and comedian Jon Rudnitsky, actress and singer Jamie-Lynn Sigler, and actor Jonathan Lipnicki.
8. We're Trendsetters.
You've probably heard the 19th century proverb that imitation is the sincerest form of flattery. Well, color us flattered.
Since our inception, Birthright Israel's model has grown into a template to connect various Diasporas to their cultural homelands. Similar programs can be found for the communities of Armenia, Greece, Hungary and Cuba, as well as Christian students.
9. Our Alumni Are Healing the World.
Tikkun Olam, or healing the world, is a significant theme of Birthright Israel. The trips we help fund create opportunities for everyone to contribute to the vibrancy of the Jewish people worldwide. Our alumni often carry this lesson back home, finding new and creative ways to contribute to the well-being of society long after the trip. 
Alumnus Max Seidel put his engineering skills to use and founded Atlanta Face Shields. The company was initially set up to manufacture face shields for Atlanta hospitals but, as a result of the recent pandemic, soon found itself meeting needs everywhere. 
During separate Birthright Israel trips, alumni Alec Burkin and Benjamin Kanas registered for the Gift of Life Marrow Registry, which connects anonymous, healthy donors with ailing cancer patients suffering from blood-related cancers. Both men ended up being matches for dying patients. "The feeling is overwhelming and humbling," said Kanas, "to know you are saving someone's life with such a simple action."
"As Jews, we are all too familiar with the consequences of inaction," noted alumna Maya Horowitz. "In supporting others, we strengthen ourselves."
10. We Can't Improve the Future Without You.
The strength of Birthright Israel comes from your support. We couldn't continue to create life-changing experiences without the help of generous Jews like you. Your tax-deductible contribution is an investment in the future of the Jewish people, now and for generations to come.