Welcome to Birthright Israel Foundation's family and Mazel Tov on becoming a Birthright Israel parent. Since your child has returned home, we're sure you've heard about all of the amazing things they learned and experienced. For many of you, your child may still be awing at spending Shabbat in Jerusalem or seeing the Western Wall for the first time. For others, they may be craving Israeli foods like hummus, shakshuka, or falafel or nonstop "WhatsApp-ing" their new Israeli friends.
Whatever the case may be, we hope your child enjoyed every second of their Birthright Israel trip! Especially since our goal is to give this life-changing gift to every eligible young Jewish adult. You may also be aware that your child is now one of the 800,000-plus alumni from over 68 countries. All of these young adults were given a no-strings-attached trip to Israel, thanks to Birthright Israel Foundation's nearly 40,000 donors. What's even better is you're now one of the hundreds of thousands of Birthright Israel parents who benefit from this gift! However, do you know the benefits of becoming a Birthright Israel parent? Check them out below and get to know us!
Jewish Traditions Are Reinforced on Birthright Israel
Like so many parents you probably spent significant time instilling Jewish traditions and values into your child's life. Think summer camp, Hebrew school, and Bar and Bat Mitzvahs. Although, when they leave the nest, it can get even more difficult to keep them top of mind. This is where Birthright Israel comes in. The trip for many is the first independent decision your child will make as a Jewish young adult. Everything you taught them as children has been reinstated during their Birthright Israel experience. Trip after trip, Birthright Israel exposes the next generation to Jewish customs and traditions like never before. 85% of alumni report they had a life-changing experience.
Rebecca from San Diego, CA, says her daughter loved every minute and returned home in awe of Israel and the Jewish people. "My daughter's trip was special for me because it offered vivid exposure to Judaism that went deeper than our lifelong parent/child discussions and much-loved family traditions. Those are essential, but the ability to see and feel the history in the land where it started is unsurpassed."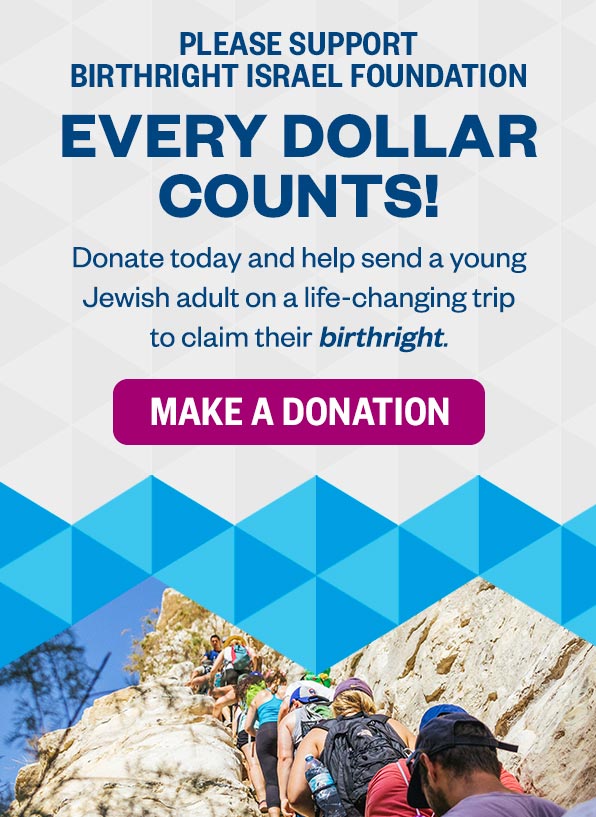 Your Child Gained a Second Family
The typical Birthright Israel bus consists of 40 participants, madrichim (volunteer staff) and Mifgashim (Israelis), who turn into one mishpacha (family) within 10-days. For many young Jews, they experience the intimacies of a community like never before. They bond with fellow American Jews and find commonalities with their Israeli brothers and sisters. More so, they return home with lifelong friendships and a desire to get involved locally.
For alumna Kyla Sokoll-Ward her group turned into family and gave her, her first true taste of community. "By creating safe and vulnerable spaces for us to share our emotional experiences as we traversed our beautiful land, we were able to see all 48 strangers on the bus as family. By acknowledging the resiliency of a deeply complex country whose majority of people still long for peace, we were able to feel connected to Jews throughout history. And by ingraining the fact that this experience will never be again, we created a community that will live with each individual participant for a lifetime."
Parents also see the lasting effect of the friendships formed on Birthright Israel too. Ariel, a father from Chicago, IL, wrote in saying he owes so much to the program and that it had a huge impact on so many families he knows. "Any time my children love a Jewish experience, it is worth a million to me. I want them to be proud of being Jewish and have a community in which they feel comfortable for the rest of their lives. I want Israel and its existence to be important to them. THANK YOU 1000 TIMES!"
Birthright Israel is a Jewish Rite of Passage
Throughout a Jewish child's life, there are many rites of passage. For instance, a Brit Milah, Simcha Bat, Bar or Bat Mitzvah, and possibly confirmation from Hebrew school. These are the most significant events in your child's life until their wedding day, but Birthright Israel has changed this. Over the last two decades, Birthright Israel has become known as another rite of passage for Jewish children. It is a milestone once they become 18-years-old and know this gift is theirs to claim. Visiting Israel is no longer out of reach but completely accessible to today's young adults — something we used to only dream of.
You Are Now Part of Birthright Israel Foundation's Growing Family
Every year, Birthright Israel Foundation receives thousands of generous donations from parents and grandparents alike. Along with their generosity, they are joined by tens of thousands from the Jewish community who care deeply about the Jewish people. Supporters can get involved in various opportunities like our Leadership Cabinets and Councils or attend a local event. Something that is open to you now that you're the very special parent of an alumni. To learn more about involvement in your community reach out to a professional near you.
You Can Pay It Forward – Give the Gift to Another Child
As parents of alumni, you can truly understand the impact of Birthright Israel. This impact is something we hope your child continues to reap the benefits of for years to come. However, as more and more young Jews are eager to visit our homeland it's vital to pay it forward. With your support, we can ensure we always have the financial means to give the gift of Israel to every eligible young Jew. No matter how small or large your donation is it can make a difference in someone's life. Make a gift today and ensure Birthright Israel is around for your children's children.
Lastly, Tell Us What You Thought of Your Child's Trip
We coined the phrase, "The Birthright Israel Bounce" after numerous parents shared with us they also feel inspired by their child's journey. This is why we'd love to know what you thought of their Birthright Israel experience. So, please take a few moments to fill out our parent survey. Your feedback is important to us!