Dana & Aaron
Aaron from California tells us how close Birthright Israel brought him and his wife, Dana. "My wife and I share a bond because of Birthright Israel that can never be broken. We truly believe it was fate that we chose to connect closer with our Judaism on Birthright Israel and want to make sure Judaism is a very important part of our son's upbringing."
Carly & Alex
Carly and Alex met on their Israel Outdoors Birthright Israel trip back in 2014. Although they lived under 6 miles from each other in Boston at the time, they didn't meet until their trip when they were over 5,000 miles from home! Carly and Alex got married on August 26, 2018, almost exactly 4 years to the day of when they met en route to Tel Aviv.
Carly says, "We are so grateful to Birthright for bringing us together. We want others to know how life-changing the experience really can be. We do hope to make it back to Israel again one day. Thank you so much for bringing us together. We truly wouldn't be where we are today without Birthright Israel!"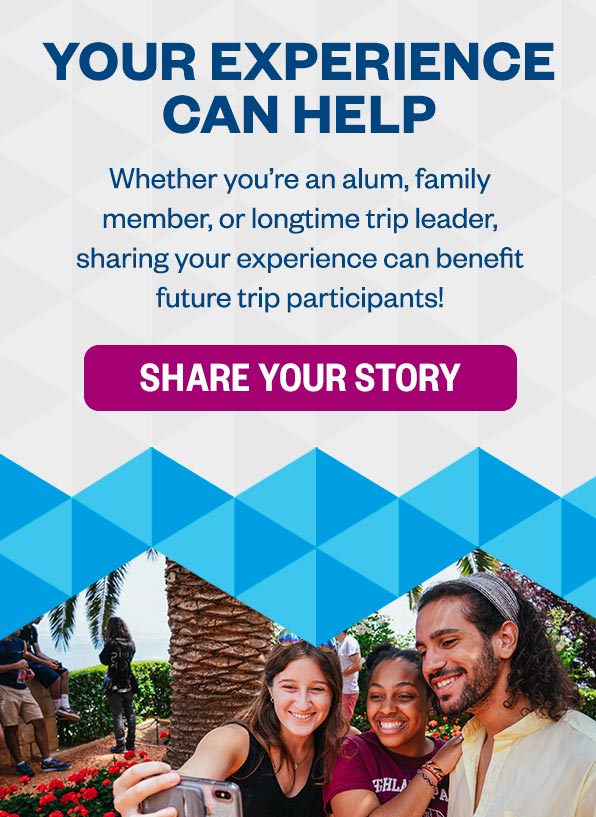 Mackenzie & Ian
For Ian and Mackenzie, Birthright Israel was much more than a free trip- it was where their love story began. In the mere 10 days of their trip, Mackenzie and Ian grew inseparable and connected on such a deep level. Mackenzie tells us, "I don't know if it is the spiritual connection you develop when learning about your Jewish history or the connection to Judaism that grows by the end of the trip, but by the end of this journey I knew more about Ian than any guy I have ever dated before. The fact that we had so much in common and somehow got on the same trip, was destiny."
Daniella & Sagi
Exactly five years after Daniella and Sagi met on Birthright Israel, Sagi proposed! Daniella says, "Meeting my future husband on Birthright Israel obviously made a huge impact on my life! I wouldn't be where I am or who I am today without him, and now we have a beautiful son together, Mason Josef. I cherish everything about that trip not only because it was one of the best ten days of my life, but because I met incredible people and discovered a country that I will always be connected to."
Amanda & Eric
Amanda and Eric became fast friends on their Birthright Israel trip. The pair started dating months after they returned from Israel for about three years before Eric proposed. Amanda says, "Birthright Israel was a real adventure for us! Personally, I was across the world with a bus full of strangers, and it was both scary and one of the happiest times of my life. It really bolstered my belief in the idea that you should do what scares you and fill your life with adventures. Life's too short not to. That idea really guides our relationship. Eric and I want to fill our lives with adventures, and we've gotten a pretty good start…"
Jenna & Jesse
Jenna never imagined she would meet her future husband on her Birthright Israel trip. It was January 2007 when Jenna and Jesse met at the airport, and exactly 10 years later, their son was born. "I feel so fortunate to have gotten to experience Birthright Israel with my now-husband and some of our closest friends. The trip gave me a love and appreciation for Israel. I want to return one day and share where we met with our family."
Shannon & Or
It was 2008 when Shannon and Or met on their Birthright Israel trip. Shannon explains, "A few days into the trip, we were joined by a group of Israeli soldiers. On to the bus walks Or, who immediately caught my attention. I still remember that feeling of excitement, although at the time I didn't really understand why. From the moment we met, there was something special about our connection. We talked endlessly during those first few days and when the trip was over, we continued speaking every day on Skype and through text messages. A few months later when Or finished the army, he traveled to San Francisco to see me. We knew that this was a relationship worth fighting for. For the next two years, we managed a long-distance relationship, with occasional trips to see each other. In August 2010 I decided to make Aliyah, to get another degree at IDC Herzliya and of course to be closer to Or."

Shannon and Or are now happily married and have such an appreciation for all that Birthright Israel gave them.
Deborah & Max
It was 2014 when Deborah and Max began their Birthright Israel journey together. Max was single, Deborah was not. Although Deborah tried to fight it and insisted it was platonic, there was an unmistakable and real connection between the two. Throughout the trip, they kept finding more things in common. When it was time to go home, the two sat together the entire flight back. They exchanged numbers and hadn't stopped talking since that day. Deborah finally admitted to her boyfriend, and to herself, that her feelings for Max were more than friendly. She and her boyfriend broke up and she visited Max in Philadelphia two weeks later. "I met someone who saw the world, and who perceived the world emotionally, in a way that felt similar to me," Deborah said. That November, Max proposed and even though Deborah cried for what seemed like five minutes, she said, "Of course I'm going to marry you." They've been together ever since.
Becky & Gregory
Becky and Gregory first met eight years ago at Toronto Pearson airport, right before beginning their amazing journey to Israel. Over the course of the trip, the two hit it off and became good friends. They continued their newfound friendship long after they returned home, talking over the phone, texting and hanging out together and with other friends. After a while, they grew to love each other and began their relationship. Gregory said, "We've been dating for over 5 years and they have been the best years of my life. Without Birthright I would have never met Becky, and we always talk about our experiences and memories of that amazing trip…" Gregory proposed to Becky this past August and describes Becky as his "soulmate." The two have Birthright Israel to thank and they couldn't be more grateful!