It's been over 21 years since Birthright Israel alumnus Daniel Samoohi was gifted with a trip to Israel, and he still remembers every moment. Not only was he able to feel "the mystique and history of Israel," but he also felt close to his grandfather, an Israeli citizen who had passed away.
"As I prayed on the Kotel, I could feel my grandfather communicating with me, and it's a feeling I will never forget," wrote Samoohi in a letter to Birthright Israel Foundation following his 2000 trip. He knew it must cost millions to facilitate Birthright Israel, but he called the experience priceless.
"Every Jew should be able to return to their home and learn about the history and sacrifices that were made to carry our traditions from thousands of years ago to this day," he wrote.
For over two decades, Birthright Israel Foundation has helped send 750,000 Jewish young adults from 68 countries to Israel. The trip is indeed priceless, as Samoohi said, but it's not organized without cost. It takes millions of dollars in donations annually to make Birthright Israel a reality.
The Cost of This Priceless Trip
Most Birthright Israel participants, alumni, and their families don't think about the price tag for their life-changing trip. That's not a problem because the trip is a gift both to them and to future generations of Jews—those who don't know what it's like to live in a world without a Jewish homeland.
Birthright Israel Foundation's goal is to make this trip to Israel as easy and seamless as possible. Our mission is to send every Jewish young adult who is eligible, no matter their Jewish involvement or financial situation.
As the North American fundraising arm for Birthright Israel, we work year-round to raise funds in the U.S., year after year, so that the trip remains a gift. Our dedicated fundraising staff relies on sources including the State of Israel and worldwide Jewish community organizations such as the Jewish Federations of North America. Nearly 40,000 individual donors and philanthropists also provide donations. Here's a look at the cost of Birthright Israel and details on where the funding comes from.
Breakdown of cost, from one transformed life to the bigger picture:
Cost to send one person to Israel: $4,500
Goal number of participants each year: 50,000 Jewish young adults
Birthright Israel Foundation's annual fundraising goal: $57 million
Yearly worldwide programming cost to provide the gift of Birthright Israel to Jewish young adults: $172 million  
Where the funding to transform lives comes from:
67% from worldwide donors (nearly 40,000 US donors annually, including the program's founders, philanthropists, parents of trip participants, program alumni, and individual donors)
27% from the government of Israel
3% from Jewish Federations
3% from the Jewish Agency for Israel
No Price Tag for This Priceless Trip
Although we know precisely how much it costs to send each Jewish young adult to Israel, we want to assure you it's not about the price tag. As our alumni will tell you, the trip is truly priceless. According to a study by Brandeis University, 85 percent call it a life-changing experience.
Some of the many benefits of Birthright Israel include:
Connecting participants to Israel
Educating participants on their culture, religion, and heritage
Creating lifelong bonds between kindred spirits
Helping maintain the integrity of the Jewish people
But don't just take our word for it. Read some of their stories:
Elizabeth Savetsky
Alumna Elizabeth Savetsky met her husband, Ira, through a friend from Birthright Israel and now they have two children. She's also now an observant Jew and has even revisited Israel.
"The single most critical decision I made in my life was to apply for a Birthright Israel trip," she said. "Almost everything that is important to me in my current life can be traced back to that moment."
Benjamin Kanas
Not only was Birthright Israel transformational for Benjamin Kanas, it also helped him save a life. During his trip, he signed up with the Gift of Life Marrow Registry, a nonprofit that aims to cure blood cancer and inherited immune disorders through bone marrow donation. Two years later, he learned he was a match for a woman suffering from acute myeloid leukemia.
"I am grateful for the gift of Birthright Israel and to the generous donors who made it possible," he said. "Through your generous actions and contributions, you are impacting thousands of young Jews and saving lives at the same time."
Leah Graff
Following her Birthright Israel trip, alumna Leah Graff became a Birthright Israel leader. She also went on to work for Birthright Israel Foundation (about 35 percent of the foundation's staff is made up of alumni).
"Birthright Israel is the first chance—and sometimes the only chance—that a lot of people have to see our homeland," she said. "It's vital to Jewish people's future … and to Israel's future."
Andrew Skidmore
Birthright Israel will impact alumnus Andrew Skidmore for the rest of his life. He promises anyone who goes on the trip that when they leave Israel, they will feel like they are leaving family behind.
"The connection I now have with Israel is lifelong," he said. "It further enhanced the connection I have always had with Judaism. Plus, I made some great friendships and connections along the way … For a free trip, this connection is priceless."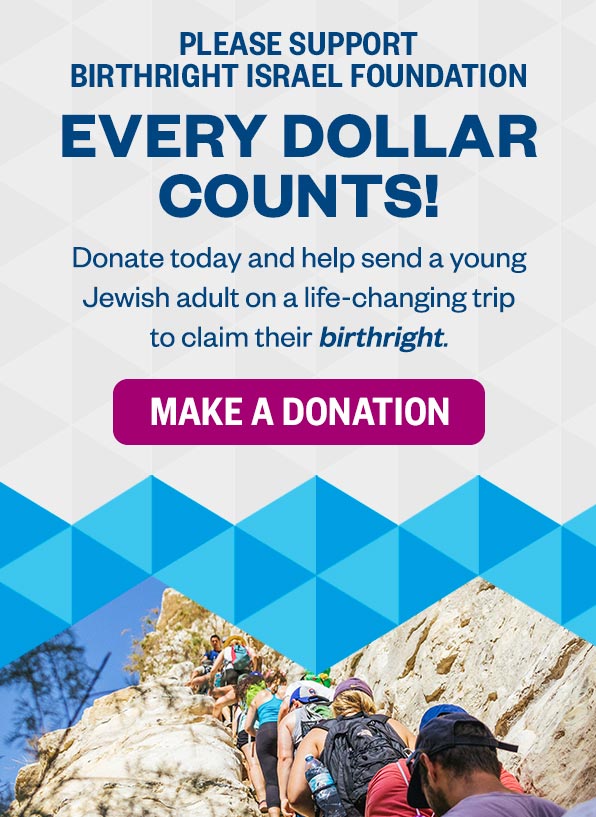 How to Help Give the Gift of Birthright Israel
Now that you have a clearer idea about the cost to make the gift of Birthright Israel possible, as well as the undeniable impact it has on the Jewish Diaspora, you can see why Birthright Israel Foundation desperately needs your help.
As Samoohi explained in a second letter to Birthright Israel Foundation in 2019, "So much has changed in my life since my trip to Israel, and I know my life wouldn't have taken the same path had I not been able to participate in the Birthright [Israel] experience. I believe that if possible, every Jew should be able to see their homeland at least once in their life, and if they can do it with other Jews who are experiencing it for the first time, then it makes it that much more of a meaningful experience."
Donations like yours, no matter how big or small, go directly toward funding the meaningful experience of a Birthright Israel trip. If you donate today, you will become a stakeholder in the future of the Jewish people and ensure a vibrant community for generations to come.