Like hundreds of thousands of other Jewish parents, Rob Clarfeld first learned of Birthright Israel when his son went on a trip. He remembers his son Larry, then a student at the University of Vermont, informing him: "I'm going to Israel with a group called Birthright Israel." Within a few weeks, Larry and his girlfriend (now wife) were in Israel; a wonderful time and perspective-altering experience.
Rob would not have another encounter with Birthright Israel until 2013. It was then that one of his partners, Rick Suarez, asked Rob to join him for a Birthright Israel Foundation event hosted by their client, Stephen Siderow, now Vice Chair of Birthright Israel Foundation's National Board. Pulling from his memory, Rob laughed a bit as he remembered his son's connection to Birthright Israel, almost a decade earlier. "This is really funny, following Larry and Nat's trip to Israel, the name Birthright Israel was out of mind, although they frequently reminised about their incredible experience. I was absolutely thrilled to be able to connect with the organization that made that experience possible."
How a Personal Trip to Israel Inspired Rob Clarfeld's Generosity
The Birthright Israel Foundation event was magical for Rob. He had the chance to hear stories from various participants and even from alumnus-turned-beatboxer, J. Stone. The group's enthusiasm and energy were similar to that which he had heard on many occasions from Larry and Nat; he knew that evening was the beginning of a lifelong affiliation with Birthright Israel Foundation for him and his family. Only two years earlier, Rob and his wife Kristen visited Israel for the first time; a delayed personal bond with Israel and his Jewish heritage.
Wanting other young people to have the same experience as his son and daughter-in-law, Rob gave a sizeable contribution to the Birthright Israel Foundation. He then signed up for a donor mission with others from his Westchester community. 
An Intriguing Conversation with Ex-MK, Dov Lipman  
As Rob's relationship with Birthright Israel Foundation continued to blossom, his philanthropy led him to attend still another mission to Israel to continue his education of the program. This time the group of supporters met with representatives of the Israeli Government and former Knesset member, Dov Lipman. The conversation they shared still resonates with him and has been although shared many times, still profoundly impacts his perspective on his relationship with Israel. "I was surprised that Dov didn't have a trace of an accent. He then shared that having lived in Maryland, he made Aliyah within the past decade."
His personal history led Rob and Dov into a heartfelt conversation on the responsibility of all Jews to their ancestral homeland.  "Dov's family had been in the United States for close to 100 years, after having fled the European pogroms. He truly loves America and all it did for his family. He also expressed his realization that for over 3,000 years of the Diaspora, even though his lineal knowledge did not extend beyond his grandparents, his ancestors most likely lived in many different places, some, perhaps, for centuries. Dov came to understand that very likely many generations of his family did not move out of choice, but because their lives were at risk, having seen family and friends killed simply for being Jewish." Dov's story was an epiphany for Rob. Rob's family had escaped the pogroms of Russia around the turn of the last century; Dov's story was his story.
"Generations and generations of Clarfelds also had moved, probably throughout Europe, undoubtedly motivated by pogroms and antisemitism. Today, thankfully, Israel exists, where Jews can live as Jews without persecution for the "crime" of being Jewish. I have an obligation — a visceral responsibility — to support Israel not just for our generation and my family, but for all the generations of Clarfelds, unknown to me."
What Rob Hopes The Next Generation Learns from Birthright Israel 
"I am the product of a hundred generations of persecution, expatriation, and suffering. I greatly suspect that this is true of almost all children of the Diaspora. Through suffering and fate, we are here and we are essentially free from persecution – certainly compared to our ancestors.  We owe an incredible obligation to generations past to fulfill the wishes of those who preceded us to support Israel. Supporting Birthright Israel, in spirit, action, and financially, is our obligation.
I believe that by meaningfully exposing younger generations to Israel and showing them where we come from, they lose their sense of entitlement. Israel is more than a country, it is our obligation."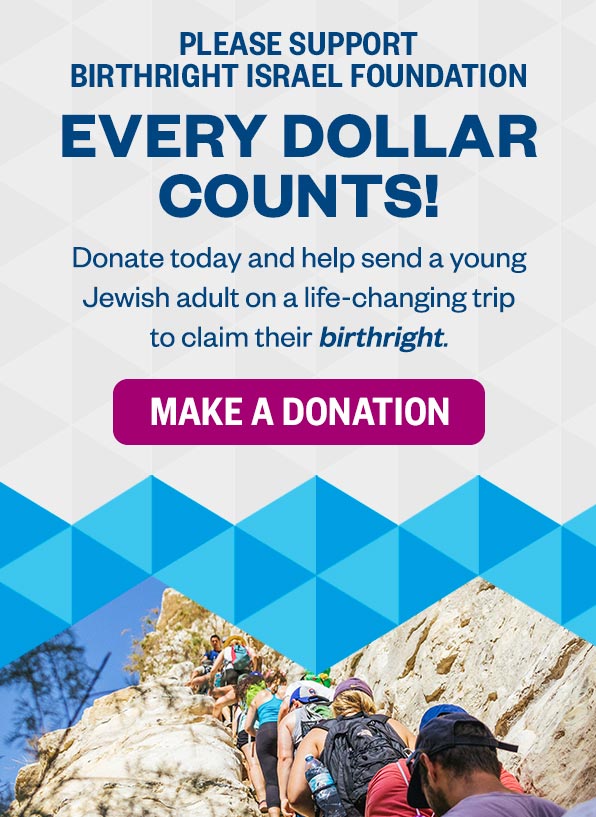 Join Rob and Support Birthright Israel Foundation Now 
Like all of us, Rob knows this year is very different and like many organizations, Birthright Israel is feeling the effects of the pandemic. As over 30,000 young Jewish adults from across the world are waiting to claim their birthright until it is safe to do so, Rob has a message to his fellow supporters.
"Giving money now is more important than at any other time. We have an obligation to preserve the quality of the Birthright Israel experience for future generations. This means that Birthright Israel must maintain its infrastructure. Our highly committed staff are key to the Birthright Israel experience. If we cannot maintain our experienced staff, and the Birthright Israel culture, we will lose the essence of the experience. That is what we're fighting for right now. By contributing now to maintain our infrastructure, we are keeping our organization viable. Our generosity is what makes the dream of visiting Israel possible for future generations of young Jewish adults."
Please join Rob and nearly 40,000 donors across the United States who feel a firsthand experience in Israel is crucial for the future of Jews everywhere. Give to Birthright Israel Foundation today for a stronger tomorrow.