We are excited to announce Amy Jaffee as the new Co-Chair of Birthright Israel Foundation's Long Island Leadership Cabinet. Amy is on a mission to ensure young Jewish adults worldwide receive the gift of Birthright Israel. It sounds like a massive project to undertake, right? For Amy, it's personal.
Two decades ago, Amy heard of Birthright Israel before trips even began, when the project was in its infancy. She could have never guessed that her son would participate in the program years later and she would hold a leadership role on our Long Island Cabinet.
What Sparked Amy's Interest in Birthright Israel
"I heard of Birthright Israel through friends who had older children and years before through a close friend. When it came time for my son to go, he went, and we felt since we were financially able, we should help support the program so other kids could have the same opportunity," says Amy.
Eventually, Amy's husband Scott Jaffee met Margot Ettlinger, Associate Vice President of the Northeast Region, to discuss ways their family could pay it forward. Soon after, the Jaffees were on board and as Amy likes to say, "My husband doesn't do anything small – so we were all in." Community involvement and philanthropy run in the family for the Jaffees. Amy's husband Scott is the chair of UJA-Long Island, so Birthright Israel Foundation was a natural next step for the family.
Why Amy Wants Birthright Israel Parents to Step Up
It wasn't long until Amy and Scott became involved with the goal to educate the Long Island community about the trip. They also took their involvement as an opportunity to get parents of Birthright Israel participants to step up and pay it forward. Amy shared with us that she has many friends whose children are alumni of Birthright Israel and can afford to pay it forward but don't. "The way I look at it is that my job is to break down misconceptions and educate others – it's a free trip for the kids, but our feeling is if you can pay it forward, give for the next child to go – it's the right thing to do. We need as many young Jewish adults as possible to come back with strong ties to their Jewish heritage and feel a bond to Israel."
"Birthright Israel is unlike any other trip our kids could take."
Amy saw this firsthand with her son Matthew. Matthew's most significant takeaway from Birthright Israel was the Mifgash (traveling with Israeli soldiers). His outlook on life changed after his experience with the Israeli participants. He was even fortunate enough to have the Israelis with him for all ten days. When he came home, he told his mom it was unbelievable what he could learn from them. She also tells us it was a good experience for Matthew to meet people his age who were in the army with significant responsibilities.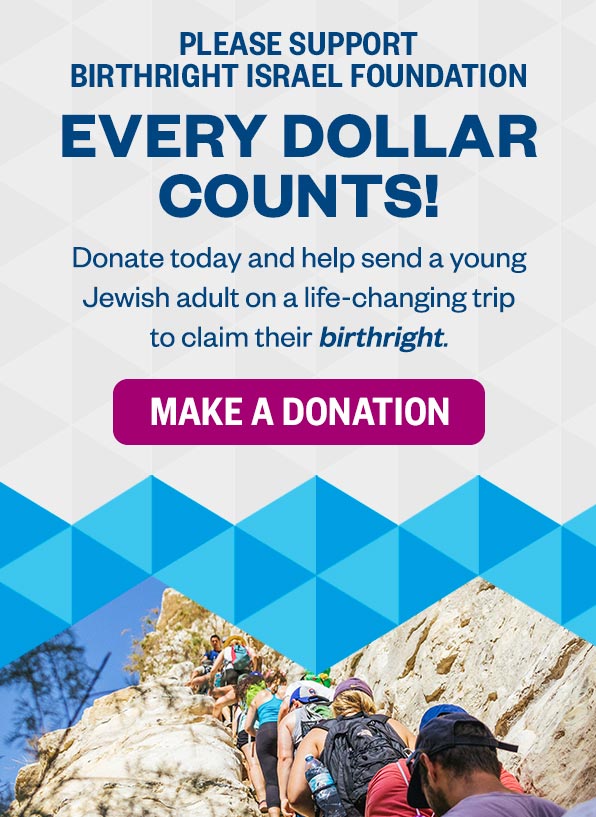 Birthright Israel is an Eye-Opener
Amy was proud her son took advantage of the program to go abroad and have an immersive experience. She hopes young Jews everywhere do the same because it allows you to meet people from all walks of life. "It's an eye-opener. You read different stories on how these young people end up coming together. You read stories of people getting married because Birthright Israel introduced them to one another. Just think, what if they hadn't gone on the trip, who would they have married? Who would their friends be?"
Most importantly, Amy believes the friendships young adults make on Birthright Israel are crucial to the future of Jewish communities everywhere. "When our kids come together on Birthright Israel, they share a unique bond. I always remind people – we aren't investing in the program so they can hike Masada or float in the Dead Sea. We're investing in their education to show them different perspectives. Birthright Israel is unlike any other trip our kids could take."
Witnessing the Program's Impact Abroad
Amy and her husband Scott have also witnessed the impact Birthright Israel has on young adults from other countries. A few years ago, on a UJA Mission to Budapest, Hungary, the couple had dinner with a few people who didn't know about their Jewish identities until they were teenagers. The young adults shared with Amy that they didn't know where to turn once they found out about their Jewish identity until they found Birthright Israel.
Amy said she was excited to hear that Birthright Israel opened a whole new world for them. "Because of their experience on the trip, they're educating others from Eastern European countries whose Jewish identities have been lost…some even for decades. Hungarian parents of an alumnus even told us how much their son is involved in the JCC in Budapest because of his trip. It was great to hear our work is paying off for Jewish communities everywhere."
Lastly, before our time with Amy was up, we asked her what her goals are for Birthright Israel Foundation's Long Island community. Amy smiled and said, "there are many Jewish organizations that are sexy and make people want to get involved – I'm going to put Birthright Israel Foundation on that list."