My love for Judaism was ignited at my Bar Mitzvah, and the candle has stayed aflame since that day. It was only when my sister went on Birthright Israel that I became interested in going to Israel, where all our prayers go. I have Autism, and I knew that I, too, could have my Birthright Israel experience with peers from all walks of life.
At first, I was nervous about being the only person with Autism going to the Holy Land with a bunch of others. But as soon as we were off the plane, each person opened up, and we got to know each other's history.
When we met our Israeli peers, we quickly found that we had a lot in common. We share the same Jewish holidays and culture, but at the same time, the Israeli way of life is different than ours as Americans. We gained a deep respect for their culture as we learned more, and they gave their personal perspectives as we toured Jerusalem.
When we visited the Kotel, it was like no other wall I had ever placed my hands upon. The wall accepted everyone's notes to God, while other walls refused. Before the trip, my Uncle gave me a note to place a prayer into the wall. The Western Wall in Jerusalem approved the prayer and sent the message directly to God.
Later on Saturday night, my group experienced Israeli nightlife at the pub. I truly learned how close we were as my peers trusted me to stand guard in front of a broken restroom door while the ladies used the facilities. We quickly returned to dancing the night away and having the time of our lives.
The following day, we prepared to visit Yad Vashem. Before entering the museum, several group members told stories about their grandparents, who were Holocaust survivors. It was touching and emotional and helped me to share about my grandmother. I learned only recently that my grandmother survived Auschwitz, and she was rescued by my grandfather. Entering the museum and seeing historical items helped me to imagine traveling to the 1940s and connecting with the past. It was very hard to walk through the children's memorial while their candles were lit. It was like walking in space with stars all around us.
That night, our group visited and camped out in a Bedouin tent. Our group walked out into the vast desert with cover from the stars. We were led into our own area of the desert to feel the air as it lives and breathes with us. There I opened my heart to God, and I felt closer to everyone in my group. When we came back together as a group, knowing there were no secrets among us, I shared with the group how my father had died two years before. We ended that program with a huge group hug.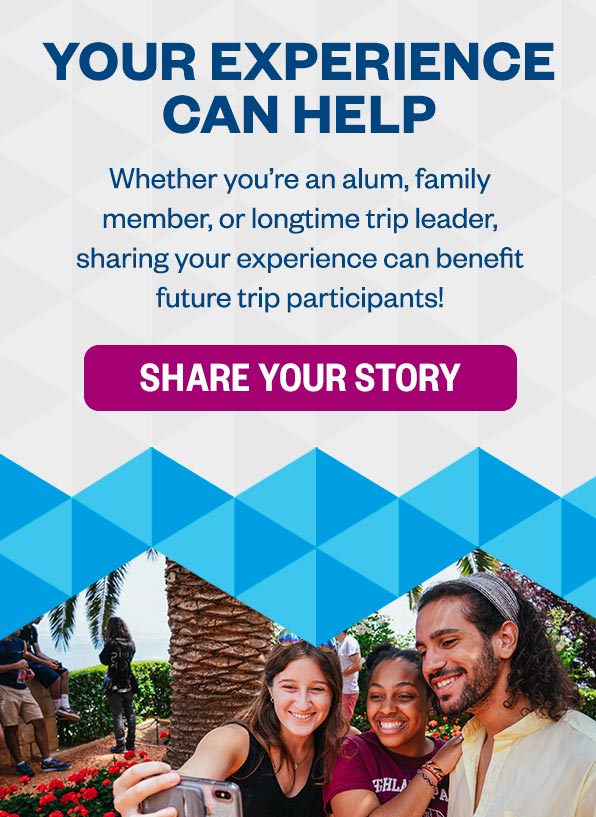 The very next morning, we woke at ten minutes past four to hike Masada. It was a hot and sweaty trek, even under the cover of darkness. Lo and behold, the sun rose from the mountains, and the sun showed the sign that God was waking from his slumber. Watching the sunrise was unlike anything I had ever seen before. Israel made me see God.
Most importantly, we opened our hearts to God. We were all strangers before this trip, but together with my group, in the end, we became a family with such a strong collective experience. The Birthright Israel peer experience deepened my passion for Judaism. And it made me a better person. Thank you!