Growing up, my grandparents instilled in me a strong love for Israel and for fellow Jews around the world. Each of them was a Holocaust survivor and lost countless family members in the war, including parents and even baby siblings. If only the state of Israel had been formed sooner. For my grandparents, there was nothing more admirable than being a Proud Zionist. My grandmother is still with me today and I know she is thrilled that I am writing this blog.
"If it wasn't for Birthright Israel, I don't know if Israel would play such a large role in my adult life."
Despite my admiration for Israel, it wasn't until I attended Dartmouth College that I had the opportunity to visit. My family had tried to go but it never seemed like a good time and, of course, life gets in the way. If it wasn't for Birthright Israel, I don't know if Israel would play such a large role in my adult life.
Birthright Israel was one of the best weeks of my life. I can still remember stepping off the plane with my closest childhood friend, who kissed the ground because I told her my grandmother did when she first went to Israel.
I can still picture the store owners saying welcome home when we visited. I can still hear the clapping from crowds when they saw our trip coming near. We were more than welcomed, we were loved. To see Jews of all backgrounds embrace us, it was nothing short of spectacular.
But if I had to pick the most impactful part of my trip, it was meeting the Mifgash participants, otherwise known as the Israeli soldiers on our trip. I remember thinking – gosh, they are so young. Here I am theorizing about political campaigns at school and here they are putting their lives in danger to protect Israel and Jews around the world. And yet, they were just like me. They wanted to listen to music and have a good time, and they had dreams and hopes for careers after the army just like we did. There was no way I could return home and not do my small part after meeting my peers who were protecting me.
Indeed, my love affair with Israel did not end after returning home to Long Island. After my 10-day trip, I told my parents I was moving to Israel. I was smitten. It was all I wanted to talk about. And so, the following winter break, that same childhood friend and I packed our bags and returned to Israel for a month together. We volunteered for the army for a few days and then stayed in dorms in Tel Aviv, taking in everything the city had to offer. The best part? The warmth we received from the Mifgash on our trip. The soldiers volunteered to tour us around to different sights on the weekends. And when we wanted to go to Jerusalem, our tour educator from Birthright Israel said you are absolutely not booking a hotel. You will stay with us. That us was his wife and his newborn. Being a mother of an infant, I now know just how generous that was. They hosted us for Shabbat lunch, and we were amazed – the songs, the spirit. I'll never forget that Shabbat.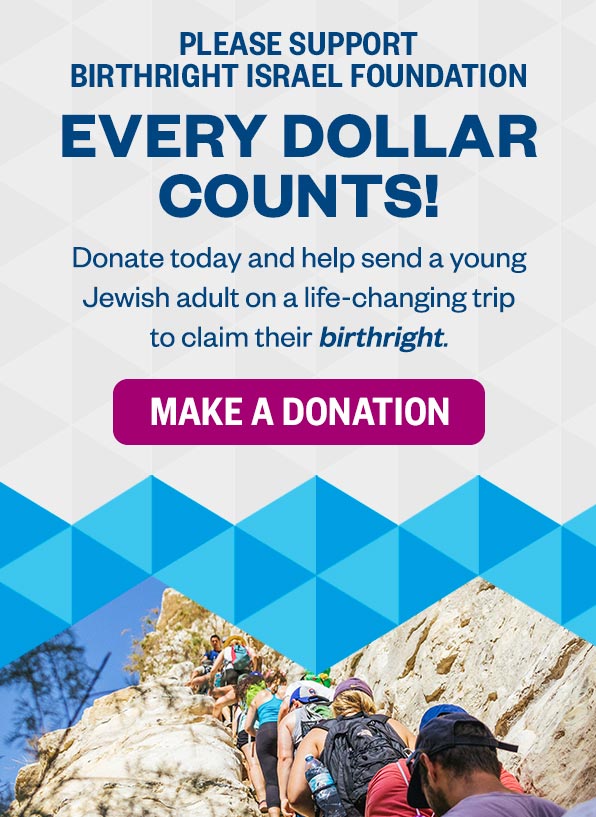 Back in New York, I knew I had to find a tangible way to contribute to Israel. I had participated in several Jewish nonprofits since college, but I hadn't found my niche until I encountered the Birthright Israel Foundation's Young Leadership Council. I joined the council not only because I want all young Jews to care for Israel but because I know it's imperative that they experience Israel firsthand.
"In a time of extreme anti-semitism and anti-Zionism, this program is nothing short of crucial."
As I look around at my peers, I am worried what will happen if the younger generation does not continue to visit Israel. In a world where the news cycle is more often negative toward Israel than not, how can we help young Jews tear through the falsehoods and misconceptions without having them see the country themselves? I can see the difference in my peers who have participated in this program and those who haven't. In a time of extreme anti-semitism and anti-Zionism, this program is nothing short of crucial.
My daughter will know Israel from the start. I will make sure of that. I will encourage her to visit Israel, to volunteer in Israel, to go to camp in Israel. But I can't guarantee that for anyone else. How do we ensure the continuity of the only Jewish safe haven in the world? We send our youth to Israel. Let them see it firsthand. Let them see the Israeli Jews who love us, who protect us, who die for us. They will return the love.
Birthright Israel will always be a priority in my life, and I hope the same for all of you. I thank you on behalf of myself, on behalf of my daughter, and on behalf of future generations of Jews who give me hope that Israel will prosper.