Birthright Israel Foundation has helped more than 800,000 Jewish young adults claim their birthright. From Jerusalem to Tel Aviv, and many destinations in between, those who sign up for this free trip are wholly immersed in Israeli life, values, culture, history, and heritage.
While there is much to do and see in Israel, one of the biggest eye-openers for participants is how masterfully this tiny state bridges the gap between past, present, and future. Along with touring ancient holy sites, exploring Israel's origins, celebrating Shabbat, trying unfamiliar cuisine, and enjoying nature, participants are also exposed to the Start-Up Nation's technological breakthroughs with a visit to the Center for Israeli Innovation by Birthright Israel in Tel Aviv.
"Before I went on my trip … I knew nothing about Israel," said alumna Kate Eppers. "I didn't know about the innovations in med-tech, sci-tech, global humanitarian aid missions, the culture, the music, the food … I could go on and on. I had no idea what a melting pot Israel was."
The Center for Israeli Innovation was established in 2016, in partnership with the Tel Aviv Stock Exchange, to showcase the Jewish State's innovative and entrepreneurial ecosystem. A global leader in technology, Israel is home to the most startups per capita in the world. More than 110,000 visitors have visited the cutting-edge innovation center since it opened less than five years ago, including students, business delegations, worldwide diplomats and, of course, Birthright Israel participants.
A Global Leader in Innovation
The Center for Israeli Innovation exposes visitors to more than 80 leading Israeli technology companies and promising start-ups, with exhibitions in a variety of diverse fields. When it comes to fields like safety and security, it's no surprise that Israel is a global leader. The Jewish State has been responding to existential threats since the day it was established, resulting in global breakthroughs in defense technology to protect the borders.
Agriculture development is another area where Israel, as a vast desert, has grown to meet many challenges, and is now a flourishing world leader in the field with a thriving agricultural product supply. Some of the other spotlighted fields at the Center for Israeli Innovation include:
Medicine and Health
Science
Space
Transportation
Social Impact
While touring the exhibition, visitors meet members of the start-up ecosystem who share their inspiring stories, including difficulties, challenges, and the successes they have faced in their careers. Visitors can also peruse postings on the Opportunity Wall, where they will learn about internships, educational experiences, and job opportunities, should they ever consider living in Israel.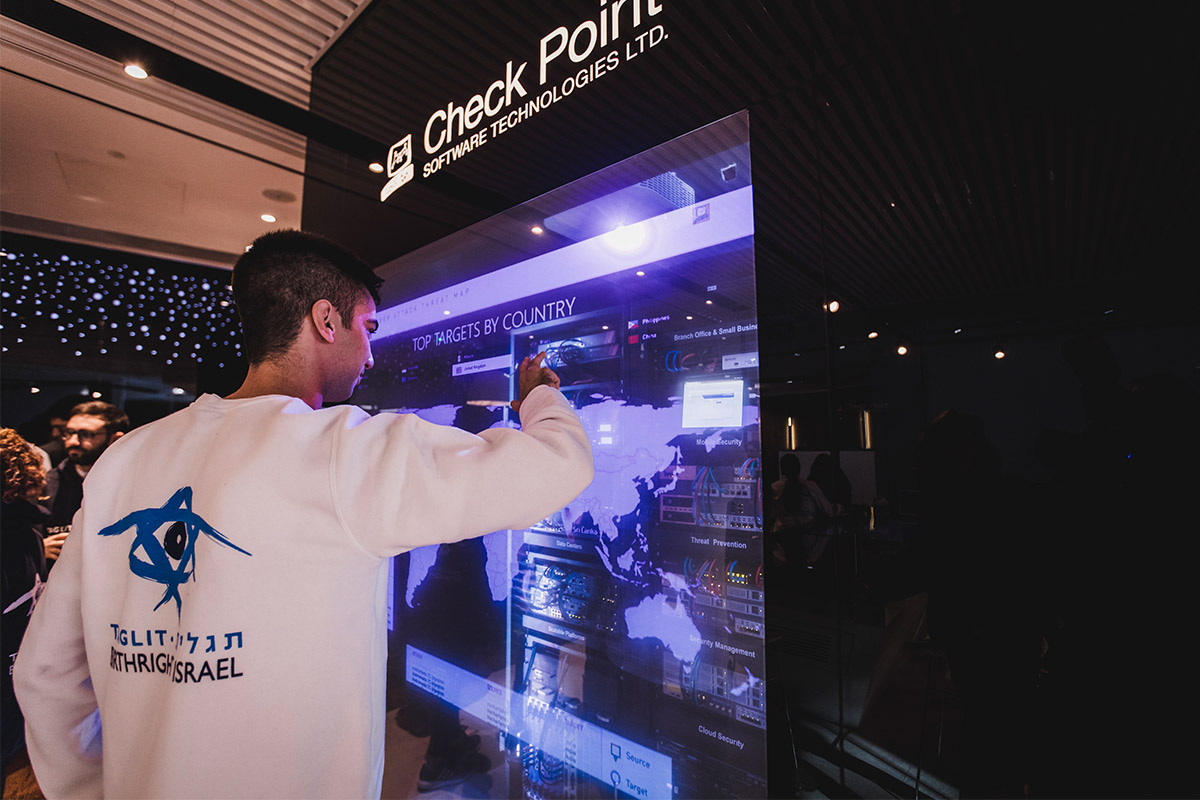 "I think the biggest eye-opener was the Innovation Center by Birthright Israel, where we got to see all the technological contributions Israel has on the world," said alumna Julie T. "Regardless of religious or political orientation, it is impossible to deny that Israel is the light upon the world, be it through medical startups, innovation in irrigation, or defense techniques."
The center is currently closed due to COVID-19 (and Birthright Israel trips are on hold), but that hasn't stopped the innovation on behalf of the holy land. Instead, Birthright Israel this summer launched its first-ever interactive "Choose Your Own Adventure" tour of Israel. Led by a real Israeli tour guide, the interactive adventure takes you anywhere you would go on your Birthright Israel bus, including Masada, the Dead Sea, and the Kotel as well as the innovation center.
"The tour is available for every person that wants to get a glimpse of what Israel has to offer, from historic sites to Israeli innovation in a fun, innovative way," Noa Bauer, VP of Global Marketing at Birthright Israel told the Jerusalem Post.
A Diverse and Magical Land
As we mentioned earlier, innovation is just part of the program when it comes to Birthright Israel. Alumni also learn about Israel's ancient and modern history, thriving culture, current events, and rich diversity. Some participants, who were previously disconnected from Judaism, are so moved by the experience they embrace their heritage right then and there by becoming a bar or bat mitzvah.
"You aren't prepared for how much you will learn in 10 days," said alumna Sydney Goldberg.
The outcome is a long-lasting effect on Jewish identity, family, community, culture, and continuity. According to studies conducted by Brandeis University upon participants' return, 84 percent of participants are raising Jewish children and participants are 93 percent more likely to be "very much" connected to Israel.
Parent and Birthright Israel Foundation donor Bob Shuckit has witnessed the stunning success of Birthright Israel on his small Jewish community in Indiana as well as on his own children. "My kids, like most, were unconnected from the synagogue and the information funnel in America misrepresents Israel," he said. "This trip helped them see a thriving country that's young and hip and most of all showed them Israel and who Israelis are."
Shuckit added that he believes the program is a "game-changer" for the Jewish Diaspora. "Birthright Israel removes the financial burden of travel and takes American Jews, at a crucial age, and gives them one last chance to make a connection with Israel, Jewish culture, and their Jewish heritage," he said.
Alumna Holly Millet is thankful to Birthright Israel Foundation donors like Shuckit for the opportunity to "walk on sacred ground" in the holy land with her own two feet. "I would like to extend my deepest gratitude for everyone who made this possible," said Millet. "I fell in love with Israel, the people, the culture, and what it stands for. I made Israeli friends, saw the beautiful landscape, and feel so much closer to my Jewish heritage through this experience. From the bottom of my heart, 'thank you.'"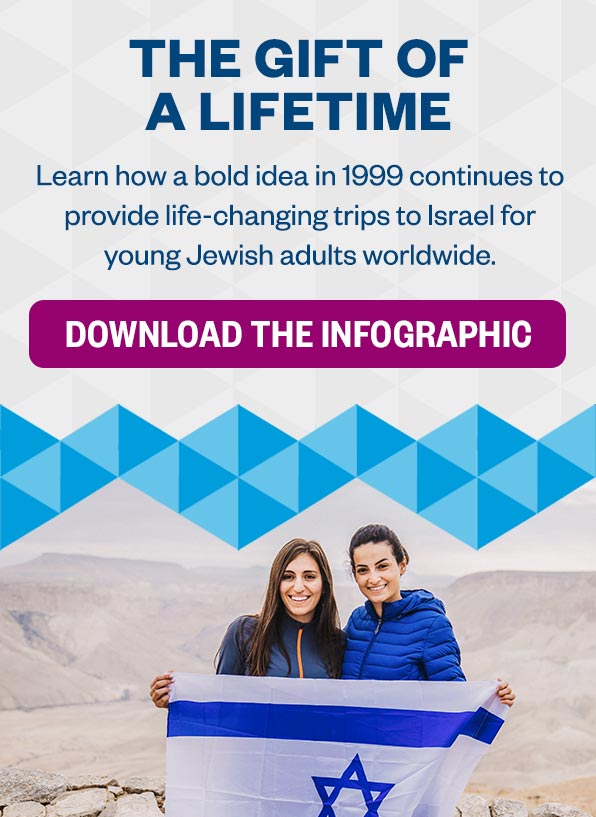 Alumnus Benjamin Kanas, meanwhile, is thankful for not only being connected Jewishly but also for being connected to an opportunity to save a life as a Gift of Life marrow donor. "Through your generous actions and contributions, you are impacting thousands of young Jews, and saving lives at the same time," he said. "It pushed me to get more involved on my campus and allowed me to make a difference in someone's life through the Gift of Life. I cannot thank Birthright Israel Foundation's donors enough for making this all possible."
Added alumna Eve Karlin: "I went to Israel with no community, and I came back with 40 strangers who became my family, my community … Thank you so much for reaching into your hearts and making a gift so that people like me can go on this magical trip."
See It All on Birthright Israel
Birthright Israel Foundation aims to raise the funds to help send 50,000 Jewish young adults to Israel annually. Our goal is to connect Jewish young adults from all walks of life to their past and present, guaranteeing a vibrant future for the Jewish people. We achieve our goal by offering unique experiences like a visit to the Center for Israeli Innovation, and it's all made possible through your donations.
Are you interested in learning more? Check out this detailed infographic for an inside look at Birthright Israel and its US fundraising arm, Birthright Israel Foundation.