Birthright Israel consecrated an unrealized dream that seemed intangible for so long. I grew up as a reform Jew, a fourth-generation American, in a predominantly Irish Catholic community. Looking back, I think we were culturally Jewish out of respect for my grandmother. Both my sisters and I went to Hebrew school on Sundays and Wednesdays, which concluded with our B'nai Mitzvot (note: the backdrop of my Jewish upbringing took place at a church and a hotel, rented space where our small congregation persisted in planting roots). Every year during the High Holidays, our rabbi would paint the picture 'next year in Jerusalem' – Israel was so farfetched.
Traveling to Israel with Birthright Israel at age 23 came at the right time. Accompanied by my twin sister, Julia, we were the first members of our family to visit the homeland. And for me, I got it. IMMEDIATELY.
As I sit here and thumb through my Birthright journal to prompt my memory on one of the most pivotal experiences of my life. It brings me back to that cold, rainy evening at Ben Gurion airport in January 2012. Our Birthright Israel group picked up our luggage, camped out on the airport floor eating our paper bag dinners, and joined our Israeli counterparts. I locked eyes with an Israeli soldier (my twin will vouch for me on this one – she whispered in my ear 'DO NOT!'). My newfound friend sat with me on the bus that night as we rode in the darkness to the Galilee (he barely spoke a word of English, I absolutely do not speak Hebrew), and the rest is history…
This is not what you are thinking. Yes, I met a soldier, as most boy-crazy 23-year-old girls do, but this is not a story about falling head over heels for a young officer from the IDF. My soldier, Netanel, instilled in me great lessons on service, paying it forward, and Tikun Olam, repairing the world. He recognized a curiosity and a light in me; he took me by the hand to share his love for his country, and he told me that this beautiful place that had remained a figment of my imagination for so long belonged to me too! From the first day in Tzfat, the magic rising from the soil, I knew this was home.
That initial trip to Israel, all the sites and attractions — Independence Hall, Yad Vashem, Masada, the Dead Sea, the Western Wall – have become a bit foggy and faded over time. However, Netanel sent me back to New York with something tangible to hold on to forever… a reminder of my connection and my commitment to Israel, his navy seal, his first hat from the army, a testament to his strength, and pride in his country. This keepsake, one of my most prized possessions, represents the responsibilities I have as a Jew living in the Diaspora.
Birthright Israel was the gift of a lifetime; the generosity of major donors who made the journey possible… the message of service instilled in me through the IDF. I knew that when I was fiscally responsible to give back, the securing of the future of Israel would be part of my life's work.
Almost a decade later, I am fortunate to call Jewish National Fund my home away from home in New York City. It is a privilege to work with like-minded lay leaders and young professionals who share a love for Israel. I sit on the local board for JNFuture as Affinity Groups Chair, as well as on the national board. Through my involvement with Jewish National Fund, I have been back to Israel multiple times, visiting places I could never have gone on my own, where I am able to make an impact and get my hands dirty alongside partners and projects on the ground.
I recently planted a forest in memory of my grandmother and led a 'Food, Wine, and Culture' boutique mission to Israel. Other personal highlights: I introduced the Israeli Olympic Judo Team at a major donors event in NYC, fulfilled my dream of becoming a fashion designer developing tee shirts for JNF store, shut down Central Park Zoo with a group of my friends for the ultimate Shabbat dinner, the list goes on. What's next? I will be chairing Jewish National Fund's 2020 National Conference in Israel, October 2020!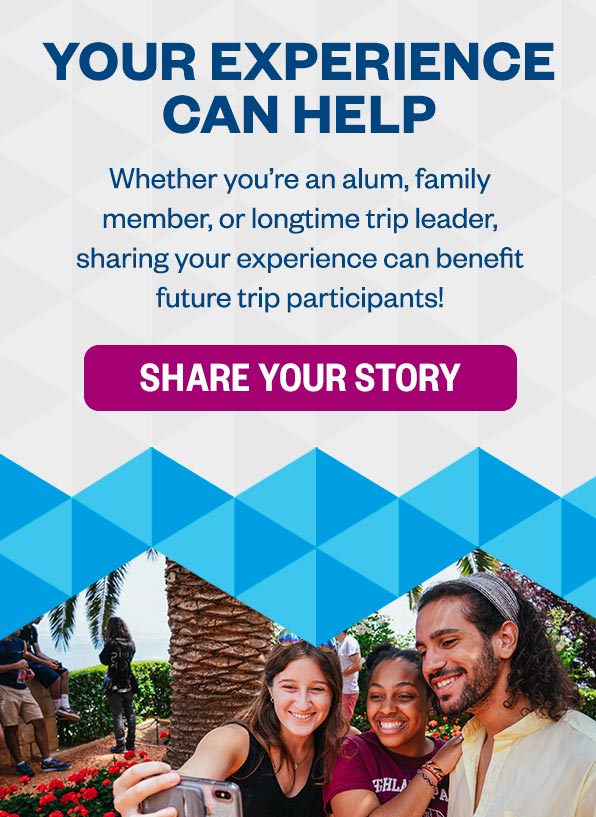 Throughout my involvement, a beautiful discovery about young philanthropy in New York City that continues to reveal itself is something I have dubbed cross-pollination. Young donors who give to one organization understand the importance of giving to multiple organizations. Whether it is $1 a day ($365 a year), we all have the capacity to do a little bit more. In addition to my work with Jewish National Fund (my connection to Israel), I volunteer with UJA Federation of New York Young Leaders (my connection to the Jewish community in NYC), as well as Chabad of the Upper East Side (my connection to faith and spirituality) and The Jewish Museum (my connection to the arts). Together, we are stronger. Together, we can do anything.
My whole story points directly back to Birthright Israel. Today, Netanel, my soldier, and I remain the closest of friends. Two years ago, he brought his wife, Shira, on their honeymoon to New York City where I served as their guide one night, taking them to dinner at a kosher restaurant on the Upper West Side and a walking tour of Lincoln Center and Columbus Circle. This past May, on my most recent trip to Israel, I got to visit with Netanel, Shira, and their newborn son, Ido. We spent an afternoon together at Tel Aviv Port. While I held baby Ido, Netanel informed his three-month-old, 'this is your Doda Sara, you now have an American Auntie.' As the sunset over the Mediterranean Sea that day, I felt humbled and grateful for the stolen moment with friends who became family and the circle of life…L'dor v'dor…from generation to generation. Birthright Israel Foundation: the gift that keeps on giving.