This past year Atlanta natives and best friends Jared Siegel and Sam Baroff decided it was time to claim their birthright. During their junior year at the University of Georgia, they signed up for a Birthright Israel trip together, hoping to further their understanding of Israel. Like many, Sam had initially heard of Birthright Israel through his mom. While Jared heard of the trip through his sister Lauren who said it changed her life.
Both boys had spent much of their college career advocating for Israel since their campus has many BDS supporters. Sam even started GIPAC, a pro-Israel group on campus after having swastikas drawn on the dorms. They each felt there was no better way to combat BDS than by having a firsthand experience, which is exactly what Birthright Israel provided them.
"I wanted to experience Israel with soldiers and see every angle. I used this trip to Israel as a way to go back at an older, more mature age and learn even more. The best way to understand something is to get in on the ground. So, that's what I did," says Sam.
They also both shared a desire to better understand the region's geopolitics and gain an increased awareness of the situation. Jared and Sam were able to do this through the geopolitical module that takes place on each trip. Birthright Israel has 80 Middle East experts who lecture participants every season. The geopolitical session provides Diaspora participants, like Sam and Jared, the opportunity to hear from an expert and ask questions. More so, it gives them an unbiased look at the situation in the Middle East.
Throughout their ten days in Israel, they gained insight into other aspects like the Shoah, the Holocaust. The Shoah is another mandatory educational element of every trip. Through the pedagogical framework and their Tour Educator, their group had in-depth discussions on the anti-Semitism so many of us face today. Jared said these discussions helped his group become close, which he thinks wouldn't have happened if they all were not on Birthright Israel.
"I remember reading about the Holocaust growing up. There'd be pictures of piles of shoes. But, when we were at Yad Vashem, you see the piles of shoes. The piles of shoes that were at Auschwitz. That site will never leave my brain. This was when I realized thank g-d for Israel."
Of course, they had moments of pure joy, like spending Shabbat in Jerusalem and witnessing the city's calmness. They hiked Masada and watched a sunset they will never forget. Most of all, they bonded with their Israeli participants. And soon enough, the two best friends, found a third best friend in Omer De Sabon, one of the soldiers on their trip.
"We hit it off right from the start. We shared the same style of humor, so it was easy to become friends. We were all comfortable asking each other tough questions. They asked me about Israel, and I was sure to give them detailed answers and tried not to be biased. I even asked them questions about the States," says Omer.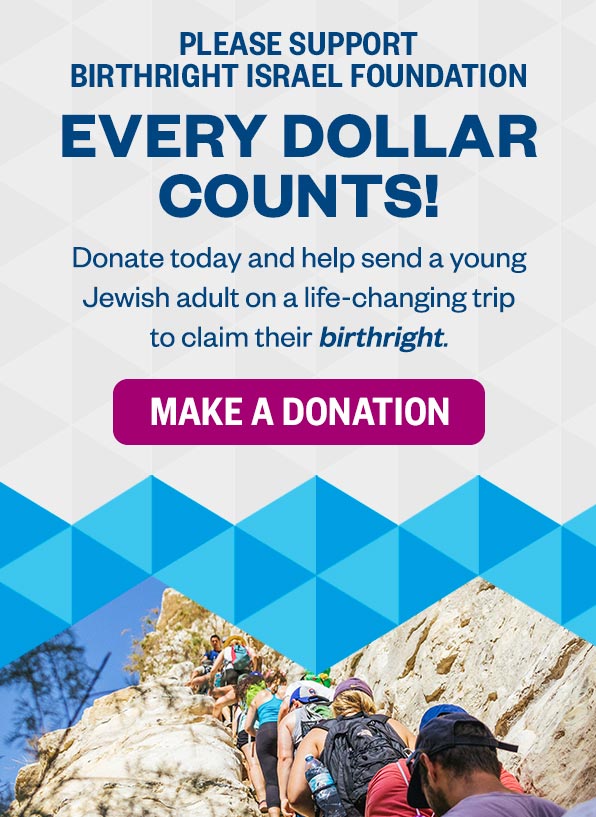 As their time in Israel was coming to an end, Jared and Sam realized supporting Israel needed to become a top priority. They are now both beginning their careers in Atlanta and are more involved in the Jewish community.
"In Israel, I realized what the Jewish people can do when we stick together. There is a synergy when you're surrounded by fellow Jews. Now, in Atlanta, I'm lucky I have many Jewish coworkers. Some even went on Birthright Israel too," Jared tells us.
Sam also has continued his involvement in the Atlanta Jewish community and says Birthright Israel only reinforced the importance of staying active.
"After this trip, supporting Israel moved to the top of my to-do list."
Eventually, Omer had time off from his army service and saved up enough to visit the States. He knew his first stop would obviously be Atlanta to visit Jared and Sam.
"I didn't have so much time in Atlanta, but what I did get to experience was a blast. We went to the Coca-Cola factory and the mall. I even spent time at Jared's home, and he showed me his city of Roswell. After this, we spent time on their college campus. The highlight of my time in Atlanta though, was Fox Bro's BBQ. If you haven't been there yet, trust me, it's amazing. I hope we can all reunite again in Israel when the time is right."
The story above is just one example of the hundreds of thousands of life-changing journeys made possible through our Atlanta supporters' generosity. With your help, Birthright Israel Foundation can continue to pave the way for young adults like Sam and Jared to become integral parts of the Atlanta Jewish community.
To learn how you can get involved with Birthright Israel Foundation in Atlanta contact, Kate Smith at [email protected].