Dylan Brush is a recent Birthright Israel alum who immediately felt accepted in Israel. When Dylan returned to Los Angeles, he knew those ten days on the trip forever changed him. Dylan went on to become a Birthright Israel madrich, otherwise known as a trip staffer for a Tel Aviv Pride trip. During his time staffing, Dylan hoped to show LGBTQIA Jews that they were Jewish enough and could feel at home in the Jewish homeland.
What inspired you to staff a Birthright Israel trip?
Dylan Brush: "I was inspired to staff a Birthright Israel trip because I wanted to be able to share my passion for Israel with others. My first experience with Israel was on my own Birthright Israel trip as a participant, and I immediately fell in love. I then jumped at the opportunity to share and provide this experience to others. This past summer, I had the opportunity to staff a Tel Aviv Pride trip which was one of the most transformative experiences in my life. I took a cohort of 25 people who identified as LGBTQIA and showed them just how special and accepting Israel truly is! Often times LGBTQIA have difficulty meshing their sexuality with religion, and I was able to show how seamlessly they can pair!"
What do you believe is the most important role of Birthright Israel staff?
Dylan Brush: "I believe the most important role for a Birthright Israel staff member is creating a safe and inclusive environment. On Birthright Israel trips, participants often come from various religious experiences and backgrounds, and the most important role is demonstrating that everyone's experiences are valid and that everyone is "Jewish enough." A Birthright Israel trip is one of the most unique experiences where you can take a random group of strangers, and after ten days, they feel like family. I believe Birthright Israel is one of the only programs that is capable of creating this environment for people in the professional stage of their life."
As a staffer, do you feel you can learn just as much as the participants even though you're in different roles?
Dylan Brush: "I believe as a staffer that you learn just as much as the participants — if not more! As the staffer, not only do you have the role of educating and logistics, but each trip comes with its own experiences and perspectives. Each time I travel to Israel, I find that I learn something new, whether it is from the Israeli Educator, experiencing the culture, or hearing a new perspective from a participant!"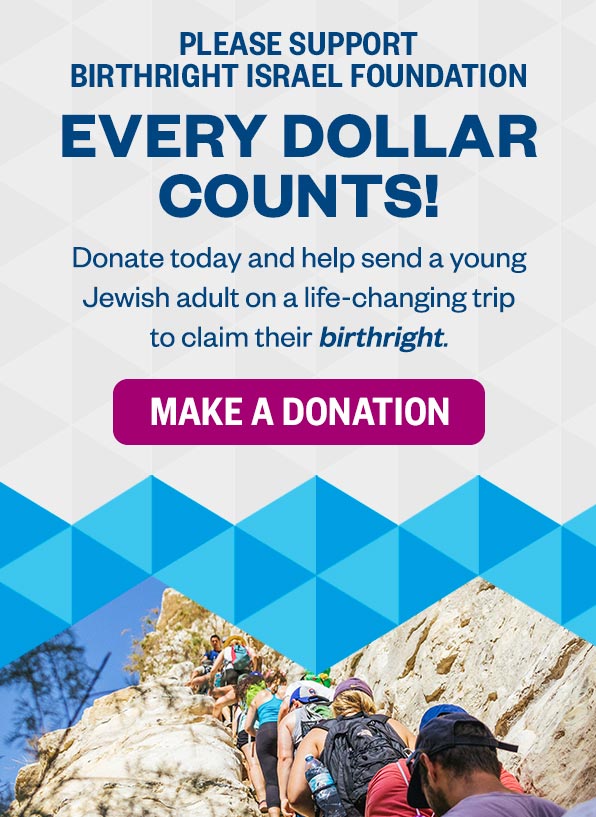 What are the most significant takeaways participants have from their trip?
Dylan Brush: "I think that one of the biggest takeaways the participants have from their trip is that regardless of where they currently are in life, their upbringing, race, sexual orientation is that they are "Jewish enough" and Israel is their home. I often find that participants come from varying backgrounds, and this trip unifies them. I also think the majority of participants leave the program with a newfound love for Israel!"
How do you think young Jews in LA benefit from the Birthright Israel experience?
Dylan Brush: "I think that young Jews in LA or all over benefit from the Birthright Israel experience because it shows that they are not alone. In an ever-changing world, it is important to find values and principles that bond people together. The Birthright Israel program provides the opportunity to do just that by exploring and deepening Jewish communities locally and in Israel. I also think that Birthright Israel experiences strengthen the LA Jewish community. It is an experience that bonds you with your local peers and creates lifelong memories."
What is the most important lesson a young adult can learn from a firsthand Israel experience?
Dylan Brush: "I think that one of the most important lessons a young adult can learn from a firsthand Israel experience is that being Jewish is something to be very proud of. While being Jewish is being part of a minority in the US, it is magical walking in Israel for the first time, knowing that you are part of the majority. There is almost magic in the air! Another important lesson a young adult can learn from a firsthand Israel experience is just how progressive Israeli society is. I had the opportunity this summer to staff an LGBTQIA Birthright Israel trip and was amazed at how accepting Tel Aviv and the country of Israel was towards the community."