In college, Nikki found community in her Birthright Israel family. So much so, when her class voted for superlatives, they named her most likely to be CEO of Birthright Israel. Although Nikki isn't the CEO, she did become a madricha for a Chicago Professionals trip. It was during this trip she met Joey, who she'd soon find out was her soulmate.
What made each of you want to go on Birthright Israel?
Nikki: I had been to Israel with my family and as a participant on Birthright Israel in 2011. I was looking for my next adventure when a coworker suggested I apply to lead a trip. Everything fell into place then. I was asked to lead a Chicago Professionals trip in the winter of 2015/2016.
Joey: I wanted to develop a deeper connection with my Jewish heritage. I also wanted to see Jerusalem – one of the most significant places in the world. When my law school friend applied to go on the Chicago Professionals trip during our winter break – he encouraged me to join him. It seemed like the perfect opportunity to go.
Did either of you think you'd meet your future partner on Birthright Israel?
Nikki: I was so focused on leading my first trip and executing a perfect Birthright Israel experience for my participants, I did not even consider meeting anyone.
Joey: No – I wasn't focused on that at the time.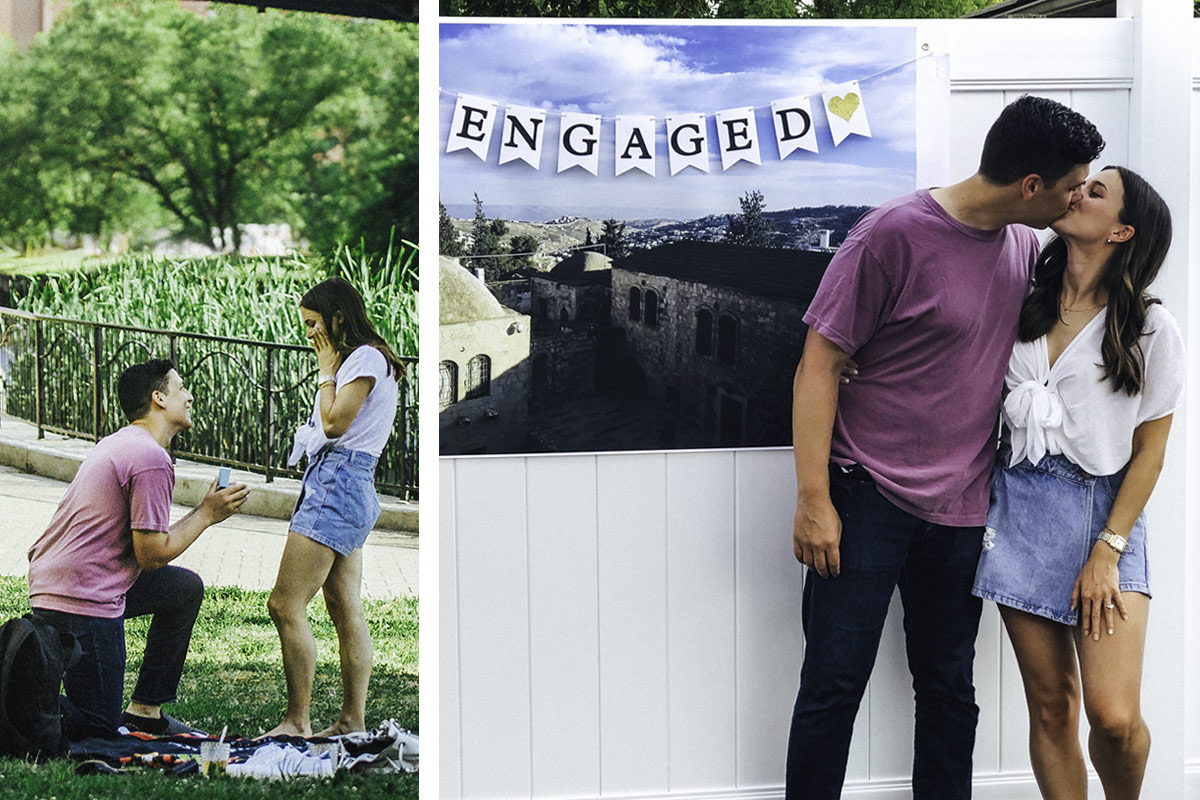 Can you pinpoint the moment on the trip when you both knew you'd fallen in love?
Nikki: I heard Joey speak the first night we arrived which happened to be Shabbat. I thought he was really smart and the next morning at breakfast, I followed up with him on something he said. I quickly realized that if my goal was to make the trip successful for ALL participants, I needed to avoid him at all costs. It wasn't until the last day, which happened to be my birthday, that I stopped worrying so much that I thought he was cute. I then actually spent the day talking to him.
On our way home, Joey had lost his boarding pass for our connecting flight and needed to get it reprinted at the Madrid airport. It was an extremely tight layover and he needed to go through security again to get it reprinted. While my co-lead successfully got all the other participants to the connecting flight, Joey and I sprinted through the airport to try to get him a new ticket. We (unfortunately) made it and today, we refer to Madrid as "the date we never had." Between trying to avoid him the majority of the trip and him being in law school outside of Chicago, I never thought he'd ask me out. I am so glad he did.
Joey: The first day I can't say I was particularly fond of her. Stubbornly, I didn't like being told what to do, but over the course of the trip, I found myself very attracted to her leadership style, her intelligence, and her quick wit. One particular memory in Jerusalem, we were standing on the roof of where the Last Supper took place and I walked over to share nerdy ancient facts about Jerusalem. She seemed uninterested so I quickly wrapped up and walked away. I later learned that she was quiet because "I was supposed to be leading this trip and you knew way more about Jerusalem than me. I didn't want to give away that I was clueless so I didn't say a word!" Her words, not mine.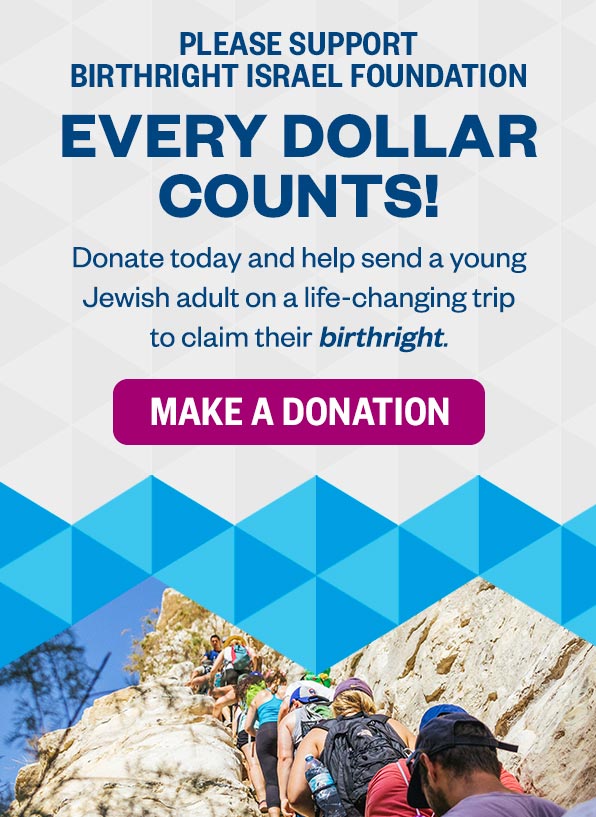 What were the biggest takeaways from your Birthright Israel experiences outside of meeting each other?
Nikki: I am rejuvenated every time I take a trip to Israel. For me, Birthright Israel is an opportunity to reconnect with myself, my ancestors, my heritage, my religion, and my people. What an incredible opportunity to feel reenergized simply by being there.
Joey: It's an incalculable blessing that Jews have a place of their own and land to call home. I am a Puerto Rican Jew and in the US I always feel like a minority. Israel was the first place I've been to in my entire life where I felt like I was a part of the majority.
What was it like to be with Israelis? Had you met Israelis before? What did you learn from them?
Nikki: Interacting with Israelis are always the participants' favorite part of the trip. Leading a trip, you have the unique opportunity to watch your participants connect to others who come from different backgrounds, have various political views, practice different professions, etc. I've learned that it takes very little to find common ground with a stranger. In fact, Birthright Israel proves that strangers are just friends you haven't met yet.
Joey: My first thought is that Israelis remind me a lot of Puerto Ricans: passionate, fiery, and fun. But there is a collective bond that Israelis uniquely seem to share which I think is centered on their love, dedication, and support of their country.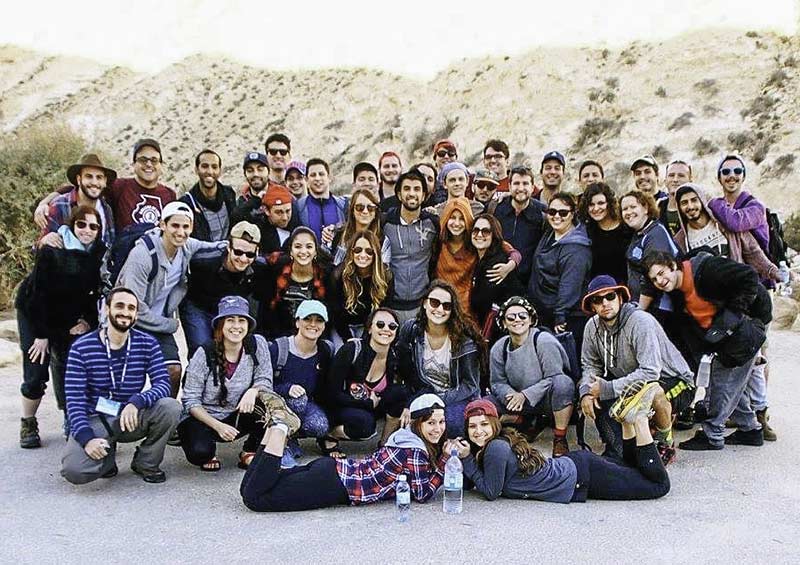 Do you two think Birthright Israel is an important experience for young Jews?
Nikki: I could go on and on about the importance of Birthright Israel for young Jews and the impact I've seen on not only myself but my past participants and peers. Birthright Israel provides a connection for young Jews in a variety of ways; connection to their ancestry, religion, history, to others, and to themselves. Birthright provides a safe place to explore one's identity beyond the 10 days of the trip. It provides connection for a lifetime.
Joey: It is important that participants build a bond and love for Israel. It's important that Israel is not an abstract place or idea for young Jewish Americans. Birthright Israel makes Israel a tangible and real place to call home.
If you could meet the generous donors who made your trip possible, what would you say to them?
Nikki: Thank you for giving us the opportunity to connect to our history, our people, and to each other. If you think about it, your gift has a generational impact. We will, G-d willing, have Jewish children, who will have Jewish children, who will have Jewish children, all because of your gift of connection.