In summer 2017, Tatiana Lundstrom and Haley Harris-Bloom thought Birthright Israel would be a great opportunity to get in touch with their Jewish heritage. Hours into their trip, the two were sitting together on the bus and within days had fallen in love. Check out our interview with the couple to see how their Birthright Israel love story unfolds.
What made each of you want to travel with Birthright Israel in the first place?
Tatiana: I thought that it would be an awesome experience in a country where I could meet people with similar life experiences and learn more about being Jewish. Though my mom was raised Orthodox, we didn't go to temple much growing up and focused more on celebrating the holidays and traditions as a family. I only remember knowing two other Jewish people in my high school and was interested in seeing if any of the other people on this trip felt similarly alienated from their culture and heritage.
Haley: Traveling with Birthright Israel was such an exciting thing I was looking forward to for years! Family and friends raved about their experiences and I was just waiting for the perfect time to go…turns out I did choose the exact perfect moment to go.
Did either of you think you'd meet your future partner on Birthright Israel?
Tatiana: Not at all. I was working as a skipper on a sailboat in the British Virgin Islands at the time and expected the job to continue for at least another year. Meeting someone that I wanted to see again was not even on my radar as this was the only trip I would be taking away from the boat for the foreseeable future.
Haley: I had just graduated from nursing school and was about to start my job as an emergency department nurse when I came back. Finding a life partner was far from my mind as I was very focused on this next career move!
Can you pinpoint when you'd both knew you'd fallen in love?
Tatiana: From the first moment I met Haley, I was absolutely blown away by her kind and funny demeanor. She was (and still is) the kind of person I wanted to be around. Being a stereotypically feminine presenting queer woman, I knew that if I wanted to let her know that I was into her I would have to work for it.
I kept dropping hint after hint (I even showed her a picture of an ex as a way to bring up that I dated women) that I thought she wasn't picking up on. I remember one night, maybe the fourth or fifth night of the trip when we were camping in the desert. It was one of the most beautiful night skies I had ever seen. We walked away from the group to explore and just sat and talked for hours under the stars. Even though neither of us had made a move yet, I knew that I wanted to see her again after the trip.
When the trip ended and we were all flying back to New York, the flight was delayed. Almost everyone in our group was freaking out about missing their connecting flight. My flight back to the boat wasn't until the next morning but Haley's was supposed to be only an hour after we landed. Though we had an amazing connection with one another, I truly expected her to sprint for her flight. As we got off the plane and I prepared to say goodbye, she looked at me and told me that she wasn't going to try to make her flight and that she would like to stay one more day with me. That's when I knew that this relationship was in no way ending any time soon.
Haley: Actually, for me, this was a love at first interaction situation, which I didn't know could be real. She was this tall, beautiful blonde woman that I said hey to during the Birthright Israel group introductions. After finding out that she was working as a sailboat captain in the British Virgin Islands and seeing her cute smile, I was hooked. We landed in Israel and I stood outside our bus for what seemed like hours (it was only 15 minutes). I knew I had to sit next to this sailing goddess, but up until this moment, we only had a two-minute encounter at the airport before!
I got on and off the bus five times, waiting for her so I could offer her the seat next to me. FINALLY, she saunters down the sidewalk to the bus. I try to be cool, ask her about her necklace, her equality tattoo on her wrist, then nonchalantly get on the bus (the bus driver side-eyeing me as I board for the sixth time). She comes on a few minutes later, looks at me and asks if she could join me. Hallelujah! The 2-hour bus ride that followed to the Kibbutz was nothing short of incredible as we chatted and giggled next to each other. My love was absolutely sealed by then.
What were the biggest takeaways from your Birthright Israel experiences outside of meeting each other?
Tatiana: It was so amazing to be surrounded by so many people who had shared life experiences. The number of other people who grew up being told that they didn't look Jewish was astounding. I was so grateful to know that I was not alone in my life experiences of being Jewish in a predominantly Catholic and Christian town.
Haley: I think it was important to see the country of Israel and to see what a vibrant place it is yet at the same time absorb what a serious place it is. The citizens put their country before all else and fight for Israel, as the Jews have had to do for thousands of years. It was so interesting to see that we are still not free in the land of Israel, that it is still being fought for.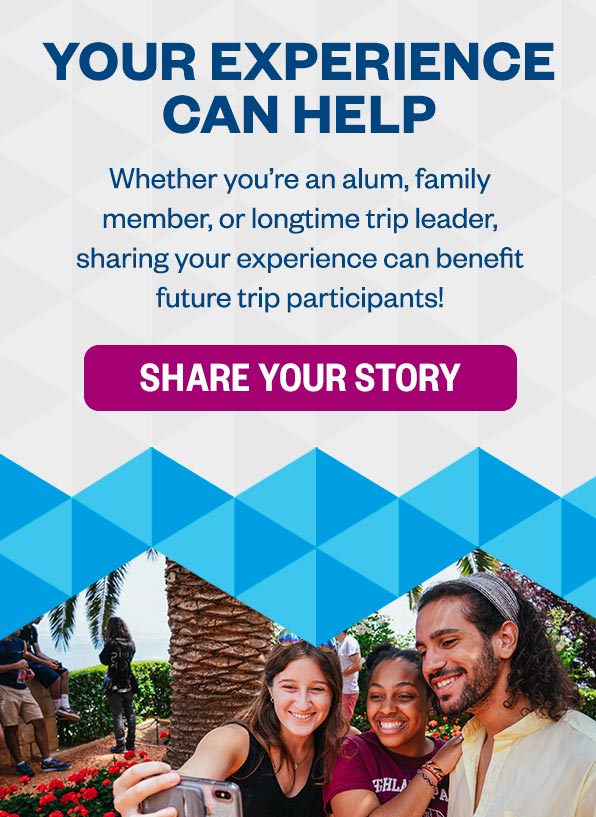 What was it like to be with Israelis? Had you met Israelis before? What did you learn from them?
Tatiana: It was awesome! I've traveled a lot but was blown away by how adventurous and friendly they were! We had some amazing military members in our group and were lucky enough to get along with them really well. I really wish that I had been in a position to stay in Israel longer.
Haley: I too have traveled a lot and have met amazing Israelis traveling. It was interesting to share stories and experiences and to see how much we have in common while also having very different upbringings. They were humbled and were so open, connecting, and helped create better context and tangibility. Their involvement made our experience deeper and more meaningful.
Do you two think Birthright Israel is an important experience for young Jews?
Tatiana: I think it is extremely important for young Jews, especially those who are interested in learning more about Israel and Judaism. I felt so much closer to my roots and my relatives while in Israel. Though my mother was raised Orthodox, I hadn't had much previous exposure to Judaism while growing up. It was amazing to realize that not only did the people I was meeting have so much in common with each other but that we also all had so much in common with our ancestors.
The Jewish immigrant story has been told so many times and the historical and current struggles of Jewish people are so real. But being surrounded by such a wonderful group of young Jewish people made me feel grateful that our ancestors worked so hard to make our lives possible. The fight to claim Israel reminded me of the fact that each person on the trip had family that had persevered through tough times. It was such a moving and educational trip and I would highly recommend it.
Haley: I think that it is an important experience for Jews to go to Israel as it is the home of our heritage. Like Tatiana, I was not surrounded by many Jews growing up, so to be in a country of Jews is astounding. To discuss our history, our personal experiences, and the future of Israel is well worth the time. The Birthright Israel experience is an amazing way to do it too as it is very generous, well organized, and executed. It is an experience of a lifetime.
If you could meet the generous donors who made your trip possible, what would you say to them?
Tatiana: Thank you so much for believing in the power of young Jews and the awesome impact seeing Israel can have on them. You made a transformative experience that I would not be able to get anywhere else. This brought me and my fiancé together. I am in awe over the generous gift that is your donation. My fiancé and I will be paying this gift forward for the rest of our lives. Thank you!
Haley: The generosity of Birthright Israel is life-changing, not only to the trajectory of my future by finding my life partner but in terms of connecting me further to Judaism. Thank you for creating a trip of a lifetime for Jews across the world to connect and feel united.