Sara Armet is a 2012 Birthright Israel alumna who went on to found the luxury chocolate brand, Lady & The Chocolate. Having honed a career in specialty retail at Barneys New York and Bergdorf Goodman, Sara Armet woke up one day with a calling to make 'the best chocolate you ever had'! Amidst a global pandemic, designing chocolate bark with a larger-than-life personality became the greatest outlet for self-expression. Lady and the Chocolate was born.
The Birthright Israel Bark recipe is inspired by Sara's many trips to the holy land, including her first on Birthright Israel! In a blog post for Birthright Israel Foundation, Sara shares how the trip consecrated an unrealized dream for her and solidified a strong connection to the homeland.
"Birthright Israel was the gift of a lifetime; the generosity of major donors who made the journey possible… the message of service instilled in me through the IDF. I knew that when I was fiscally responsible to give back, the securing of the future of Israel would be part of my life's work."
You can get a taste of the Birthright Israel experience by making Lady & The Chocolate's Birthright Israel Bark recipe!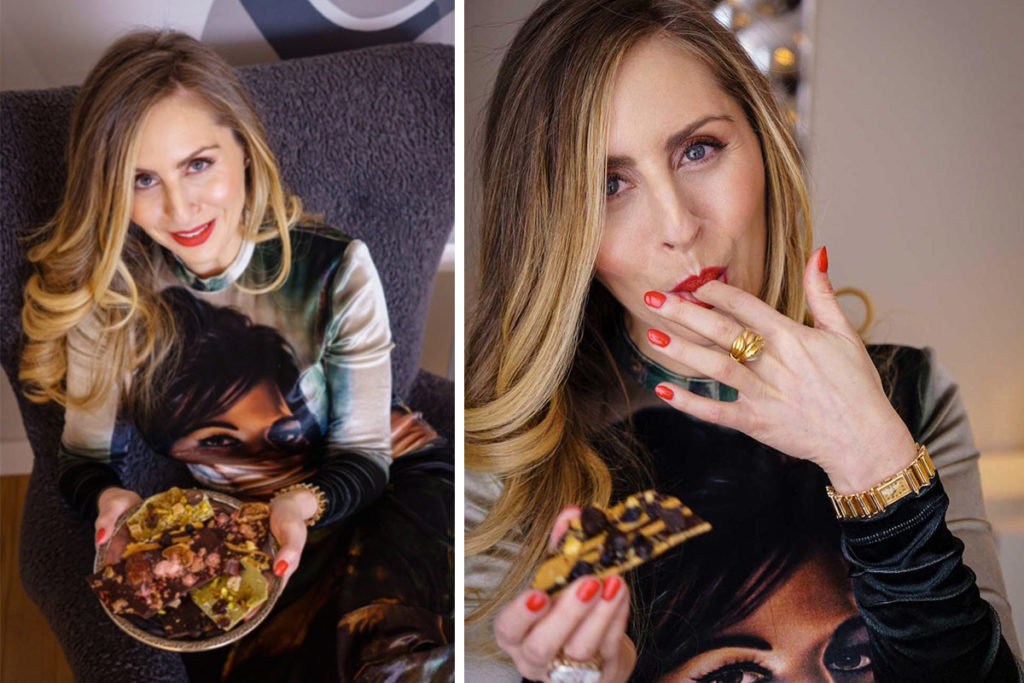 Birthright Israel Bark
Baking Supplies
Parchment paper
Baking sheet (half pan)
Silicone spatula (or wooden spoon)
Microwave-safe bowl
Oven mitt
Optional: cooking spray, cutting board, kitchen knife, ramekins (for toppings), offset spatula
Ingredients
Other Suggested Toppings
Dried fruit (blueberries, cherries, strawberries)
Nuts (pistachios, walnuts, peanuts)
Candy (crushed Heath Bar, m&m's)
Marshmallows
Pretzels
Popcorn
Cookies
Diced ginger
Honeycomb
Sea salt
Cinnamon
How to Prepare Birthright Israel Bark
Prep time: 40 minutes (and cool time); Serves: 6-10
Pick your toppings with purpose! I derive the themes for my chocolate barks before I go grocery shopping. Set up your toppings so they are easily accessible once the chocolate-making begins.
Line your baking sheet with parchment paper. Pro tip: If you spray the bottom of your baking sheet with cooking spray, the parchment paper will adhere smoothly.
Place 2/3 of the chocolate in a microwave-safe bowl. If you are working with chocolate bars, break up the chocolate into smaller pieces before melting. Place the remaining 1/3 of the chocolate aside (see step 5).
For beginners, the easiest way to melt chocolate is in the microwave. Melt 4/3 of the chocolate in 30-second intervals and stir in between. Keep an eye on the chocolate to prevent burning.
Remove from the microwave, add the remaining chocolate to melted chocolate, and stir until it is melted.
Pour chocolate on a baking tray. Smooth with an offset spatula.
Decorate your bark. This is the fun part! Get creative!
Just chill! Set your chocolate bark in a cool place (yes, refrigerator or freezer works).
Break up your beautiful chocolate bark and enjoy!
About Lady & The Chocolate
Lady and the Chocolate is a luxury chocolate brand, creating homemade chocolate bark on the Upper East Side of New York City. It's chocolate meets fashion. This community-driven operation spreads joy and love with its array of bold, unique, and show-stopping flavors and has been featured in publications including Time Magazine, The New York Post, and Thrive Global. The bark is worth the bite and everyone wants a piece of it.
If you're not into making the bark yourself, use discount code 'BIRTHRIGHT' to order some treats!
Get More Goodies in Your Inbox
We hope you've enjoyed this Birthright Israel-inspired recipe! For more recipes, stories, and other resources, be sure to subscribe to our updates.