Brady Crane is a 2018 Birthright Israel alumnus originally from Boca Raton, FL. After Brady's Birthright Israel trip he decided to make Aliyah and join the Israel Defense Forces. He now serves in the Nahal unit, one of the IDF's main infantry brigades, and lives at Kibbutz Nir Yitzhak in the Negev.
Here is a little bit about Brady and his experience on Birthright Israel.
What inspired you to sign up for a Birthright Israel trip?
My sister previously did Birthright Israel two years before when I did and loved it. Also, I hadn't traveled to many places outside of the United States at that point in my life. I figured it would be a great experience for me.
Did you have any preconceived notions prior to going to Israel?
I honestly was not fully sure what to expect, so I went to Israel with a very open mind and I realized Birthright Israel was a great way to see a little bit of everything in Israel.
Did you grow up with a connection to your Jewish identity?
I grew up with a connection to my Jewish identity, even though I did not grow up religious. I always felt that there was a lot more to the religion I wanted to learn and wanted to discover my own Jewish identity more.
What was your biggest takeaway from Birthright Israel?
I realized Israelis live a very different life than us in a lot of ways. The biggest surprise I had was the comparison of how well the community comes together as a whole compared to America in my opinion. Everyone here is a big family even through the chaotic times and history of Israel. I think that is was makes us even stronger as a Jewish community.
How has Birthright Israel played a role in your life since coming home from the trip? Also, what's it like serving in the IDF?
Birthright Israel definitely influenced my decision to join the IDF. After a few days of being on Birthright my group was in Jerusalem and I told myself one day I would like to move here and join the army. I always wanted to serve in the United States Army my whole life and never had the 100% connection to make that decision. That was the big factoring decision for me, was being in a new country for a short time and having a thought I would want to join the army of Israel made it an easy decision.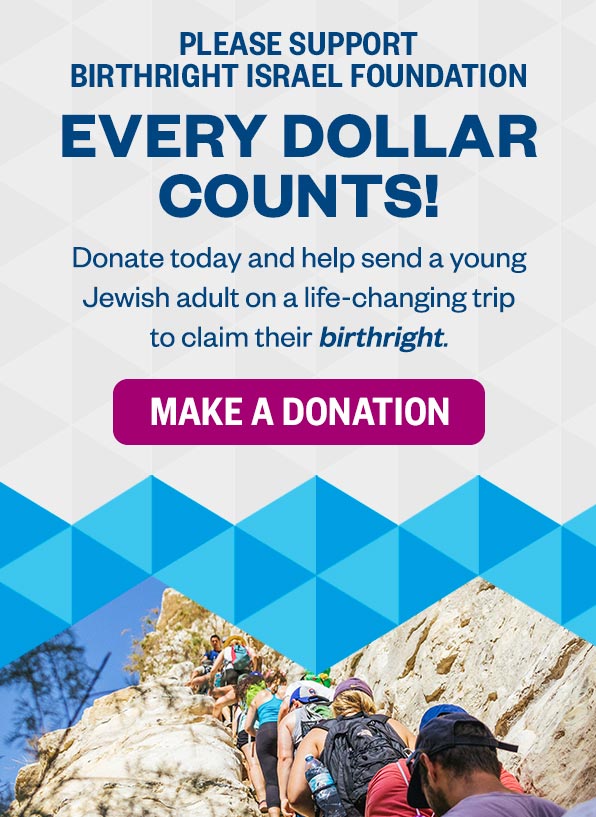 Are you involved more in your Jewish community because of your Birthright Israel trip?
I would say I feel a closer connection to the Jewish community because I'm surrounded by all different levels of Judaism here in Israel. I'm learning so much about the religion and holidays I never even knew about!
If you could meet the person who made your trip possible, what would you say to them?
I would tell them thank you so much for helping provide a chance for young Jewish people like me to take a trip of a life-time. Look how much it impacted me! I moved to Israel a year later with a one-way ticket, one suitcase, not knowing the language, and this country has given me everything and made me a stronger and better person, in my opinion.