Now in its 10th year, Birthright Israel Foundation's Palm Beach Leadership Cabinet is entering a new era and is ready to lead the country in rallying support for Birthright Israel. As 2023 trip registration closed early due to the increase of applicants, which was up by 68%, and the 30% increase in cost per participant, the number of spots available were limited to 12,000 in North America, which resulted in a summer waiting list of 20,000 applicants. It is clear the demand and the need for Birthright Israel is greater than ever. That is why the Palm Beach Leadership Cabinet chair, Ronnie Pertnoy, is thrilled to spearhead this new chapter.
A New Chapter in Palm Beach Begins
Birthright Israel is truly a family affair for him and his wife, Susan, the current Board Chair for the Jewish Federation of Palm Beach County. Together, the couple is continuously inspired by their children, nieces, and nephews, who are all alums of the program. Ronnie and Susan know better than anyone the impact a firsthand Israel experience can have on today's young Jewish adults.
Supporting Birthright Israel is a must for the Pertnoy family and has been for generations. Before Ronnie stepped up as the Palm Beach cabinet chair, his mother-in-law, Barbara Kay z"l, was supposed to take the reins from former chair Judith Levy. Susan and her mother, Barbara, had always been involved with the lay leadership of Birthright Israel. When Susan became Board Chair for the Federation, it was a natural fit that Ronnie would be the chair for Birthright Israel and continue the work of his late mother-in-law.
Ronnie Pertnoy's Goals for the Palm Beach Cabinet
In 2022, under Ronnie's leadership, the cabinet increased support for the program by 20% in Palm Beach. This is something that Ronnie hopes to continue in 2023. "It is apparent that the entire Jewish community, Jewish agencies, Federations, and the Jewish people have an obligation to support this program. If everyone gave what they could, there would be no waitlist, and we'd have tens of thousands of young Jews impacted by this program each day," said Ronnie. He shared that Birthright Israel exposes young Jews to extraordinary experiences and gives them a reason to live a vibrant Jewish life. He and Susan see this firsthand from their children and hope their generosity paves the way for others.
What Palm Beach Cabinet Members Say
Sam Fisch: "I think Birthright Israel is one of the most influential programs having a long-term view of perpetuating Jewish life. Experiential travel is the best way to SHOW young adults, not just tell them about the Jewish connection to Israel. Having them experience it firsthand alongside so many participants is an opportunity of a lifetime to impart to them meaning, significance, and relevance to the American Jewish connection to Israel."
Charlie Barnett: "Birthright Israel is crucial in providing young Jewish people a solid foundation of understanding when it comes to Israel, Israel's existence, and it's needs. Visiting the Jewish homeland is the best way to learn."
Judith Levy: "It was a pleasure for me to pass the torch to Ronnie, who is so passionate and excited for Birthright Israel in Palm Beach. He is doing a great job and has put together a wonderful cabinet with many new committed members."
Brahm Levine: "Birthright Israel engages young people at a very impressionable time in their lives and for 23 years, the educational programming continues to impact the next generation. I have been privileged to be part of this organization for years, and the research proves over and over again that it makes a difference in young Jewish lives."
Judy Bronfman Bernick: "I have had the privilege of supporting Birthright Israel from an early start. My three children were recipients. I want to perpetuate this great gift to the younger generation to create and thus sustain their passion for Israel. It is my belief that those that have been given the opportunity to participate should now pass it forward. Thank you for this opportunity to join the Leadership Cabinet in Palm Beach."
Alan Shulman: "It is wonderful to see Ronnie involved with such an important program. Elizabeth and I are really proud of the job he is doing."
Susan Boren: "Israel, like Judaism, needs to be 'felt' in order for current and future generations to identify with the magnitude of struggle required to persevere. To appreciate this, the opportunity to set foot in the land of Israel and experience that history is what ensures Judaism's existence into perpetuity. For it is the creation of post-war Israel that has solidified such a sacred identity, unmatched by any other. Providing young Jews of all classes and backgrounds the ability to connect with their proud heritage is simply a mandatory obligation that we all bear. If we don't enable this experience, what does that hold for the future of Israel, the future of Judaism?"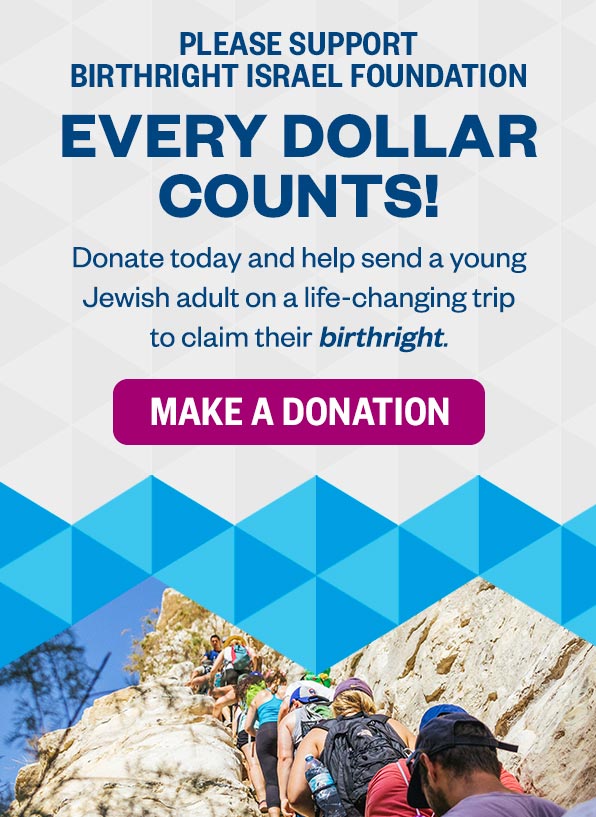 What Ronnie Wants Young Jews to Takeaway from Their Trip
Outside of the awe of visiting the Jewish homeland and not feeling like a minority, Ronnie wants participants to truly understand the value of connections that can be made on trips. One of the aspects he loves most about Birthright Israel is the Mifgash program. The mifgashim is a central part of the experience, where several Israeli soldiers join the group for a portion of the trip. This allows for dialogue between the Diaspora and Israeli Jews. It is an opportunity for Americans to bond with their Israeli peers and gain a real perspective of what it is like living in the only Jewish state. "Hearing about the interactions our participants have with the Israeli soldiers is always fascinating to me. From what I have heard, most of them get a totally different perspective of what it means to be a soldier, and they also learn they have a lot in common. They may be living in different countries, but they share many similar interests when it comes to food, music, and life," Ronnie shared.
The Impact of Birthright Israel in Palm Beach County
Many of Birthright Israel Foundation's supporters and lay leaders hope that by investing in the program, they are paving the way and inspiring the next generation to be their successors. And that is precisely what is happening in Palm Beach County, according to data provided by the Jewish Federation of Palm Beach County.
In 2022, the Federation's Emerging Leaders Program showed that 70% of ELP alums participated in Birthright Israel. More so, in the 2022 cohort, 13 out of the 17 are alums of Birthright Israel, and 15 other Birthright Israel alums serve on various Federation senior leadership committees or their Board of Directors. Twenty-five percent of the Federation's staff have also participated in the trip.
The Jewish Federation of Palm Beach County is only one example of the 150 Federations and Jewish organizations in the United States. This data gives us a glimpse of Birthright Israel's role in our communities.
The Jewish Future Is in Our Hands
Join our supporters in Palm Beach County and become a donor to Birthright Israel Foundation and continue to transform the Jewish future. As Ronnie Pertnoy says, "If you care about the future of the Jewish people, the only way to ensure what we have built lasts is to get the younger generations involved — a Birthright Israel trip is the bridge to do just so. Help us give them this extraordinary experience. If we don't, who will?"