I am Michael Messinger and I am proud to serve as Chair of the Los Angeles Leadership Council for Birthright Israel Foundation. This past year, 2020, began my first full year in this role and I'm humbled by the dedication of the Greater Los Angeles community to partner with me and all our council members, to generously support Birthright Israel Foundation.
For the first time in the history of this organization, Birthright Israel was forced to postpone all travel to Israel. In response, Birthright Israel Foundation launched its greatest fundraising effort to sustain this strategic asset to the Jewish people that took 20 years to build.
You, our Los Angeles community, responded to this call to action in an amazing fashion. Together, we surpassed our fundraising goal ensuring Birthright Israel's vitality through the pandemic.
The Impact of Birthright Israel
These last several months have given me the chance to reflect on why Birthright Israel is so important to me.
Growing up, my parents always instilled in me and my siblings, a sense of philanthropy, especially Jewish philanthropy. I was fortunate to attend Jewish Day School, and it was there, where my love for the State of Israel began.
So, when I was approached to support Birthright, it was natural for me to give, especially to an organization that would connect young Jews to Israel. I made donations, agreed to join the leadership council, and then together with my wife Lexie, hosted an event for our friends at our home. And to our pleasant surprise, we raised a lot of money!
But what really transformed me to want to do whatever I could for Birthright Israel happened as a result of me participating in one of Birthright Israel Foundation's missions to Israel.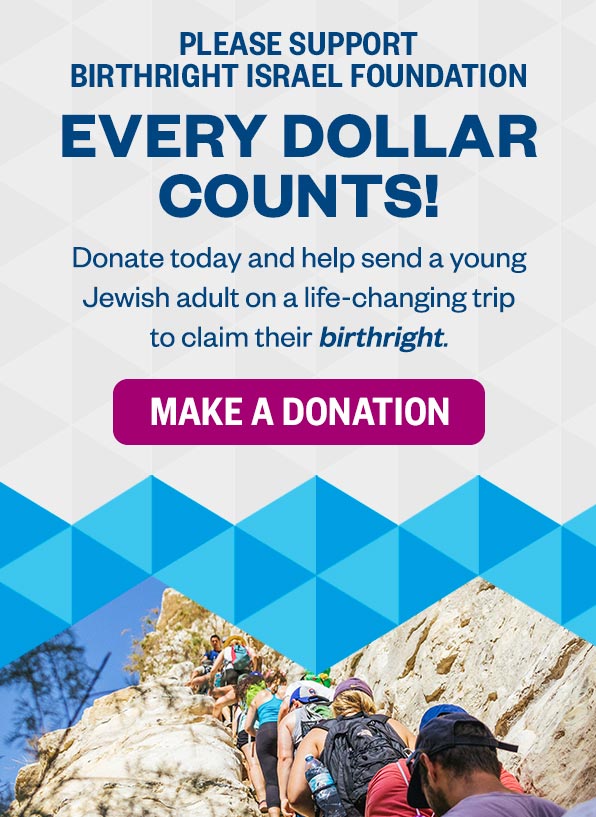 I saw first-hand this "magic" called Birthright in action. Imagine standing in an arena with thousands of young Jews, from 68 countries, singing and dancing together, being excited about Israel and being Jewish and being with other Jews. Participants return home energized with their new connection to Israel, new understanding about their Jewish identity, a new interest in connecting with other Jews, and new confidence to speak up for Israel on their college campus or through social media.
Anyone who knows me knows I'm a numbers guy and want to invest my time and resources into something that has proven results. There are countless studies conducted by Brandeis University to quantify the impact of this program. To name a few:
74% of Birthright Israel participants feel a connection to Israel
85% of participants describe the trip as a life-changing experience
36% of participants are more likely to get involved in their Jewish community
30% more likely to donate to Jewish or Israeli causes
Our Commitment to the Jewish People
I truly believe Birthright Israel has the greatest impact on the continuity of the Jewish people. It is why I choose to give my time to this organization, and more importantly it's the main reason Lexie and I have made it our top philanthropic priority. We feel empowered to give and ensure that Birthright Israel will ALWAYS be able to take any eligible applicant – without ever having to turn anyone away. This is why this year especially, we chose to increase our gift.
It also means, surrounding ourselves with like-minded philanthropists who are interested in partnering with us to continue to build this program. With that in mind, I'm proud to announce the establishment of the LA Advisory Cabinet to focus on raising visibility and necessary funds for Birthright Israel Foundation in Los Angeles.
I feel it is paramount to fully recognize and celebrate the generosity of you, our Los Angeles supporters, with the launch of the Greater Los Angeles Honor Roll. The Honor Roll showcases donors of $1,800 and above that are ensuring the Jewish future and strengthening our Jewish community.
We invite you to join us. Together, we can continue to build on this program that provides young Jews from Los Angeles with an incredible gift, the gift of a connection to Israel and their heritage.
Lastly, on behalf of myself and the entire Los Angeles community, we want to hear from you. If you are looking to get involved, please contact the Foundation today by email or phone:
Deborah Dolgin
VP, Western Region
deborah.dolgin@birthrightisrael.org
(323) 384‑3931
Thank you for partnering with me on this crucial mission on behalf of young Jewish adults in Los Angeles and across the world.


Michael Messinger
Chair, Los Angeles Leadership Council
Birthright Israel Foundation

$1,000,000+
The Adelson Family Foundation
Cheryl & Haim Saban
$100,000+
Alyce & Philip de Toledo
Dorit & Shawn Evenhaim
Arline & Buddy Pepp
Sassoon Family Foundation
Miriam & Isaac Shepher
$60,000+
Jodie & Steven Fishman
Lexie & Michael Messinger
Allison & Bennett Rosenthal
Leno & Paul Sislin
$30,000+
Alison & Shawn Horwitz
Lisa & Victor Kohn
Corie & Michael Koss
The Saidoff Foresight Foundation
Alisa & Yossi Simsoly
The Bley Stein Foundation and Ronald Stein
Anonymous
$10,000+
Debbie & Mark Attanasio
Nancy & Scott Beiser
Alan Berro
Art & Dahlia Bilger
The Black Family
Dana & Rick Entin
Angela & Daniel Feiner
Helgard Field-Lion & Irwin S. Field
Carin & Glenn Freeman
Lori & Robert Goodman
Farah & Steve Gozini
Rhonda & Greg Greenstein
Caroline & Michael Hackman
Judy & David Hager
Nancy Stark & Stanley Iezman
Rachel & Bruce Jeffer and the Harris C. Jeffer Foundation
Susan & Daniel Kane
The Keston Family
Wendy & Gary Leshgold
Jody & David Lippman
Barbara & Robert Margolis
Sharon & Simon Mendelson
Anonymous
Adam and Gila Milstein Family Foundation
Keira Guez & Farshad Morè
Jami Gertz & Tony Ressler
Linda & Tony Rubin
David A. & Karen Richards Sachs
Dr. Claudia & Sandor Samuels
Michael Scott
David and Fela Shapell Family Foundation
Anna & William Tenenblatt
May & Richard Ziman
$5,000+
Judy & Elie Balas
Sandi Rosenbaum & Howard Banchik
Donna & Ron Bender
Melissa & Alexander Block
BTIG: Wes Gradone, Randal McCallum and Evan Seidenstein
William Comanor
Alison & Gary Diamond
Jila Farahi
Lorraine & Ray Friedman
George A. Goldberg
Bruce Goldsmith
Linda & Gerald Grossman
Stephen Gunther & Linda Essakow
Hella & Chuck Hershson
Marsha Jacks
Michelle & Alan Kaye
Dr. Ellen & Harvey Knell
Carole & Gary Lazar
Ronda & Barry Lippman
Anita Lorber
Robert Meth
Julie & Ken Moelis
Patricia Glaser & Sam Mudie
Deedy Oberman
Anonymous
Wendy & Ken Ruby
Joan & Arnold Seidel
Natasha & Kamyar Shabani
Annette & Leonard Shapiro
Jennifer & Michael Singer
Andrea & Glenn Sonnenberg
The Samuel and Helene Soref Foundation
Jill Stein
Carol & Jay Stein
Toby & Bob Waldorf
Helga & Elia Weinbach
$3,600+
Julie & Steve Bram
Beverley & Gary Futterman
Michelle & Jordin Mendelsohn
Michael Moshi
Julie & Marc Platt
The Rainer Family Charitable Trust
Janice Kamenir Reznik & Benjamin Reznik
Martin Seaton
$1,800+
Martha & Barry Berkett
Lynn & Les Bider
Carolyn & Robert Blashek
Sandy & Clifford Bochner
Andrea & Barry Cayton
Lisa Helfend Meyer & Ronald Cherney
Cheryl & Bradley Cohen
Gary S. Cohn
Barbara & Gilbert Dembo
Marlynn & Rabbi Elliot Dorff
The Albert And Joan Dorman Family Foundation
Jody & Mitch Dunitz
Jaye & Neal Eigler
Nancy & Alan Epstein
Sharon & Joseph Freed
Dr. Debra Luftman & Dr. Harlan Gibbs
Benita & Bert Ginsberg
Marian Rosenthal & Charles Goldsmith
Dr. Ora & Lance Gordon
Ivy Greenstein
Emily & Stephen Hirsch
Ada & Jim Horwich
Roneet & Ken Kahan
Mort Kirshner
Judy Knapp
Janine & Richard Kolodny
Jessica Gersh Leff & Aaron Leff
Shelly & Don Levy
Evelyn & Martin Lutin
Pam & Stan Maron
Sandra & Andrew Matthew
Carole Meltzner
Roberta & Robert Novick
Judy & Alan Nussenblatt
Susan & Mel Plutsky
Jill & Michael Rabin
Barbara & Paul Reitzin
Jarrow Rogovin
Nanci & John Rosenfeld
Hannah & Avery Rosin
Linda & Bill Rouse
Barbara Kreitzer & Alan Sanders
Lauren & Anton Schiff
David Schwartz
Scott Shagrin
Julie & Brad Shames
Annette & Dan Shapiro
Alex Shayevsky
Kirsten & Brian Shirken
Nancy & Mark Spear
Eve Kurtin & Michael Steinberg
Janey Sweet
Jonathan Teller