For longtime Birthright Israel Foundation Los Angeles supporters Phil de Toledo and his wife Alyce, their everlasting commitment to the program is simple — they want to sustain Jewish continuity. The couple, who each grew up knowing they were Jewish but had very little connection to Judaism, first became involved in the LA Jewish community through the Wilshire Boulevard Temple. Like many new parents, the couple wanted to give their children something they didn't have, so they became active members in the synagogue with hopes to instill Jewish values and traditions in their family.
Phil said their family's involvement with the synagogue grew over time. "First Alyce, then I sat on the board and we co-chaired their capital campaign to renovate the synagogue. We even had our first trip to Israel with Wilshire Blvd Temple." However, the couple's interest in Jewish and Israel-based causes really accelerated after their youngest son Benjamin began attending Heschel, a Jewish day school in the 6th grade. "The school changed his and our lives," said Phil. "Our son Benjamin realized he just loved Judaism and our family got introduced to a whole new Jewish community we had no idea existed."
The family took another step in their Jewish journey when Alyce and Phil were introduced to AIPAC and began attending the annual Policy Conference. "At that point in our lives, we really started to grow our philanthropy focused on Judaism. We focused on Jewish education, the continuity of Judaism and Israel. The de Toledos continued to be philanthropically involved in various Jewish causes so much so they made the decision in 2014 to make a transformational gift to New Community Jewish High School. The high school is now recognized as de Toledo High School in West Hills, CA.
How did Birthright Israel Foundation come into play for the de Toledos? Again, the de Toledos learned from their children. Phil's son Benjamin became more motivated about Judaism and his older son Aaron interned for AIPAC for three summers and participated in the Birthright Israel Excel program. As Phil shared, he and Alyce went from leading their children to their children leading them as their connections to Judaism and Israel prospered.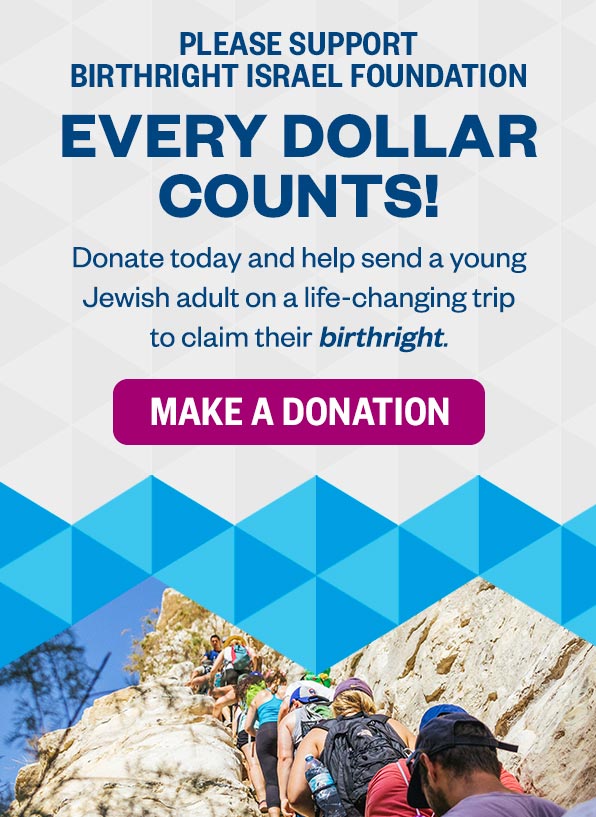 Birthright Israel was something they knew about and had supported for many years. However, it wasn't until Phil accepted an invitation from his colleague and member of the Birthright Israel Foundation LA Leadership Council, Simon Mendelson, to attend a presentation with the organization's Board Chair Tom Stern and President and CEO Izzy Tapoohi that things changed. Having the opportunity to hear first-hand about the impact and educational goals of Birthright Israel, together with Tom sharing his personal story is what truly resonated with Phil. As Phil grew closer to retirement, he knew he wanted to find some meaningful organizations to work with and realized Birthright Israel Foundation hit all his key interests and philanthropic factors.
"It's all about inspiring young people to see Israel for themselves and more. I wanted young people to physically be in Israel and see it rather than just hearing about it. Plus, Birthright Israel plays both a role in education and Jewish continuity — the program really spoke to me and checked off all the boxes," said Phil.
He also feels Birthright Israel, like AIPAC, is an extremely well-run organization, which is something he admires. Today, Phil is an active member of our National Board of Directors, serving as Treasurer, Chair of the Finance Committee and as a member of the Executive Committee, together with his involvement in Los Angeles as a member of the Advisory Cabinet. All of which, play a significant role in making Birthright Israel trips possible for young adults throughout the US.
"The experience can be very transformational for young Jews. You can hear and see how important Birthright Israel is to the next generation. Judaism and Israel mean a lot to my family. We focus our philanthropy almost exclusively on Jewish causes. I believe that by supporting Birthright Israel we can preserve Jewish continuity. We'll save a percentage from complete assimilation, and that's a good investment from my perspective."
Get Involved in Birthright Israel Foundation's LA Community
Are you looking to make a difference in Los Angeles' Jewish community? To learn about Birthright Israel Foundation's Leadership Council and Cabinet, please contact Deborah Dolgin:
Deborah Dolgin
VP, Western Region
[email protected]
(323) 384‑3931
Invest in the Jewish Future Today
We invite you to join Alyce and Phil and the tens of thousands of Birthright Israel Foundation donors who are making Jewish continuity a priority by making a gift today. Together, we can ensure Israel education, Judaism, and Jewish communities remain essential factors in the next generation's lives.