When Jennifer Gruber first heard of Birthright Israel, the only words she could say to her daughter were, "you have to do this." Earlier that evening, Jennifer and her husband Brad attended a UJA event where they heard an alumnus of Birthright Israel speak. They were stunned that they had only just heard of the trip. Jennifer was then gung-ho her three children, Lauren, Ethan, and Ben would participate.
The Foundation was fortunate to speak with Jennifer, Lauren, and Ethan recently to learn more about where their passion for Birthright Israel stems from.
Lauren's Take on Birthright Israel
The first of Jennifer and Brad's three kids to participate was Lauren, who went her freshman year of college. "She came back rejuvenated. She was so young and took it all in – we couldn't wait for Ethan to go," shared Jennifer. Lauren chose to go on a trip not knowing anyone else and had a great time. She can recall her group driving through an Israeli city on Shabbat, and that is when she realized every person around her was likely Jewish. "Being in Israel, being the majority, celebrating Shabbat openly was the norm. I wasn't scared someone would look at me weirdly – it was a beautiful feeling."
Lauren rarely told people she was Jewish on campus at Boston University. However, Lauren had a newfound sense of pride for her Jewish identity once she returned from Birthright Israel. She shared with us that she began hosting Shabbat dinners in her dorm and even a Passover seder after the trip. Her Jewish identity was no longer something to be hidden but something to be celebrated.
She was also ready to defend her Jewish identity when antisemitism reared its ugly head. Lauren remembers when she came across her roommate's Snapchat story that was an image of her dorm room floor with pennies and other change on it. The photo was captioned: "It's funny because she's Jewish." This Snapchat story represents one of the oldest acts of antisemitism – tying Jews to money and greed. Lauren did not even hesitate to stand up for herself and demand her roommate delete the antisemitic story. "Before my Birthright trip, I don't think I would have had the courage to defend myself, but I felt empowered to stand strong and demand she take it down."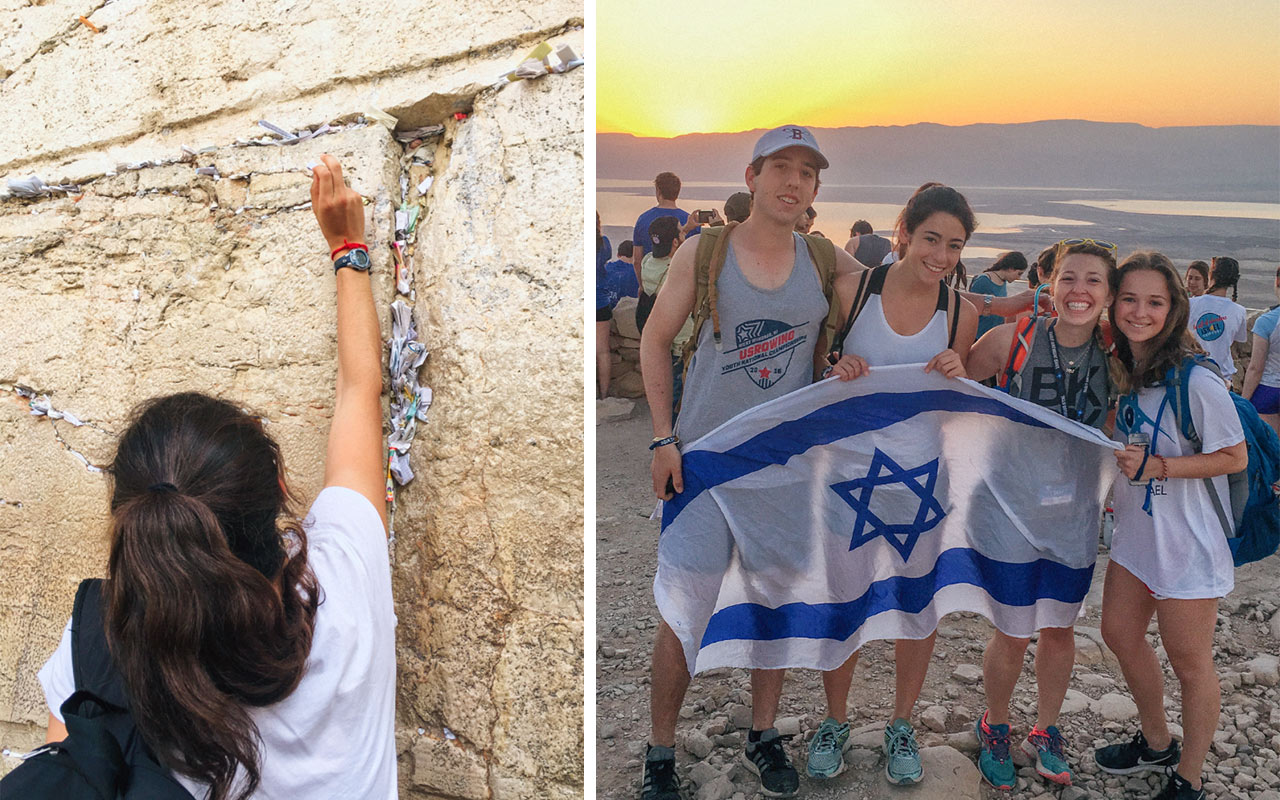 Ethan's Take on Birthright Israel
Ethan was fortunate to participate in one of the few Birthright Israel trips able to run during the pandemic in summer 2021. At the time, he said he was not so keen on going but, like so many young adults, shared he could not wait to get out of the house. "I wasn't so much worried about COVID, but I didn't know if the trip would be crazy strict and alter the experience." Ethan also said that as soon as he got to the airport and met his group, he realized he would be okay.
As soon as he got off the plane, he had similar feelings to those of his sister. "I felt comfortable even before I knew anyone," he shared as he realized he was surrounded by fellow Jews. Outside of this sense of belonging, Ethan said his most memorable moment was at Har Herzl. Here, his trip leader asked him to read something about a young soldier who was killed. The piece he read detailed how this young adult would not experience the joys or grow up to get married or have children. This activity humbled Ethan as he stood reading in front of the tombs of young men and women who died for Israel. "It knocked a bunch of things into perspective for me," he said.
Jennifer told us that visiting Har Herzl for Ethan was life-changing and that when he came back, he read the piece about the soldier to her. Ethan said the reading was a reminder of what is important in life.
Why Mom Jennifer is Birthright Israel's Biggest Fan
When speaking with Jennifer, you would think she has been to Israel a million times from how she describes Tel Aviv, the Western Wall, and the culture. However, Jennifer has never actually been to Israel – she has only seen it through her children's eyes. She shared that when her children returned, "they came back and made New York better." Now, when she and Brad meet other parents, they encourage them to tell their kids about Birthright Israel and what an incredible journey it is. They look forward to when Ben, the youngest of the three, claims his birthright too. Most of all, Jennifer and Brad are donors of Birthright Israel Foundation to help pay it forward so other children can go.
And this coming summer, the Grubers hope to take a family vacation to Israel, where Ethan cannot wait to have his mom spend the night in a Bedouin tent.
Invest in Birthright Israel Today
We invite you to join the Grubers and the tens of thousands of Birthright Israel Foundation donors who are ensuring the Jewish future by making a gift today. Together, we can ensure Israel education, Judaism, and Jewish communities remain essential factors in the next generation's lives. Make your tax-deductible gift today.