There's no tastier perk on a Birthright Israel trip than the opportunity to eat authentic Israeli food. One bite of falafel and most participants are hooked. The 10-day trip completely immerses the group in the local flavors—entirely foreign fare for many participating Jewish young adults.
"At home, my diet consists of chicken fingers and pasta, with the occasional vegetable thrown in," said one alumna and self-proclaimed picky eater. "I quickly learned this was not going to work in Israel … so I got brave and tried falafel. Boy, am I glad I did!"
Along with devouring Israeli street food and patronizing popular restaurants, Birthright Israel participants learn about authentic Israeli wine at a local vineyard. Those with family or friends in Israel may be privy to a home-cooked dinner on Shabbat.
Every meal comprises a piece of the greater Birthright Israel educational menu, which aims to teach and immerse Jewish young adults in their homeland and their heritage. It's one of the many reasons Birthright Israel Foundation aims to provide the gift of a free trip to Israel to nearly 50,000 Jewish young adults every year.
"The best way to get to know a country is through its cuisine," according to alumna and food blogger Aliaksandra Sukharuchkin. During her Birthright Israel trip, she was inspired by both her Ashkenazi heritage and the food.
"The vast array of wonderful flavors and spices I got to try in Israel was incredible," said Sukharuchkin. "Since getting back, I have mastered the art of a delicious, home-baked challah as well as a delectable and perfectly spiced Shakshuka, which I cook every Saturday morning for myself and my friends."
Of course, not every Birthright Israel participant will develop a taste for their homeland's food. This worked to the advantage of alumnus Michael Fizik, who loved every bite of Israel. "I remember eating at a restaurant the very first day, there was a delicious eggplant dish with tahini," said Fizik. "My peers sitting around me didn't like it, so I got to enjoy as much as I wanted." He especially enjoyed trying Sephardic baked pastries known as bourekas during a food tour in the port city of Yafo (Jaffa).
Culinary Niche Trip
Jewish young adults who consider themselves foodies have a special opportunity to enjoy Israeli food. They may choose to devote their entire Jewish journey with Birthright Israel to developing their palate on one of our niche culinary tours.
The Culinary & Cultural Scene niche Birthright Israel trip, for instance, lets participants "sample foods which fuse Israel's many cultural heritages," as well as view films about modern Israeli society. The food-centric activities on this niche trip include:
Challah baking workshops
Wine tasting
Jerusalem outdoor market culinary tour
Master Chef cook-off challenge
Birthright Israel also offers a culinary trip for influencers who like to share their foodie adventures on social media called A Taste of Israel Through the Lens. According to J. Weekly, "It encourages participants to take photos of Israeli and Middle Eastern food and share them on social media. Food markets, tours and tastings await participants, who will receive guidance on how to frame photos especially well for social media posts."
Alumna Molly Yeh, a food blogger, author and host of the Food Network's Girl Meets Farm signed up for a culinary niche trip because she knew there was no better way for her to experience Birthright Israel.
"As an avid food blogger, I joined a bus full of fellow bloggers, chefs, [and] foodies on a journey for the mind, soul and stomach," she said. "I was inspired by the freshness of the food and my time cooking for 600 soldiers on an IDF base. When I returned home, Israel was on my mind. I focused my time on learning and reading more about Israel as well as adding its flavor to my menu."
New Cravings
Whether they choose a classic trip or a niche trip, most Birthright Israel participants continue to develop their taste for Israeli food long after they return home. When cooking for themselves, for friends, or for family, they begin to incorporate the flavors of Israel into their everyday recipes.
Alumni also have the opportunity to continue their Israeli food exploration during alumni events. For instance, more than 150 alumni took part in an Israeli food tasting during an alumni event at New York City's HaSalon. Among the group were Birthright Israel Foundation's New York City Young Leadership Council and fellows from Birthright Israel Excel.

Alumna and chef Alexis Sicklick, meanwhile, was so inspired by her trip that she decided to host a Birthright Israel-themed pop-up dinner. "The food in Israel is full of such diverse, prominent flavors and takes influence from so many surrounding countries," said Sicklick, whose contemporary fusion style of cooking is inspired by multiple cultures. "The intense connection to nature and local access to a great deal of amazing fresh produce is so incredible and something I want to further explore personally, even though I am based in a city that does not provide this type of experience in a simple manner."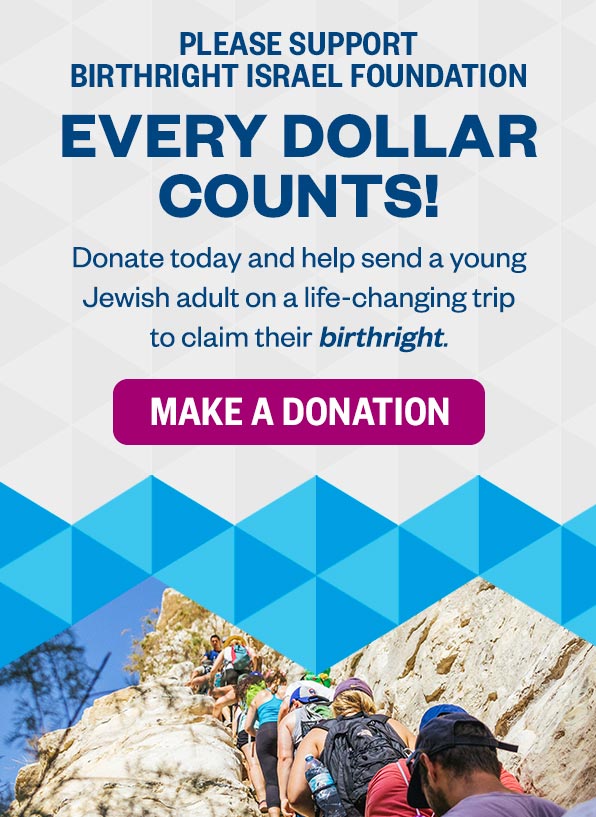 Feeding Those in Need
Participants not only develop a taste for Israeli food during Birthright Israel; they also develop a taste for tikkun olam (healing the world). Since food isn't just a luxury, but a necessity, some alumni are finding ways to help feed the hungry and food insecure by working for Jewish charities, possibly even Jewish food philanthropies.
In reaction to the challenges of the ongoing coronavirus pandemic, Birthright Excel alumni Lior Avisar and Maya Klein recently launched Door to Dor, a drive to deliver food and medicine to the elderly. They chose to focus on the elderly who are stuck at home and need assistance to purchase food and other necessities. "We have built a large team of hard-working volunteers and together with Birthright, we have couriers serving the elderly across Israel," said the pair. "We know that this is only the beginning of the project and look forward to a more secure and positive future."
Birthright Israel CEO Gidi Mark described the initiative as a demonstration of the "unity and creativity" that the Jewish community requires in order to survive this current health crisis and rise up even stronger and more united.
United by Food
Giving Jewish young adults the opportunity to sample the flavors of Israel is just one more way Birthright Israel Foundation plays a fundamental role in ensuring the integrity and future of the Jewish community. Israeli food connects our family in the Diaspora, both literally and figuratively.
Take alumna Alix Roberts, for instance. She returned to Israel a decade after her Birthright Israel trip and was shocked to randomly bump into Noa, the mifgash from her trip, while getting lunch in Tel Aviv. The two were reunited after 10 years, all because of Roberts' craving for falafel. "Within minutes, we'd picked up where we left off as if no time had passed," said Roberts. "Those are the kind of connections you make on Birthright Israel. In just 10 days, you form lifelong bonds and friendships that span entire countries and decades of time apart."
Are you interested in learning more about and getting involved with Israeli food, culinary niche trips, or Birthright Israel Foundation? Donate today and help secure the Jewish future tomorrow and beyond. Donors and strong supporters like you can help future generations of young adults develop a lifelong taste for Israel.