It began as a casual conversation about his desire to support the State of Israel. Now, Ron Eichel has gifted over 400 Jewish young adults the opportunity to claim their birthright. More so, his support of Birthright Israel Foundation is inspiring.
Eichel is a strong supporter of Jewish organizations like The Jewish Federation of Greater Atlanta and AIPAC. We are grateful he added Birthright Israel Foundation to that list because it's a "tangible" cause; one where he can "participate and enjoy the result." Upon meeting 40 of the 400 participants whose lives have been transformed by the trip he helped make a reality, he knew his donations to Birthright Israel Foundation were going to the right place: "I haven't looked back since." 
When donors like Eichel prioritize Birthright Israel, they don't have to wait and wonder if and when their dollars will make a difference. Donations, big or small, help fund a life-changing trip to Israel with immediate and everlasting results for alumni and the Jewish people.
Dollars from Donors: Who We Are
The program began over 21 ago to provide Jewish young adults with a free, educational trip to the Jewish homeland. The Birthright Israel trip is therefore considered a gift to its participants, ages 18-32. Birthright Israel Foundation helps cover the cost of the gift by raising funds in North America.
Birthright Israel Foundation aims to send 50,000 participants to Israel every year. We ultimately aspire to gift this opportunity to every eligible Jewish young adult on earth. This includes those without any Jewish background, interest, or affiliation.
"In my Birthright Israel group, the people were kind, non-judgmental, and open to all walks of life," said alumna Meira Sheifler. "Notably, they were all incredibly unique individuals from unique backgrounds and all with different definitions of what Judaism looked like to them."
Funding for trips comes from a smattering of sources annually including the State of Israel, Jewish organizations, and nearly 40,000 individual U.S. donors (including the program's founders, other philanthropists, parents of alumni, and alumni themselves).
Many of our donors, like Birthright Israel parent Amy Jaffee, share our mission to ensure Birthright Israel is accessible to Jewish young adults now and in the future. "… It's a free trip for the kids, but our feeling is if you can pay it forward, give for the next child to go – it's the right thing to do," said Jaffee, co-chair of Birthright Israel Foundation's Long Island Leadership Cabinet. "We need as many young Jewish adults as possible to come back with strong ties to their Jewish heritage and feel a bond to Israel." 
Over the past two decades, Birthright Israel Foundation has helped transform the lives of more than 750,000 alumni. That doesn't mean our work is done. There's an estimated 1.6 million Jewish children under the age of 18 who will eventually be eligible for Birthright Israel.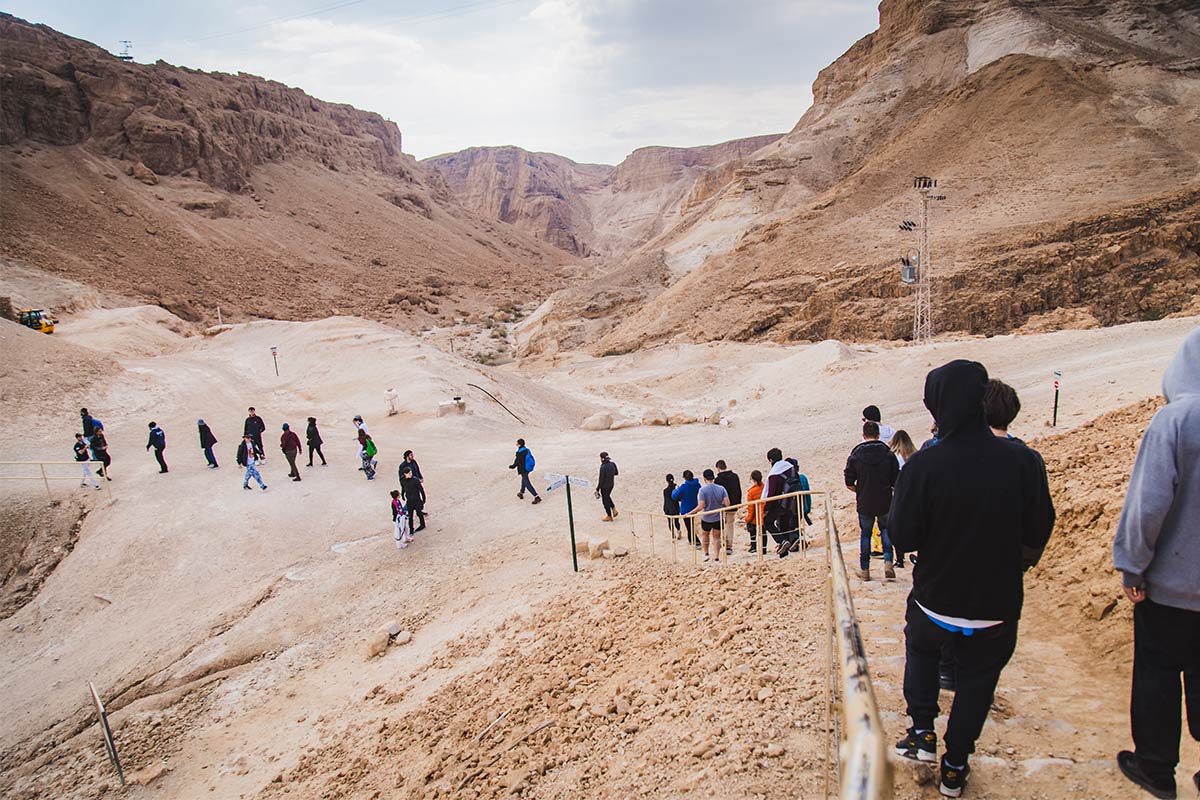 Dollars from Donors: What We Do
By now you may be wondering, "What exactly happens on this 10-day trip that makes it so successful?" To answer that question, let's take a look at the trip itself and some of our success stories.
Alumni are connected to Israel and Jewish heritage
Once our participants arrive in Israel, their group of 40 embarks on a journey through Jewish history and the contemporary Jewish state with the help of a tour-guide, security guard, and Mifgash (Israeli peer). Their busy 10-day itinerary is packed with activities, including: 
Taking in the view of Golan Heights from atop Mt. Bental 
Checking out artwork by Tzfat's Kabbalistic artists
Touching the Western Wall in Old City Jerusalem
Heading to the Judean Desert for an engaging cultural discussion with Israelis
Learning how Israeli technology is changing the world at Birthright Israel's Innovation Center in Tel Aviv
Alumna Laura Fenton felt most connected to the Jewish people during her time in Old City Jerusalem. "The most emotional point of my trip was visiting the Western Wall not once, but twice," she said. "Both times I had an emotional reaction that I didn't expect."
Alumna Morgane Klareich had her moment of clarity during a visit to Yad Vashem. "The light at the end of the tunnel for me was the final part of the museum," she said. "I felt like yes, we did go through one of the darkest moments in history, but the Nazis did not win, I am proof of that, we are all proof of that. Being on Birthright Israel is proof of our community's strength! No matter what happens to the Jewish people, we always remain strong."
While specific experiences and lightbulb moments are different for everyone, the positive outcome of Birthright Israel on participants is pretty consistent. In fact, the Cohen Center for Jewish Studies at Brandeis University has been measuring the long-term effects of Birthright Israel since the program's inception—with impressive results:
85 percent of participants consider Birthright Israel a life-changing experience
74 percent of participants feel a connection to Israel upon their return
Alumni are advocates for Israel
Birthright Israel participants also return equipped with facts about Israel so they can be advocates for the Jewish people and Israel. This is particularly important now due to rampant anti-Semitic messages in social media and the growing Boycott, Divestment, and Sanctions (BDS) movement, which furthers such hateful agendas on campus.
"Going on Birthright Israel opened my eyes to a deeper meaning of what it is to be Jewish," said alumna Tori Shiver. "It made me confident enough to come to a college where the Jewish population is practically non-existent and know that I can stand my ground for the Jewish people and the State of Israel."
Alumni are involved in Jewish life and community
Whether attending synagogue more often, marrying someone Jewish, or working for a Jewish organization, Birthright Israel alumni show an increased interest in living Jewishly upon their return to the U.S.
Many alumni not only marry Jewish, but they marry someone they met on the trip. Holly and Chad Sokoloff, for instance, met on Birthright Israel in its inaugural year. "We wouldn't be married, wouldn't have our three boys, wouldn't be involved in the Jewish community," they said, "if it wasn't for Birthright Israel."
Alumnus David Bitton didn't meet his bashert in Israel, but he formed lasting friendships and a newfound respect for Judaism. "I've continued to give back to the Jewish community, especially here in Miami, by getting involved with many local organizations like Chai Lifeline, IAC Edge, JCS, and others," he said. "Most of all, I look forward to the day my own children get to experience our homeland with Birthright Israel."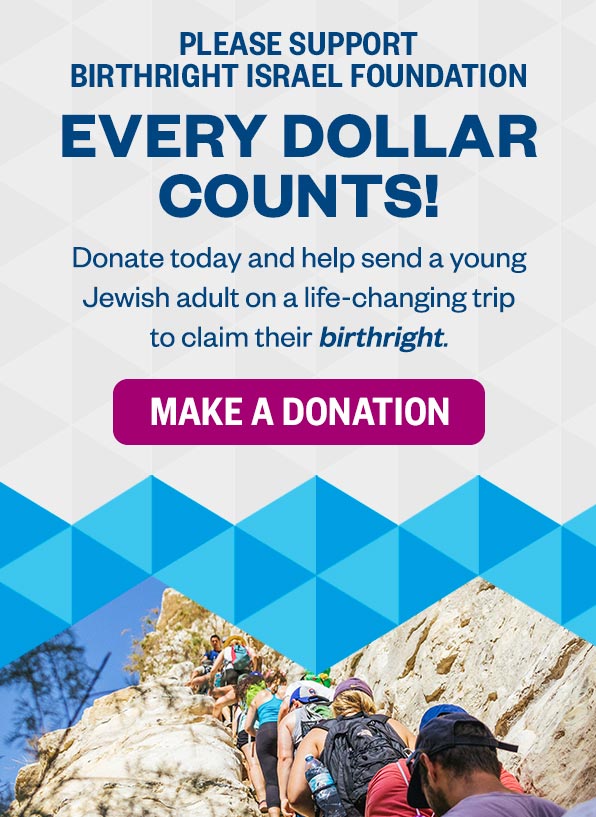 Dollars from Donors: How You Can Help
With travel to Israel halted by the global coronavirus pandemic, Israeli tour guide Yonatan Rozen recently wrote a Jewish News Syndicate (JNS) article, detailing how the Birthright Israel pillars of community, togetherness, and cooperation have helped guide him through these difficult times.
"In an incredibly fast-paced society, the ability to forge human connections, to arouse within people questions about identity, and to motivate participants to take responsibility in their own communities is truly incredible," he said.
Eichel, on the other hand, can't wait for the pandemic to cease so he can get back to hosting alumni events. People like Eichel and you make the gift of Birthright Israel possible. Every dollar donated goes toward our annual fundraising goal of $57 million ($172 million worldwide). "This is how we can show the beauty and vibrancy of Israel to our young people," said Eichel.
If you donate today, you're helping to ensure Israel's future, and that of the Jewish people, for generations to come.