If you are Jewish, you had a Bar or Bat Mitzvah when you were a child. If you are a parent, you may have even hosted a Brit Milah or a Simcha Bat. Whatever Jewish tradition or ritual you participated in, they all have significant meanings and play essential roles within Jewish culture. Take our quiz below to learn more about the various Jewish rituals and traditions.
Take the Quiz!
Learn More About Jewish Traditions & Rituals
For some young Jews, Birthright Israel opens a door of opportunity for learning and being immersed in Jewish traditions. For the first time as adults, the learning opportunities on Birthright Israel allow them to take a deep dive into cultural aspects and customs they see themselves celebrating as adults. There are endless stories of young Jews reconnecting to our traditions through unique Shabbat experiences and peer-led discussions.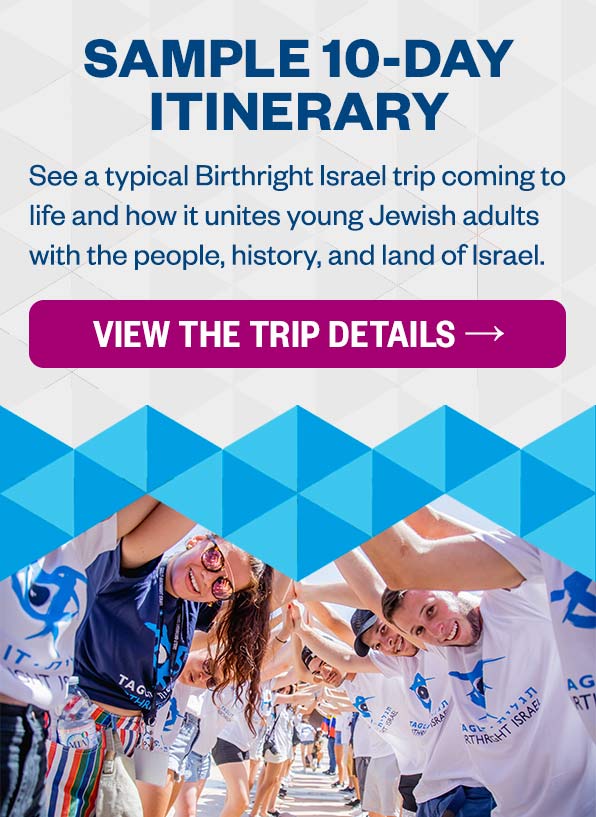 Take recent Birthright Israel alum and photographer Levi Meir. The trip inspired him to get involved with his Jewish community and become an affiliated member. Shortly after his experience, he also volunteered to staff several Birthright Israel trips, hoping others would better understand Israel.
Help Keep the Jewish Tradition of Birthright Israel Going!
Will you help us fulfill our mission to ensure a vibrant future for the Jewish people? Donate today so we can give the gift of a Birthright Israel trip to every eligible young Jewish adult out there.
Together we can engage generation after generation to ensure the future of the Jewish people forever.