Now that the shock has worn off, the question for Birthright is who will step up.
Last week, Miriam Adelson, Birthright Israel's most generous donor, addressed a board meeting of the organization known for bringing tens of thousands of young Jews to Israel each year.
She and her late husband, Sheldon Adelson, through the Adelson Family Foundation, have contributed nearly $500 million to Birthright over the past 15 years, but, after slashing the foundation's annual commitment nearly in half this year, and halving it again next year, she told meeting attendees that "we are creating space for others to commit, to re-commit or to increase their commitment. Birthright is not an Adelson family investment. It is an investment in us all, in our collective, communal future."
The cuts, paired with sharp inflation and accompanying higher travel outlays, means Birthright plans to bring approximately 23,500 participants to Israel next year, fewer than half the number in pre-pandemic 2019 and a significant drop from this year's 35,000. Its organizational budget will fall to around $120 million, down from $150 million in 2022.
The Adelson announcement sent shock waves throughout the Jewish philanthropic community, but Birthright President and CEO Israel "Izzy" Tapoohi told JNS the donation cuts had been long planned and it's time for others to answer Adelson's call to step up.
"The budget shortfall cannot be covered by one person. There is a feeling within the Jewish community that says, 'Ah, don't worry about it. The Adelsons are going to take care of it.' They've been beyond generous," said Tapoohi, who noted that Miriam Adelson will remain Birthright's largest donor. "It's time for the rest of the Jewish community to fulfill that commitment if they feel that this is the most important issue today for the Jews of the United States," he continued.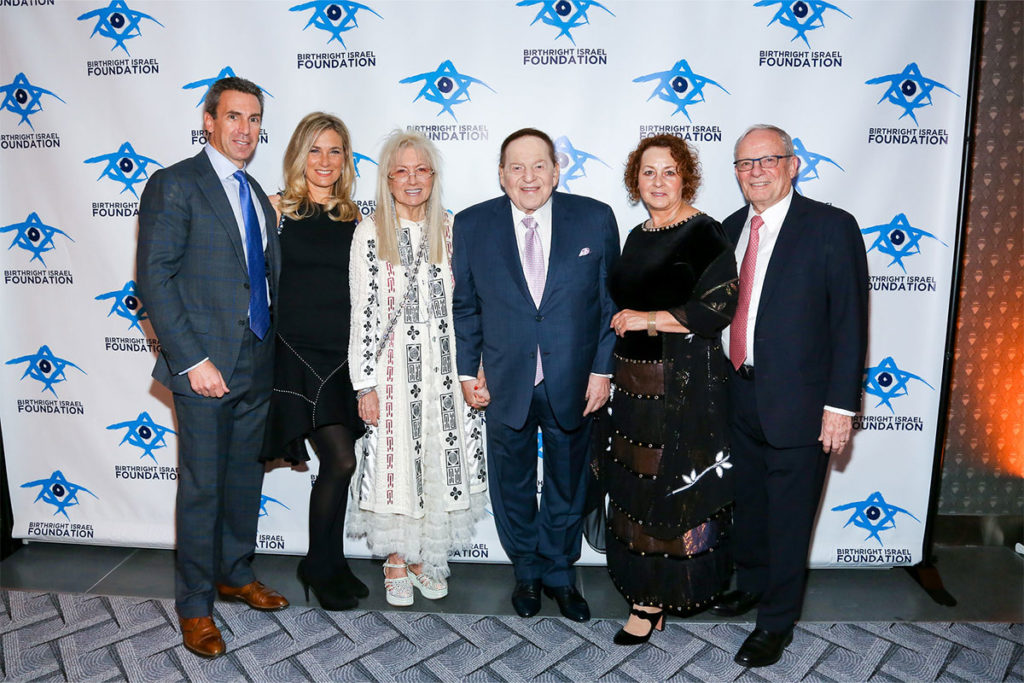 But whether the community actually feels that way is an open question as it absorbs the impact of last week's announcement and amid the reality that other organizations have long relied on the Adelsons' largesse.
Tapoohi said the fact that Birthright alum play such prominent roles throughout the Jewish non-profit world will spur the community to action.
"In a recent study, 49% of young adults below the age of 40 that work in Jewish non-profits are Birthright Israel alumni. We had six alum that were amongst the 100 most influential people in the Jewish community," he said. "These alumni are actively involved in the Jewish community, in the pro-Israel community, in the digital world where they are defending Israel. And this is just one of many examples. We have an effect on our participants."
The Birthright Foundation is currently supported by nearly 40,000 annual donors. The organization's most recent public report shows 17 donors who gave $1 million or more. So, it appears that support is broad-based. Still, the Adelson cuts loom large, especially in light of a broader uncertain economic outlook and other communal priorities such as the Ukraine refugee crisis.
Tapoohi, though, feels Birthright's mission is part and parcel of the American Jewish community's overarching goals.
"I think that the Jewish community is going to ask, what is the most important issue that we need to deal with in order to ensure that the community in the United States is going to remain strong, active and Jewish-minded?" he said. "Now, there's no doubt if you look today at what's going on at universities with BDS and antisemitism, that you need to ensure Jewish pride. And by making sure that the young generation that's growing up today knows what Israel is all about, what Judaism is all about, not just to appreciate and understand Chanukah and Purim, but to be in Israel and see what it's like when you are in the majority culture and you switch on your TV, and they are speaking Hebrew and you don't see Santa Claus."
What concerns Birthright, along with the cuts themselves, is the potential message it sends to donors. Alarms have the tendency to wake people up, or to send them running. Tapoohi hopes last week's announcement brings about the former.
"It is very important to stress that we are not an organization in trouble. People shouldn't say, 'Boy, look at them. They don't have any money,' " he said, pointing out that Birthright is still the largest Jewish educational organization and projects to take almost 25,000 young Jews to Israel next year. He also noted his organization's recent merger with Onward Israel, an eight-to-10-week internship program that will bring an additional 3,000 participants to Israel.
But, Tapoohi said, "Sometimes you have to shake the lulav, shake the tree, and let the Jewish community understand that they've got to decide what they want to do. If they do not want to support us, whether for the first time or at an increased level, we will still take a third of the Jewish young adults born every year in the world [to Israel]. And that will be sufficient."
Decreased funding, though, will mean "fewer educated and proud Jewish young adults who are actively involved in the Jewish community and willing to defend Israel," he said.
Nevertheless, he stressed that the current situation means that "we're taking anywhere between 28,000-30,000 young Jewish adults. Not bad at all. So, we're not disappearing, we're here, we're going to be here for a long time to come. This is not an 'Oy gevalt' moment. We have transformed a generation, sending more than 800,000 participants on Birthright Israel and we have more work to do."
The level at which that work continues is now in the hands of donors and potential donors. While some have already opened their wallets in the wake of last week's news, Tapoohi said he'll get real answers this winter.
"When summer registration begins, do not be surprised if I come to you in February or March to tell you we have thousands of more applicants than we do spots on a Birthright Israel trip," he said. "Do we send them to Israel or leave them behind? And that will be the call, the battle cry, for the Jewish community."