The majority of Americans polled in a recent study by Conference on Jewish Material Claims Against Germany (Claims Conference) believe that the Holocaust, or something like it, could happen again.
Even so, 72 years after Israel was declared a state, many in the Diaspora still confront falsehoods and misinformation about the Jewish homeland. With assimilation and the changing times, some US Jews avoid or ignore their heritage, while others have lost sight of it altogether.
That's where we come in. Every year, Birthright Israel Foundation helps raise the funds to send nearly 50,000 Jewish young adults on a life-changing trip to Israel. Most didn't consider their Jewish heritage important before the trip. They return as advocates for Israel and passionate Jews, and 84 percent are raising their children Jewish (according to a Brandeis University study).
Rather than hearing about it from us, we'd love for you to meet our alumni. Time after time, story after story, their experiences in Israel demonstrate how Birthright Israel consistently shapes generations of Jewish young adults.
Shaped by Birthright Israel
Abbey Taub
Alumna Abbey Taub found her life's purpose on a Birthright Israel trip. Those 10 inspirational and educational days in Israel led her to a career with the American Israel Public Affairs Committee (AIPAC). "I attribute my passion for Israel and desire to do something for Israel to my Birthright Israel experience," she said.
Taub's moment of clarity came on the day she toured the Yad Vashem Holocaust museum in Jerusalem. Her group's docent shared a chilling story about Auschwitz victims who started singing Hatikvah (Israel's national anthem) at the gas chambers.
"Standing in Israel, thinking about these people from all over the world who were in the most hopeless circumstances, singing about not yet losing hope and being a free people in our land, shook me to my core," she said.
Taub's Birthright Israel group later sang Hatikvah at Mt. Herzel to honor Israeli soldiers who have fallen defending the Jewish state. "This moment transformed me and left me with an overwhelming sense of duty," said Taub. "I realized that just because I'm not Israeli doesn't mean I don't have a responsibility to the Jewish State."
Shavit Rootman
Shavit Rootman knows a thing or two about defending Israel. A fourth-generation Israeli who serves in a counter-terrorism unit of the Israel Defense Forces (IDF), his family witnessed the Holocaust firsthand and many of his relatives have lost their lives in various Israeli wars.
After breaking his leg during a military operation, Rootman joined Birthright Israel during rehab, as a Mifgash. The program brings Jewish Israel young adults aboard the Birthright Israel bus to join the group for several days of trip activities. His experience made him realize that Israelis and the Diaspora are eternally connected.
"On top of fighting for land, I found a higher purpose in fighting for people such as my Birthright Israel friends and Jews around the world," said Rootman. "I was not just fighting for land; I was and still am fighting for the Jewish people all over the world."
Courtney Simmons Demri
When asked to share her Birthright Israel story, it's difficult for musician Courtney Simmons Demri to decide where to start. Birthright Israel changed her life spiritually, mentally, romantically, and more.
"I found a love so deep for Israel and the missing piece in my life that I didn't even know existed," she said. "I connected with participants my age, and we all went through this journey together learning about our heritage, Israeli culture, religion, and our own self-identities."
Here are just some of the ways Demri has embraced Jewish life since her first Birthright Israel trip:
Enrolled in Jewish studies and Torah classes
Learned how to read Hebrew again
Started a charity called Guitars for Israel
Spent a summer living and performing in Israel
Became a Madricha (trip leader) for Birthright Israel: "It was such a beautiful experience to see others fall in love with Israel just the way I did when I experienced the trip for the first time."
Joined her local Jewish Federations of North America leadership program
Best of all, she was reunited, totally by chance, at a Shabbat dinner in NYC with a cute Israeli she previously met in Israel. Now the two Jewish young adults are married—and they aren't the only ones who met their soulmate as a result of Birthright Israel. Talk about beshert.
"From helping me find Jewish identity in college, to providing me a love for my homeland, to giving me the inspiration to start a charity, to guiding me in the right path to meet my husband, to helping me find a Jewish community … I owe it all to Birthright Israel," she said.
Thoughts from Our Generation
Now that you've heard from the alumni themselves, here's what the parents and grandparents of Birthright Israel alumni have to say.
Stacey Geer: "Birthright Israel started Jonah on a new path … Seventeen years ago when we learned that Jonah has autism, we didn't know what life would hold for him or what milestones he would meet … I credit Birthright Israel with opening doors for him."
Daniela Filmer: "Since I am not Jewish, Jacob would have never gotten from me what he received in experience and knowledge by participating in Birthright Israel … Honestly, it brings tears to my eyes, just thinking about this all and how proud his father would have been knowing his son made it to Israel."
Stacey Cohen: "I wanted to give my kids two things in their life. One was the lifelong deep faith in G-d … My second wish for them was that they would feel that their brother is the one who truly understands them and although they travel different journeys in life, they know this is the person who will always be there for them … Mission accomplished."
Shaping Future Generations
At Birthright Israel Foundation, we are filled with great nachas every time we transform the life of a Jewish young adult. With more than 800,000 Jewish young adults sent to Israel to date, that's a lot of nachas.
Our Birthright Israel parents and grandparents also experience nachas when they see the way the free trip to Israel transforms their family member's life. Many end up contributing to Birthright Israel's continued success by making a donation to help send even more Jewish young adults to Israel, open their eyes to the Jewish world around them, and create a vibrant community for future generations of Jews.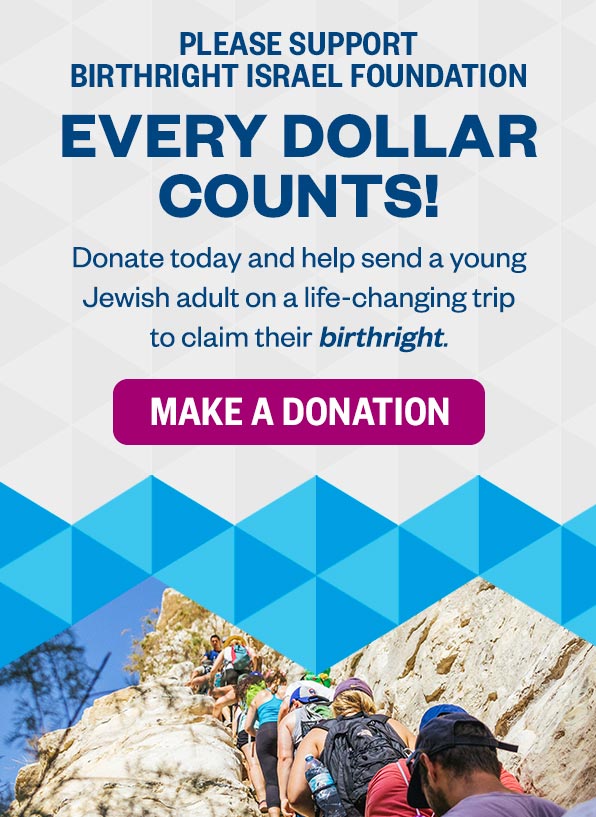 Because of generous Jewish community members like them, and you, Jewish young adults around the world will continue to receive the gift of a lifetime—one which makes life-changing experiences possible.
Donate today and help secure the Jewish future tomorrow and beyond.