Jake Cohen is a one-of-a-kind Birthright Israel alumnus and a nice Jewish boy. His recipes and words have been featured on Food 52, Huffington Post Taste, Food and Wine Magazine, and Saveur Magazine to name a few. Jake is also a NY Times best-selling author and recently published his first cookbook, Jew-Ish. Jake went on his Birthright Israel journey in 2013 and has been in love with the flavors of Israel ever since!
Keep scrolling for Jake's delicious Passover Coconut-Halva Macaroons plus more delicious treats!
Jake Cohen's Story
For me, Birthright Israel was my first foray into my love affair with Israeli cuisine. It overlapped perfectly with my 10-day holiday break in culinary school, so I signed up immediately with my sister and best friend.
The result was a culinary experience that was unparalleled to anything I had ever had, even as a native New Yorker. I was introduced to ingredients, spices, and dishes entirely foreign to me. Not only did I become incredibly connected to my Jewish identity and Israel, but it ignited my love for Israeli (and honesty all Diaspora) foods. I'm itching to get back as soon as I can!
Jake Cohen's Passover Coconut-Halva Macaroon Recipe
Yield: 2 dozen cookies
Prep Time: 20 minutes, plus cooling time
Cook Time: 30 minutes
Total Time: 50 minutes, plus cooling time
Ingredients
One 14-ounce bag sweetened shredded coconut
One 14-ounce can sweetened condensed milk
2 tablespoons coconut flour or matzo meal
3/4 teaspoon kosher salt, divided
1/4 teaspoon ground cinnamon
1/4 teaspoon ground cardamom
2 eggs, separated
1/2 cup halva crumbles
Directions
Preheat the oven to 325° and line 2 sheet pans with parchment paper. In a large bowl, mix the coconut, condensed milk, coconut flour, 1/2 teaspoon of the salt, the cinnamon, cardamom and the egg yolks until smooth.
In a separate medium bowl, using an electric hand mixer, beat the egg whites with the remaining 1/4 teaspoon of salt to stiff peaks. Fold into the coconut mixture, followed by the halva.
Scoop 2 tablespoons mounds of the mixture on the sheet pans, 2-inches apart. Bake for 15 minutes, then remove from the oven. With a small bowl of water, dip a 3-inch ring cutter in the water, then one at a time, roll around the edges to bring in the melted halva into a tighter mound.
Return to the oven and continue to bake until golden brown, another 15 to 20 minutes more. Remove from the oven and repeat rolling with the ring cutter to make a perfectly round macaroons. Let cool completely, the serve.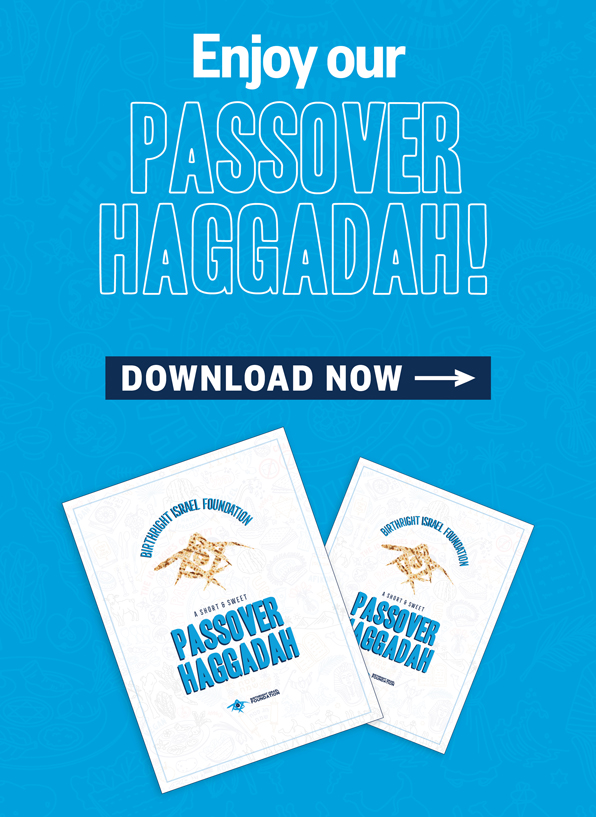 More Passover Recipes To Satisfy Anyone
Matzo Brittle: Everyone always has tons of extra matzo leftover over after Passover which is why you should put them to use! Check out Birthright Israel alumna Erica Eckman's chocolate matzo brittle.
Classic Matzo Ball Soup: You can never go wrong with a warm and comforting bowl of matzo ball soup. We suggest trying alumna Rachel Belle's matzo ball soup recipe for a spin a Passover staple.
Flourless Chocolate Brownies: Just because you can't have flour doesn't mean one can't have delicious desserts. Birthright Israel alumna and chef Alexis Sicklick shares her tasty brownies recipe and more in this roundup of Passover recipes.
Printable Passover Coloring Pages
Get your kids excited for the holiday with Birthright Israel Foundation's Passover printable coloring pages. When coloring these pages, the Passover story will come alive for your little ones.
Get More Goodies in Your Inbox
We hope you've enjoyed our recipe picks for the perfect Passover. Which ones will you be using? For more recipes, stories, and other resources, be sure to subscribe to our updates.