Growing up in a Jewish household, I always heard about the Birthright Israel trips that my friends and family members took part in. What always shocked me was realizing the immense connections people would describe after the trip.
When choosing where to study abroad as a Junior in college, I decided on Tel Aviv. I wanted to feel that same cultural connection that my friends and family members described, and I can confidently say that I succeeded in doing so. I learned more than I had in those six months abroad than I did in my entire life. I learned to speak and write in Hebrew, the true meaning of Shabbos, the cultural lifestyle in Israel, the connections from our ancestry to our homeland. Most importantly, I learned I was constantly protected by those who selflessly partake in the Israeli Defense Forces. I am continually amazed by the soldiers who stand up for Israel and sacrifice their lives as young adults to protect the country.
While studying abroad in Israel, I learned so much that it inspired me to staff a Birthright Israel trip. I led over 50 young Jews with a Rabbi throughout Israel for ten incredible days. Initially, I thought this trip would be similar to my study abroad experience but was very different. I connected with my participants on a new level — we spoke, we confided in one another, and we all became close friends. We then took that a step deeper and added in the religious meanings behind our actions and lives. It was eye-opening to look at my personal background and connect it to a larger purpose that I didn't even know existed. A recurring feeling I had on this trip was a sense of being at home. I felt I could speak openly and comfortably, knowing our shared experience on Birthright was a safe space. More so, I created a long-lasting bond with the Rabbi.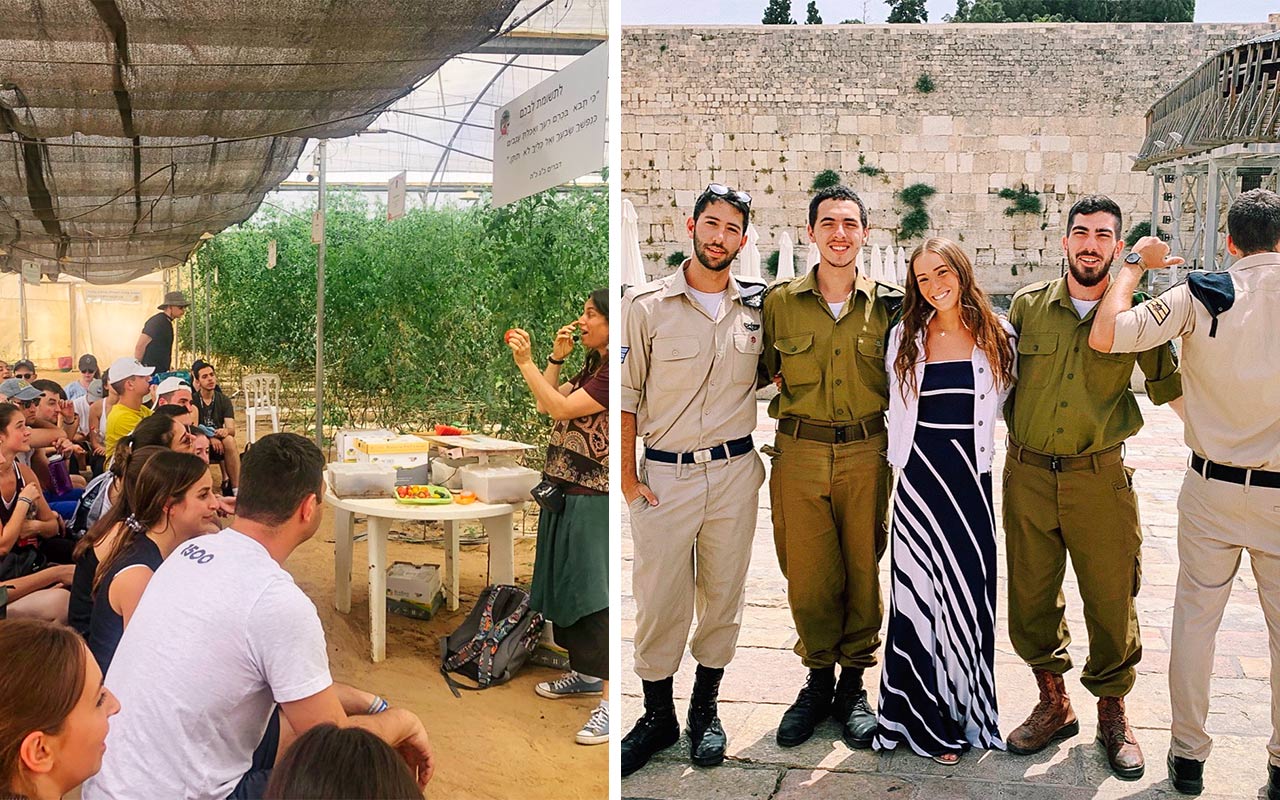 Of course, there were also times that I felt I wasn't entirely at ease. Traveling from place to place and seeing what people go through to defend the country can be unsettling and comforting all at the same time. It's an indescribable feeling.
After leading the trip, I constantly encouraged those around me to go on Birthright. Encouraging others to go was only the first step in me getting more involved in the Jewish community, thanks to my experience as a trip staff.
My Aunt Nancy has recently begun a new role at Birthright Israel Foundation after a career at UJA. She and I have had several conversations where we both feel a similar connection to Israel and, more specifically, to the Birthright Israel program. Her experience had led her to a new opportunity with the Foundation. In contrast, my experience led me to encourage my employer to gain a better understanding and awareness about the Jewish community and the challenges we face.
From here, I continued to be inspired. After several months of meetings and discussions, three other Jewish colleagues and I founded the Jewish Faith & Belief Business Resource Group (BRG) called "Tikkun." I was selected as the Co-Leader of the BRG, and we are excited to announce that we had our first kick-off in February with over 150+ members. My colleagues and I have been working extensively, aside from our full-time jobs, helping raise awareness and education within our company to create a safe space – the same way that Israel gave me my safe space. I owe so much to my experience on Birthright Israel for giving me the courage and resources to build a better world and workplace.