Where I grew up, there was a church on every street corner, and the nearest synagogue was 30 minutes away. Israel felt like a country too far away for me to reach and full of people who I didn't think were anything like me.
I grew up in the suburbs of Atlanta, GA, in an interfaith family and spent the majority of my young life involved with the Catholic church with little-to-no knowledge of Judaism. As I grew up, I was dissatisfied with the belief system presented to me, and in college, I developed a drive for uncovering some sort of spiritual truth that could accept every part of me.
My family had discovered Jewish ancestry on my mother's side, but no one she knew of in her family had practiced. I figured that I could be the first woman in generations to do so. Tamping down my imposter syndrome, I took the leap, and within a single Shabbat dinner, I fell in love. I dove head-first into Jewish study and culture, and while my drive to reclaim Judaism in my life got stronger, I couldn't beat out the doubt and fear I had in my heart that since I grew up in such a different world, I would always be an outsider with very little connection to my ancestry.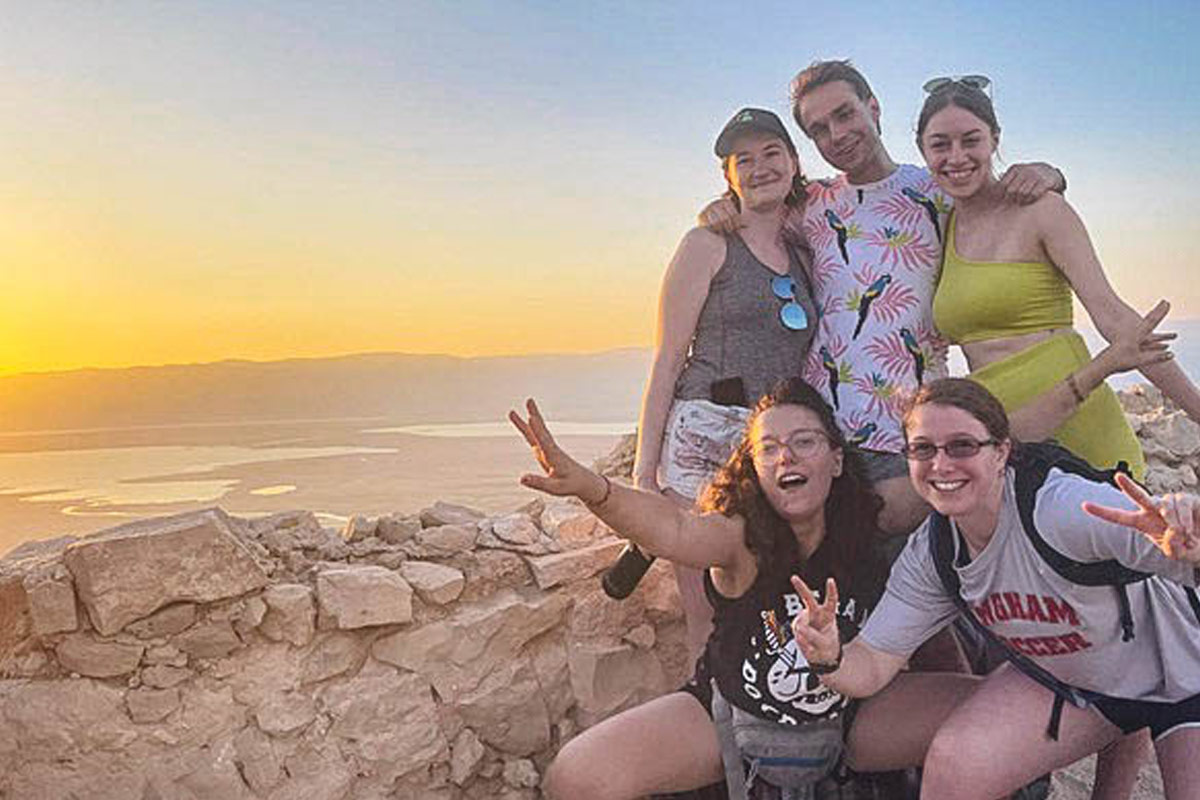 By the time 2022 rolled around, I decided it was time for me to experience Israel and see where I fit in. I attended Birthright Israel in June of 2022 on a Pride trip. We visited all the classic sites — we hiked Masada, floated in the Dead Sea, visited a kibbutz — and even got to attend programming around the LGBTQ+ community in Israel and attend Tel Aviv Pride. Every part of the trip was incredible, but setting foot in Jerusalem was the best of all.
Stepping up to the Kotel was the moment I had been waiting for the entire trip. It felt a little silly to be so excited about seeing a wall, but the change in the air, as I stepped up to it was palpable. I reached my hand out to touch the cool rock of the wall and closed my eyes, listening to the hushed sounds of the other women around me. I was the first person in my family to do this in who knows how long, and instead of my usual imposter syndrome, I was filled with a sense of belonging. My ancestors had touched this wall; some may have hoped to and may have thought that a member of our family never would again.
But against all odds, against hundreds of years of people converting and killing Jews, against rising antisemitism in the US, against expensive plane trips and an international pandemic, and finding time in a hectic life to travel, I had gotten there.
I often feel compelled to describe my return to Judaism as like the regaining of a lost limb I hadn't known I lost, but it's also like looking inside you to see that the warm, crackling fire you've longed for is already there, and ready to welcome you home. Standing in Jerusalem was a turning point for me that gave me the ability to see that where I was standing had space for me, and it had waited for me to return and was now welcoming me with open arms.
Since coming back from Israel, I've only been more inspired to make my post-graduate life one that is led by Jewish values. I've discovered so many beautiful Jewish communities here in Atlanta that I would have never known existed if I hadn't felt confident enough to step up and seek them out.
I joined The Temple as a member and sang in their Rosh Hashanah choir. I completed the Jewish Federation's Changemakers program to learn how to lead from a Jewish perspective, I attended LimmudFest last year and have signed up to chair the Ritual committee for this year's fest as well as teach a class on the Jewish folk practices I've come to love so much, and I've joined a beautiful Rosh Chodesh circle that has brought me new friends and unending support from so many amazing people.
I had guessed that I was on the right path returning to Judaism before I went on Birthright Israel, but it wasn't until I was able to experience Israel with like-minded people and really immerse myself in the history, culture, and beliefs that I knew I was. I am so incredibly grateful to Birthright Israel Foundation for providing me an opportunity that I would not have had otherwise and for curating a program that allowed me to feel comfortable and confident being every part of myself — curious, creative, compassionate, and Jewish.
---
Katherine Shambaugh is based out of Atlanta, GA and is a proud member of multiple Jewish organizations, including The Temple, Ma'alot, and Limmud Southeast. She has a degree in Computational Media from Georgia Tech, and during the day, you can find her working as a Data Analyst for Turnberry Solutions. In her free time, she studies and teaches Jewish mysticism and folklore, volunteers with the Feminist Center and Partnership Against Domestic Violence, and works on perfecting her six-strand challah braid.