I am Will "Big Will" Leveson. I am from Parkland, Florida and I currently split my time between Pompano Beach and Gainesville during the school year. I am a 4th-year Journalism and Sports media major at the University of Florida and a communications intern with the Miami Dolphins. My passions are broadcasting and sports. I love speaking publicly and talking about sports. It is my dream to work in sports television as a broadcaster or host. My aspirations are high, and my dreams are limitless.
Q&A with Will Levenson
What inspired you to sign up for a Birthright Israel trip?
Will Levenson: "Signing up for this incredible opportunity was never a debate for me. I had been to Israel twice before (both week-long school trips). Since these two trips, I had been counting down the days until my next visit – which finally arrived three years after my latest trip. I can confidently say that this trip blew the previous two out of the water."
Did you have any preconceived notions prior to going to Israel?
Will Levenson: "All of my notions were from past experiences in Israel. Any negative notions, which were few and far between, had to do with feeling like a tourist throughout my travels in the homeland. These were put by the wayside on Birthright Israel thanks to the addition of the Israeli soldiers on our trip, who made us feel like citizens."
Did you grow up with a connection to your Jewish identity?
Will Levenson: "Undoubtedly. I attended a Jewish preschool and a Jewish day school (Donna Klein Jewish Academy – the greatest school on earth) from K-12. I attended synagogue on holidays and occasionally Shabbat. Judaism is and always has been incredibly important to my family and my personal identity. I have always strongly believed in the connection between the Jewish community and the power of our people. I am proud to be Jewish."
What was your biggest takeaway from the trip?
Will Levenson: "My biggest takeaway was simply how big of a difference experiencing Israel with Israelis can be. They have a different perspective and can see and notice things a tourist wouldn't. They provided knowledge and insight at each step of the way, and the trip was behooved tenfold by their participation. Little surprised me about the country itself because I had been there twice before, but this was the first time I really had the chance to interact with Israelis on a daily basis. I was amazed at how interested they were in American culture and how much they appreciated us. I felt I owed them something because they put their lives on the line to protect our homeland. But they were so appreciative of us for coming to visit their country and seeing their way of life. It was truly a breath of fresh air to see not only how welcoming they were but how they wanted to learn about us just as much as we wanted to learn about them. They really are just like us."
How has Birthright Israel played a role in your life since coming home from the trip?
Will Levenson: "It has made me look within and think deeper about what Jewish values I value the most. On our trip during Shabbat, our entire bus engaged in an activity to dive deeper into the values that mean the most to us. This was genuinely a moving discussion that I will literally remember forever. Never in my life – despite the many years spent practicing this great religion – have I thought this deeply about my values. This discussion, along with the reconnection I felt with our homeland, has inspired me to be more active in my local Jewish community and beyond."
Are you involved more in your Jewish community because of your Birthright Israel trip?
Will Levenson: "Yes. As I aforementioned, equipped with the knowledge of what values mean the most to me, I feel a much stronger connection to not only my own Jewish identity but Jews around the world, which has given me the desire to involve myself more in my local community."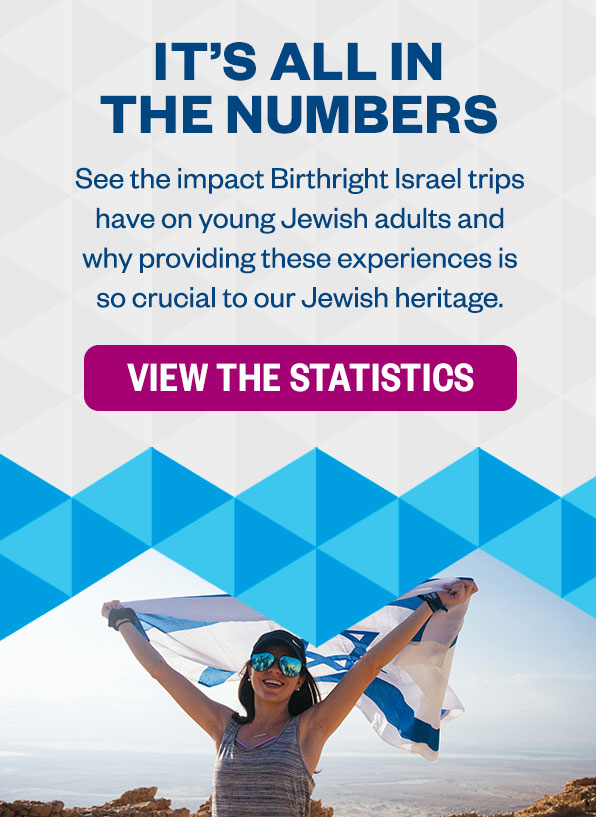 If you could meet the person who made your trip possible, what would you say to them?
Will Levenson: "Well, first, I would thank them profusely. Then, I would like to pick their brain. What enabled them to enter this position, and what went into making such a generous donation? Am I fulfilling their dream of what someone who went on Birthright Israel might feel or act? How can I and how can I encourage my fellow bus mates to use the knowledge gained from the trip and input it into our local communities? At the end of the day, the Birthright Israel Foundation donors have put a lot of money into the program – they understand something deeper. They can see the bigger picture. They decided that sending young people like myself to our homeland is perhaps the best way to continue to grow our religion. I would love to learn more about this thought process and how I can partake in keeping our religion strong. L'dor Va Dor. From generation to generation."