There is no better way to give thanks than with a tasty dessert! That's why Birthright Israel Foundation is excited to bring you 'Chopped Sweets' winner and alumna Abby Dahan's Pumpkin Streusel Coffee Cake recipe. Abby's coffee cake stands out from the rest with the addition of pumpkin making it the perfect fall dessert. So, how about a slice of pumpkin streusel coffee cake with a pumpkin spice latte? You can use any leftover pumpkin puree to whip up a pumpkin spice latte at home.
Plus, if you're really feeling festive this season, you can also make Abby's Maple Diamant Cookies or our pumpkin spice challah. We highly recommend checking out the food section of our blog for your holiday baking and cooking needs. For Thanksgiving specifically, we've got Sweet Potato Latkes and a Sweet Potato Kugel recipe you won't want to miss.
So whether you're hosting a Friendsgiving, a Zoom-giving, or getting together with family we insist you try this pumpkin streusel coffee cake recipe. Lastly, if baking isn't your thing, you can head on over to The Bake School where Abby herself will show you a thing or to about the art of baking. P.S. You can hear more about her experience on Birthright Israel too.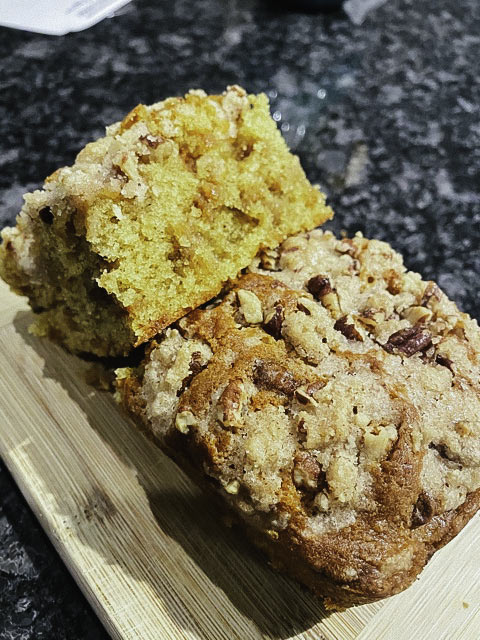 Pumpkin Streusel Coffee Cake Recipe
How to Prepare the Streussel
Ingredients
Granulated sugar 110g
Soft unsalted butter 62g
All-purpose flour 35g
Cinnamon powder 2.5g
Salt 1g
Pecan pieces 100g
Directions
Cream the sugar, butter, and salt until fully mixed and homogeneous. Add the flour, pecan pieces, and cinnamon.
Separate in pieces on a tray and freeze while you prepare the batter.
Once frozen, chop down a bit to break down the larger pieces.
How to Prepare the Cake Batter
Ingredients
Soft unsalted butter 185g
Granulated sugar 250g
Vanilla extract 1tsp
Pumpkin pie spice 1.5tsp
Eggs 150g
All-purpose flour 270g
Baking powder 2tsp
Baking soda 1tsp
Salt 1tsp
Sour cream 150g
Pumpkin puree 150g
Directions
Cream the soft butter and sugar until a little bit pale in color.
Mix the eggs, vanilla, pumpkin pie spice and add into the butter mixture in 2-3 parts, scraping your bowl well after each addition to avoid lumps.
Sift all of the dry ingredients together.
Alternate the dry ingredients with the sour cream/pumpkin mixture. Scrap after each addition. Do not over mix but make sure the mixtures are homogeneous each time.
Spread half of the batter into a deep 9×9 pan (sprayed lightly with non-stick spray) then sprinkle half of the streusel.
Repeat with the remaining batter and the streusel.
Bake at 350F for 40-45 minutes. Pierce the streusel with a knife and check if the knife comes out clean to ensure it's cooked properly.
Get More Goodies and Recipes in Your Inbox!
Are you a fan of delicious cuisine? Then we've got you covered. From Israeli BBQ recipes perfect for summer to everything you need to make for Passover, Hanukkah, and more! All you need to do is subscribe to Birthright Israel Foundation's updates to get great content delivered to your inbox.