Curious what a diamant cookie is? Well, diamant is French for diamond and a diamant cookie is usually referred to as a French butter cookie. The cookies are coated in coarse sugar which makes them look as if they've been coated in diamonds. Sounds delicious, right? Well, Birthright Israel Foundation is excited to partner with pastry chef and alumna Abby Dahan to bring you this Maple Diamant Cookie recipe. You may be familiar with Abby since she won Food Network's 'Chopped Sweets' a few years ago. But, before you dive into baking, take a moment to watch what Abby has to say about her Birthright Israel trip.
Maple Diamant Cookie Recipe
Ingredients
All-purpose flour 230g
Soft unsalted butter 140g
Sugar 90g
Salt 1/4tsp
Yolks 1 each large
Maple extract 1tsp
Vanilla extract 1/2tsp
Directions
Cream butter and add the granulated sugar. Be sure to mix well.
Add yolks, maple, and vanilla extract and scrape bowl. Add the flour last.
Roll into one 15" long log and freeze until firm enough to cut rounds.
Brush on egg wash and roll in sanding sugar.
Cut into roughly 1/2 in pieces. Place on a sheet tray with a silicone baking mat or parchment paper.
Bake at 325 degrees for about 12-15 minutes. The cookies could need more time based on your oven. Please start with 8 minutes on a timer and check after! The cookies need to be lightly golden brown on the edges but still fairly white on top.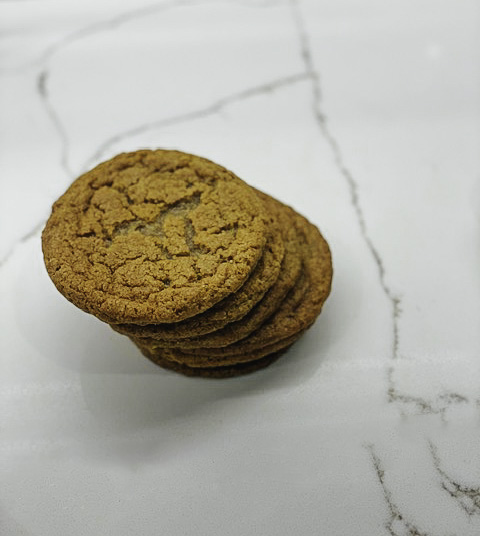 Get More Goodies and Recipes in Your Inbox!
Are you a fan of delicious cuisine? Then we've got you covered. From Israeli BBQ recipes perfect for summer to everything you need to make for Passover, Hanukkah, and more! All you need to do is subscribe to Birthright Israel Foundation's updates to get great content delivered to your inbox.
Try These Delicious Treats at Your Holiday Table
Looking for something new and different? Then you must try Abby Dahan's Pumpkin Streusel Coffee Cake recipe. Or if you're in the mood for chocolate then why not try your skills at some Birthright Israel Chocolate Bark! At the end of the day, you could always go for a classic Kiddush Sprinkle Cookie too!