Adam Shapiro is a 2022 Birthright Israel alumnus who participated in an accessibility trip for those on the Autism spectrum. In the video and interview below, you'll meet Adam and hear why he loved his Birthright Israel experience and what he learned while in Israel.
Adam's Birthright Israel Story
After being accepted to Birthright Israel after two years and three postponements, I finally got to experience the trip of a lifetime: A journey to the Holy Land.
I had a blast on a family vacation to Israel in the summer of 2012, but I had heard from my two brothers how much they took away from their Birthright Israel experiences and knew I had to go for myself. But before we start the adventure and talk about the history, scenic views, and lifelong friends I was lucky to meet, let's go back to the beginning of my introduction to Judaism.
I was diagnosed with Autism at age three, and it's affected my ability to communicate with others my entire life. I have always been determined never to let this stop me, and this meant fulfilling my obligation as a young man and having a Bar Mitzvah. That day put into perspective all the Seders and holiday gatherings my family held over the years, and since then, I've been committed to my faith and family traditions. Fast forward to when I saw that Birthright Israel offered a trip for young adults with special needs, I knew I had to take advantage and further explore my Jewish heritage with people I would feel comfortable with.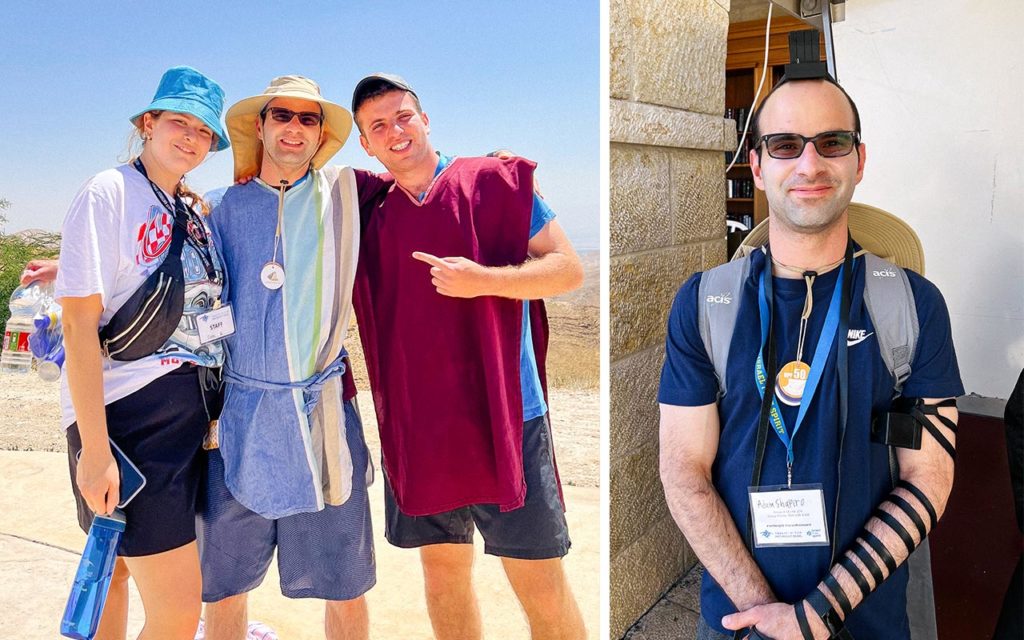 I went on Birthright in June 2022 with over 25 people from across the country with varying backgrounds and perspectives on Judaism. From Orthodox to reformed like me, we had a diverse group that immediately enhanced the experience. After getting to know everyone at the airport, I was so excited when we boarded our plane and could not wait to see what lay ahead. When we arrived, we met our tour educator and bus driver. It was a warm welcome to the land of Israel, and so we began our journey!!
Immediately we were thrown into the ancient history of our land as we paid a visit to Tzfat, one of the oldest cities in Israel. Tzfat has been around for thousands of years, and we visited a temple and an old candle shop where we learned how they make candle from scratch.
My biggest takeaway would be the friends I have made who I stay in touch with to this date. We had a blast, whether on a long bus ride or hiking, to see the incredible view at the peak of Masada. I had two roommates with whom I got along very well, such as Rebecca, Noah, and Ido.
One of my favorite activities was listening to DJ music when walking around Tel Aviv, partying around the blocks like you are shooting a music video. That got me into the beat!!!
On a trip like this, you know you're bound to be amazed, and for me, that was when we went to the Western Wall. It is an iconic structure that has stood for over 2,000 years. A Sanctuary for peace where thousands of people each day write notes and cram them in the wall's crevices for good wishes.
While we visited, I was asked by a local Rabbi if I wanted to wrap Teffilin, and of course, I accepted. Teffilot are small black leather boxes with leather straps containing scrolls of parchment inscribed with verses from the Torah. With the Teffilin wrapped around my arm, I went to the wall and wrote some good wishes, such as Peace on Earth, Good will to men, and the end of the Covid-19 Pandemic.
The Western Wall was the happiest moment of my visit!! There was one day that became sad and difficult to witness when on Birthright—a visit to the Yad Vashem Holocaust Museum. During World War II, Jews from around Europe were captured by the German Nazis to Concentration Camps where they were tormented so badly you couldn't even imagine. It was so heartbreaking to experience this sense of evil that perished 6 million people over 75 years ago. I show my highest respect and support to the survivors and their families.
Since I came home from my 10-day trip, I was so grateful I got to go on this once-in-a-lifetime trip to a country I now consider my second home. I now like to stay informed on how the country is doing and whether there are conflicts or any situations that are related with safety. I care about Israel very much, which is close to my heart.
Almost every Friday, my Dad and Step-Mom go to Shabbat services at their temple to kick off the weekend, and I go when I can. During Chanukah, on the nights I can't join my family, I light my menorah and say the prayers knowing the rest of my Jewish brethren are doing the same.
I want to thank all the generous donors who have made contributions to Birthright Israel Foundation to make this once-in-a-lifetime trip a reality for thousands of people each year. And I want to give a big thanks to my friends, family, and the staff at Birthright for making this trip enjoyable and unforgettable.