Are familiar with Shakshuka? The Middle Eastern egg dish originated in North Africa and quickly made its way all over the Middle East. When Jews living in North Africa made their way back to Israel after living thousands of years in the Diaspora, they brought variations of Shakshuka with them. Since then, the dish has become a breakfast staple throughout Israel.
Today, it's common to find Shakshuka at many American brunch spots as well. There are several traditional Israeli foods that have modern American variations like falafel and shawarma. Foodies on social media constantly post variations of the dish with their own personal touch as well! However, the dish is so popular in Israel that there is a restaurant called Dr. Shakshuka in Jaffa which many Birthright Israel participants get to visit!
The Basis of Shakshuka
The idea of Shakshuka is super simple and any home cook can master it. The base of the dish is a thick tomato sauce with peppers. Many Sephardic Jews make the dish with matbucha, a roasted tomato, and pepper dip. You then crack the eggs atop and bake! You can choose to make yours spicy by adding in chiles or red pepper. There is even a version with garlicky leaks and cream called Green Shakshuka.
What to Serve with Shakshuka
No matter what time of day you want to serve your Shakshuka, it's always delicious with fresh bread, tahini, and Israeli salad. You can even top your Shakshuka with feta or goat cheese or opt for delicious vegan cheese to keep it parve. Sides like avocado, challah, or Israeli cabbage salad are also common.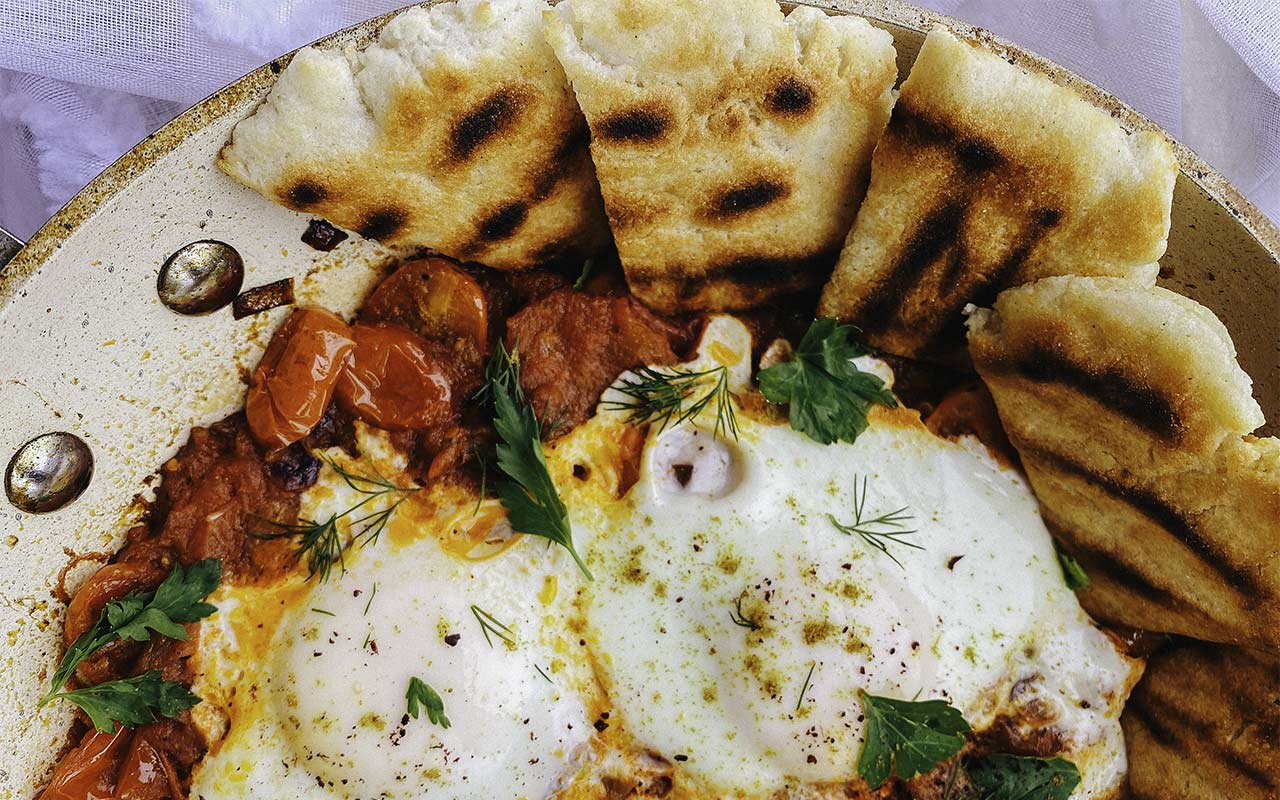 How to Make Birthright Israel Alumna Carly Alterman's Shakshuka
Ingredients
Olive oil
1 package of cherry tomatoes
1 red onion, chopped
1 tsp cumin
1 tsp garlic powder
Salt & pepper to taste
1 tsp sumac (optional)
1 14oz can of crushed tomatoes
6 eggs
Fresh parsley and dill to top
Directions
Chop your red onion and cherry tomatoes then add to a big sauté pan with olive oil.
Cook down until the onions soften, then add the cumin, garlic powder, salt, pepper and sumac.
Mix and cook down until the tomatoes burst, then pour the can of crushed tomatoes.
After that's simmered for a few minutes, make little wells for your eggs and crack them in.
Lower the heat and cover your pan with a lid to poach the eggs.
When they're cooked and the yolks are still soft, take the Shakshuka off the heat and top with fresh parsley, dill, and an extra sprinkle of cumin and sumac.
Carly Alterman is a 24-year-old medical student at NYU Long Island School of Medicine. Carly started a blog last year called Eating Over the Counter to combine her love for food with a focus on nutrition-based health initiatives. The majority of Carly's recipes are all traditionally Jewish and inspired by her time in Israel, she enjoys sharing a variety of foods. Learn more about Carly and her time on Birthright Israel in her blog post.
Get More Recipes Inspired by Israel
Are looking to spice up your weekly meals? Then we suggest subscribing to our updates to get the best of Israeli cuisine delivered straight to your inbox. In the meantime, you can also checkout our collection of Israeli BBQ recipes or visit our blog's food section.